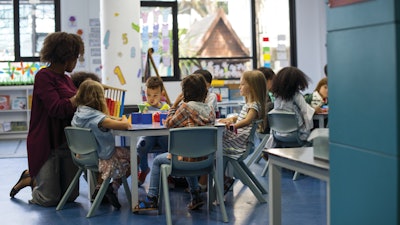 As anyone who owns or manages a recreation facility knows, the key to a successful recreation business is customer service. Meeting all the needs of your patrons in terms of equipment, activities and other amenities is essential. One amenity that an increasing number of health clubs have added to assist working or busy parents is childcare.
While childcare centers provide parents a valuable benefit, such centers present facility owners and managers with added responsibilities beyond the traditional instruction and supervision of adults taking place on the fitness floor. Failure to meet this additional supervision requirement can have dire consequences, as illustrated in Jane Doe v. Fitness Alliance LLC.
Surveillance of supervision
While visiting Eo-S Fitness in Palm Springs, Calif., on Jan. 31, 2020, a mother signed her two young children, Jane Doe and her brother, into Kids' Club, the gym's daycare center, and proceeded with her workout. A short time later, John Roe, was signed in by his mother.
To supervise the children better, and to keep the younger children separated from the older children, the club's daycare center consisted of two rooms. In one room, the club supervised children younger than 18 months. In the other room, the club supervised children ages 18 months to 12 years. Company policy required that there be an employee in both rooms supervising the children. On this day, however, the club was short-staffed, so it only had one employee supervising the two rooms in violation of club policy. Moreover, three of the club's managers were in one room of the Kids' Club chatting to the daycare attendant, thereby distracting her from her supervision duties.
Surveillance video later revealed that during the time the children were left unsupervised in the Kids' Club, John Roe, a 13-year-old boy, sexually molested Jane Doe, a 5-year-old girl, intermittently for more than an hour. In addition to groping the plaintiff's genitalia, abuser Roe exposed himself and forced the young girl to touch him. At no time did the Kids' Club attendant or managers realize what was happening in the next room.
After she was picked up from childcare, Jane Doe told her mother what had happened to her at the Kids' Club. The mother called the police, and after reviewing the surveillance video, the boy was prosecuted. Jane Doe, meanwhile, suffered from post-traumatic stress disorder, depression and anxiety. Doe had frequent anger outbursts, nightmares, sleep problems, fear of being alone, self-esteem issues and body image concerns. Due to the assault, Doe is fearful of men and older boys and has a changed relationship with her father and older brother. All of this has caused her to undergo therapy. According to her attorneys, she often asks, "Why did that boy do that to me?" and "Am I always going to feel this way?"
In light of this trauma, Doe and her mother sued the club for negligence. In particular, Doe claimed that the Eo-S Fitness Kids' Club was liable for negligent supervision.
To establish a negligent supervision claim, Doe had to establish that 1) the Eo-S Fitness Kids' Club accepted the responsibility of supervision (duty of care), 2) the supervisor failed to properly monitor the injured party (breached their duty), 3) the injury was a direct result of the failure to supervise (causation), and 4) the injury was a foreseeable result of negligent supervision (damages).
Damages responsibility
When considering the awarding of damages, the court will generally look at actual damages such as lost wages, pain and suffering, and medical expenses. In extreme cases, however, the court can also award punitive damages, which are designed to punish the party that caused the injury.
While Eo-S Fitness seemingly had very little to defend, it refused to settle the case through 18 months of litigation. The evidence presented at trial against the club included the fact that the club failed to have any policies and procedures regarding child sexual abuse, which would have likely prevented this abuse from occurring; that the club fired the Kids' Club manager the day before the abuse, and thus did not have proper staffing; and that there was a longstanding problem of non-daycare staff hanging out in the Kids' Club, causing a distraction for the childcare attendants.
In fact, while Eo-S Fitness admitted it was negligent and that its negligence was a substantial factor in causing injury to Doe, the club contended that the criminal acts of Roe, the 13-year-old boy, were the main reason for Doe's injuries and that the club should not be held liable for the intentional torts or criminal acts of a third party. Therefore, any damages or injuries suffered by Doe should be the responsibility of Roe, not Eo-S Fitness.
The jury in Riverside County Superior Court, however, took only one day to render its verdict in favor of Doe, awarding her $5 million in past non-economic damages (mental suffering and emotional distress) and $8 million in future non-economic damages. In reaching their decision, jurors found that John Roe was also negligent, but that his conduct was not a substantial factor in Doe's injury. In particular, the jury concluded that if Eo-S Fitness had properly supervised the childcare rooms, Doe's injuries could have been prevented. As a result, Eo-S Fitness was allocated 100 percent responsibility.
Staff up or shut down
What are the key takeaways for the fitness industry, especially those facilities that provide childcare?
First, while a $13 million lawsuit may have some club owners and managers thinking of closing their childcare centers, such a reaction would likely do more harm to your business than good. One of the reasons fitness clubs and recreation centers have childcare facilities is to allow parents to not only save money on babysitters, but also work out on their schedule, not the babysitter's. This benefit cannot be underestimated in increasing club memberships for parents of small children.
Second, if you are going to have a childcare center in the club, it is important that you have policies in place to ensure that the facility is properly staffed, that the children are properly supervised and that all employees, not just those working with children, have ongoing training about the dangers of child sexual abuse. As illustrated by this case, increasing staff awareness is vital to protecting against child sexual abuse.
In this case, the Kids' Club was understaffed, with only one employee watching the two childcare rooms, which was in violation of company policy that there be a childcare supervisor in each room. While having the proper staffing would have probably prevented the sexual assault on Jane Doe, there are other reasons — choking hazards, for example — to have a full staff around young children. While it may have upset a few club members who would not have been able to work out that day, an easy solution to the Eo-S Fitness staffing problem would have been to simply shutter the Kids' Club for the day or until staffing could be brought up to task. Not only would that have gone a long way toward ensuring the children's safety, it would have also saved the club $13 million.