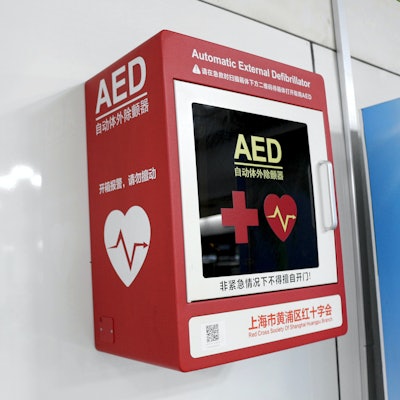 As details emerge regarding first-responders' efforts to resuscitate NFL player Damar Hamlin following his on-field cardiac arrest Monday night, headlines across the country are pointing to the importance of preparedness at athletic events.
The actions on the field in Cincinnati included administration of CPR and use of an automated external defibrillator before Hamlin, a 24-year-old safety for the Buffalo Bills, was taken by ambulance to the University of Cincinnati Medical Center.
"First and foremost, the first responders on the scene, by all accounts, enacted the emergency action plan that is in place, and rehearsed annually (right down to the route the ambulance would take to the hospital), at all 30 NFL stadiums," wrote Albert Breer of Sports Illustrated. "One Bengals staffer mentioned how perhaps the first sign of real trouble for the home team was seeing the Cincinnati medical and training staffs rush onto the field to tend to Hamlin. Likewise, the Bills' medical staff and the independent medical people on-site reacted quickly to administer CPR and use an automated external defibrillator [AED] to try to stabilize Hamlin."
Hamlin's uncle, Dorrian Glenn, told ESPN that Hamlin had to be resuscitated twice — once on the field at Paycor Stadium, and once after he arrived at the hospital. Hamlin was reportedly put into a medically induced coma and intubated. His oxygen levels were improving, according to Glenn.
"On behalf of our family, we want to express our sincere gratitude for the love and support shown to Damar during this challenging time. We are deeply moved by the prayers, kind words, and donations from fans around the country," Hamlin's family said in a statement released Tuesday morning, as reported by ESPN.
"We also want to acknowledge the dedicated first-responders and healthcare professionals at the University of Cincinnati Medical Center who have provided exceptional care to Damar. We feel so blessed to be part of the Buffalo Bills organization and to have their support. We also want to thank Coach Taylor and the Bengals for everything they've done. Your generosity and compassion mean the world to us. Please keep Damar in your prayers. We will release updates as soon as we have them."
For some watching from home, the game brought back memories of loss. Nancy Barcia knew exactly what was happening to Hamlin once he rose to his feet after making a tackle and then fell straight backward to the field. She lost her 17-year-old son Chad to cardiac arrest in 2005. He was playing rugby at the time.
As reported by New Orleans CBS affiliate WWL, Chad's De La Salle High School didn't have an AED in 2005, so his parents started the "Chad Barcia Athlete Awareness Foundation" to push for AEDs at every school, practice and game. The foundation has given away 200 AEDs throughout Louisiana.
"If they wouldn't have had an AED on the field last night [Hamlin] may not be here right now fighting for his life, and I keep praying that he'll be okay once they wake him up," Barcia told WWL on Tuesday..
According to CBS affiliate WUSA in Washington D.C., a 2018 American Heart Association study showed that survival from cardiac arrest doubled when a bystander stepped in to apply an AED before emergency responders arrived.
"Bystander CPR saves lives," the AHA tweeted Monday night. "In the event of a cardiac emergency, Dial 9-1-1 and administer hands-only CPR along with an AED, if available."
WUSA9 reached out to 16 different school districts in D.C., Maryland, and Virginia to learn more about how they use AEDs. The findings can be read in detail here.
Requirements can vary greatly. As reported by Las Vegas CBS affiliate KLAS, the Nevada Interscholastic Activities Association requires CPR and AED training for all coaches, athletic directors and trainers. However, the presence of trainers or any medical personnel is not required during every game or practice.
The University of Arkansas has AEDs in all athletics facilities, but the Hamlin injury will serve to sharpen staff focus. "Our medical people and trainers will be reviewing our procedures for sure," Arkansas athletic director Hunter Yurachek told SI's FanNation.
In cases of cardiac arrest, time is of the essence. Dr. Krishna Reddy of Pinnacle Cardiovascular Associates in Valley, Ark., told the The Times-News that if someone has been down for 15 minutes, it's often too late to bring them back. Only 8 to 10 percent of people outside a hospital setting survive, making handy access to AEDs critical.
LIke Barcia, Rachel Moyer made it a mission to equip schools with AEDs following the December 2000 death of her 15-year-old son during a basketball game. The Greg Moyer Defibrillator Fund has helped place thousands of AEDs and trained tens of thousands of individuals in their use.
But there's still much to be done. Moyer told AB Today that she hopes the visibility of Hamlin's episode will help raise awareness of the importance of AEDs, particularly in athletic settings. "I think because it happened at an NFL game, it may be exactly what we needed to get AEDs to the forefront in terms of their significance at all athletic events," she said. "Our motto has always been 'No AED, No Game, No Practice!' "