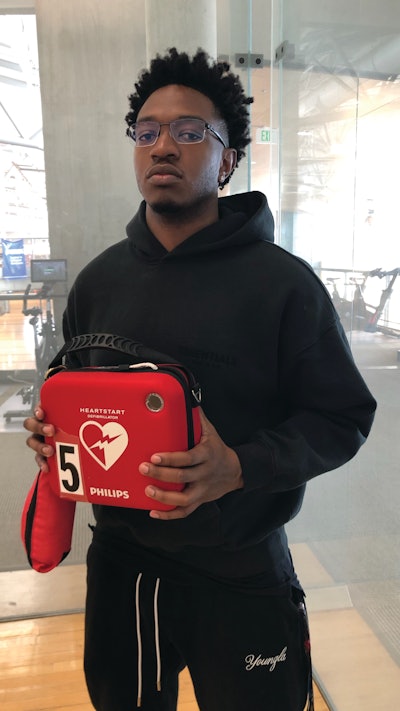 Photo by Stephen James Nakata
Jalen Barker, a student facility manager at the Washington State University Student Recreation Center, had just finished assisting a panic attack victim in the men's locker room on an otherwise quiet Sunday night in January when his portable radio received another call for help: A 66-year-old member of the facility (which is available to the WSU community) had gone into cardiac arrest on one of the racquetball courts.
"I flipped into autopilot mode," says Barker, a 22-year-old senior majoring in social science, who snagged an automated external defibrillator on his way to the courts. Two other student employees accompanied him. Barker and one of his colleagues began prepping the AED while the other took over communication with a 911 operator, whom the man's racquetball partner had already called.
Following American Red Cross training protocol, Barker administered CPR and provided an AED shock. Emergency medical technicians arrived shortly afterward, and the man was revived, alert and talking before he was taken to a nearby hospital.
"Jalen's ability to quickly jump into action undoubtedly saved [the man's] life," Cpl. Isobel Luengas from the Washington State University Police Department, who responded to the incident, wrote in an email to Joanne Greene, executive director of WSU's University Recreation.
"Even though I take that kind of training every semester, I thought I probably wouldn't have to use it anytime soon," says Barker. "Now something actually happened, and I know the training works."
The WSU incident likely is one of the best examples you'll find of why campus recreation employees undergo regular CPR and AED training.
"The goal is to be able to provide assistance in an emergency until medical professionals arrive," says Gwen McNamara, the Northeast Aquatics and First Responder sales director for the American Red Cross, which as a longtime NIRSA partner offers NIRSA institutions the opportunity to learn lifesaving skills on campuses and in local communities. "It's so important that people who have been trained feel confident in their skills and believe that they are well trained so they are prepared to act when moments matter."
At WSU, student employees are required to be certified in first aid, CPR and AED usage before their first employment shift, according to Nicolas Prante, associate director of the Student Recreation Center. They also must pass a safety audit each semester in which they meet one-on-one with a WSU staff member who is a Red Cross instructor and perform two random responses to an emergency scenario.
For Barker, some of those scenarios have included an infant choking and a male collapsing. While the required technical skills must meet American Red Cross standards, each scenario also incorporates University Recreation-specific emergency response protocols, such as using a radio to communicate with other staff members. Individuals who do not pass their first audit are required to meet with an instructor to review the material before taking the safety audit again. Anyone who does not pass the second audit will no longer be employed by University Recreation, says Prante, who also sits on University Recreation's Risk Management Executive Committee.
"We hear questions about why we don't train more on some of the generic first aid issues, like bloody noses or sprained ankles," he says. "That kind of training is great, but those injuries are not catastrophic. We need to continue to focus on CPR and AED training, just in case something ever happens. We put an emphasis on making sure our student staff is trained in the most severe possible outcomes, even though we know something like that is very unlikely to happen."
'Just focus on the training'
Typically, emergency safety training includes basic first aid skills and covers sudden illness and injuries. CPR and AED training are components of first aid, when participants learn the skills necessary to keep oxygenated blood circulating to the brain and other vital organs.
"Where Red Cross courses differ from others is in the delivery," McNamara says. "We like to say that with Red Cross courses, you reimagine the way you learn and teach. For example, our psychomotor skills practice uses peer-to-peer learning, where each person takes turns simulating the role of an active lifesaver, a coach and an observer. By performing each role, students have the opportunity to actively learn and provide feedback to their peers."
The Red Cross also offers adaptive learning in the online learning component of its first aid/CPR/AED courses, allowing students who participate in blended learning and online courses to take a pre-assessment test. The curriculum is then personalized to their knowledge and level of skill, which optimizes student learning and shortens overall course time.
"We've been collaborating with NIRSA for close to 10 years," McNamara adds. "Our shared goal is to make sure the Red Cross is a resource for all NIRSA institution members. Part of being a resource means supporting campus rec centers as they extend lifesaving information to their surrounding communities so that we can ensure there is care everywhere it's needed, when it is needed."
And as Barker learned, you never know when it will be needed.
A major key to a positive outcome in a lifesaving situation, he says, is to remain calm. "Just focus on the training that you've done, and you'll be fine. You know the adrenaline is going to kick in. That night was the most adrenaline I've ever had, and it was the fastest 45 minutes of my life. It hit me later, and I was, like, 'Oh, I just saved someone's life.' "
Always room for improvement
In the wake of the Jan. 15 incident at WSU, Prante says University Recreation has tweaked its emergency preparedness protocol.
One simple yet significant change involves making sure all staff members know where the nearest AED is located. "We have heard from other student staff that they were unaware there are six AEDs in the Student Recreation Center," he says. "We also are focused on knowing and utilizing all of the resources in the facility. There were two front desk attendants, two lifeguards and a CPR instructor teaching a class in our facility [at the time of the incident] that we could have utilized."
Added emphasis is placed on discussing what Prante calls "crowd control," or dispersing onlookers. "On that night, there was a small crowd gathering, and it would have been good to have some of our other student staff be involved if they were not the first responders," he says. "How do you try to keep a horrible moment for that individual as private as possible? I don't think anyone was filming what was happening, but what would that scenario have looked like if someone did pull out a camera?"
Emergency circumstances are fluid, and campus recreation centers and their staff must be fluid, too. "Responding in a life-threatening situation can be hard work, and it can be a lot to take on," McNamara concludes, stressing that a saved life is worth it. "I've performed emergency care as a bystander, and a successful outcome is an amazing thing to know you were part of."