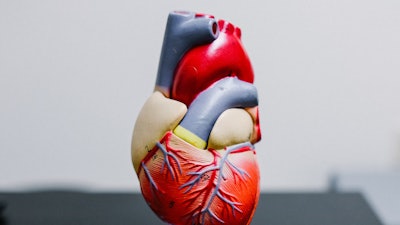 Gym members at the Janesville (Wis.) Athletic Club helped save a 19-year-old man's life after he suffered cardiac arrest while descending a flight of stairs at the facility on St. Patrick's Day.
"I was walking down the stairs and realized I got really dizzy. So I went to try to go sit down, and I just blacked out and fell over basically," Bryce Biba told NBC 15.
When Biba fell unconscious, several members rushed to administer CPR.
"We turned the corner, and I saw a young kid just slumped over and the color that nobody should be and not breathing," said Wayne Wawroski, a gym member working out at the time. "I just started chest compressions until he started breathing again."
Biba started breathing again, but he had a weak pulse. That's when off-duty Janesville firefighter and paramedic Chad Toth stepped, continuing the chest compressions until paramedics arrived.
Biba's mother, Shera Gillingham, said doctors are still trying to figure out what caused the cardiac arrest. Biba now has a defibrillator implant under his left lat in case other incidents occur. He's also on heart medication and awaiting blood work.
For his part, Biba is back at the gym and feeling much better.
"I mean, I just like to think everything happens for a reason, so I don't have any control over it," Biba saidl. "It just happened, and just move forward from there."