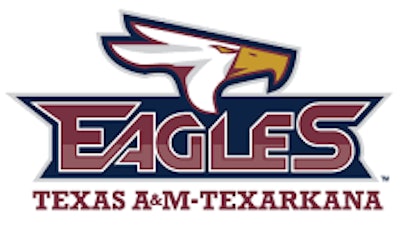 Texarkana police are searching for two men after a Texas A&M University Texarkana baseball player was shot during a game Saturday against the University of Houston-Victoria.
As reported by Texarkana's NBC affiliate KTAL, felony warrants have been issued for Kamauri Butler, age 17, for aggravated assault, and Demarco Banks, age 20, for deadly conduct.
Police said they received several calls of shots fired on Saturday at approximately 5:30 p.m. Soon after, a 911 call described a baseball player at the park had collapsed and may have been shot. According to Scripps News, he was standing in the bullpen when hit by a bullet fired several hundred feet away by one of the men shooting at the other.
Additional reporting indicated that the ballpark's P.A. announcer said, "Shots fired! Shots fired!" The several hundred people in attendance, including Boy Scouts, scrambled for cover.
UHV Athletic Director Ashley Walyuchow released the following statement Saturday, as reported by the Victoria Advocate in Victoria, Texas.
"At around 5:30 this afternoon a shooting occurred in Texarkana near the park where our baseball team was playing Texas A&M-Texarkana.
"All of the UHV student-athletes and coaches are safe.
"Unfortunately, one of the Texarkana student athletes was struck by a stray bullet and taken to the hospital. At this time, I do not know his condition, but was told he was alert and talking when he was transported by ambulance.
"The shooting was not related to the game nor were any of the student-athletes thought to be the target of the shooting.
"Please keep the Texarkana student-athlete in your prayers."
The player was reportedly taken to the hospital for emergency surgery.
According to KTAL, police began investigating the field and searching for evidence on Lynda Street, where the original calls of shots fired had originated. Authorities found that the two incidents were related.
Spent shell casings on Lynda Street allegedly led police to a home where two men allegedly began shooting at one another during a disturbance. 400 yards away, a ballplayer received a gunshot wound at the George Dobson Field at Spring Lake Park ballpark. Officials have said that the 18-year-old was standing in the bullpen when he was injured by a stray bullet.
Butler and Banks are no longer known to be in the area. Other men at the scene, however, were arrested.
Yankeengea Smith, age 49, was arrested for unlawful possession of a firearm by a felon, plus two counts of possession of a controlled substance (methamphetamine and ecstasy pills.)
Nathan Moore was arrested for tampering with evidence and possession of marijuana, and Marcell Beaver (19) for possession of marijuana.
The game has been declared a no contest.