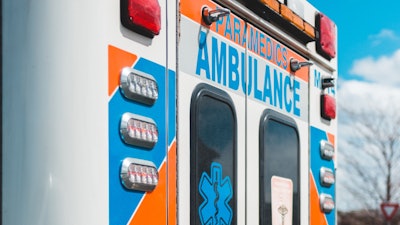 File Photo/Unsplash
A high school soccer player in Ohio is thanking his coach for saving him while he was suffering cardiac arrest.
Canen Dickman, 15, an incoming freshman at Worthington Kilbourne High School, had collapsed during soccer practice on July 7, WSYX-TV reported Monday. Dickman was running on the track at the high school when the medical emergency happened.
"When you don't have a pulse and we have no breathing that's observable, that is the worst-case scenario," Jon Sprunger, head soccer coach at WKHS told the news station.
Within seconds, Sprunger said he started performing CPR.
"Just do what you've been trained and hope and pray that you're doing exactly what needs to be done to save his life," he told WSYX-TV.
With the help of an AED another coach grabbed from inside the school, Sprunger was able to save Dickman's life.
"They have said over and over and over to us that if it weren't for the quick efforts of the coaches and also for them using the AED, he wouldn't be here right now," Dickman said.
Dickman was taken to a hospital and then transferred to the ICU at Nationwide Children's Hospital.
"The first thing that went through my mind is if I'd be able to play soccer for this season," Dickman said.
After more than a week in the hospital, he was able to go home on Sunday, WSYX-TV reported.
"It's pretty scary," Dickman said, "but I'm just really thankful and grateful that things happened how they did, and I'm still here."
Doctors are still trying to figure out what caused him to suffer cardiac arrest. He'll have more tests in about six weeks.
"What we were told in the hospital is he's not only lucky to be alive but his chances of having full recovery in his brain were very low," his mom said, "and according to the MRI, he has 100 percent brain function."
But his heart needs to rest.
"I had some inflammation around my heart," he said, "and I still do, so I'm going to go back around six weeks and see if the inflammation's down."
He also has to take time out from sports.
"We hope that in the future he will no longer be on the sideline with us, but he will be on the field playing with us," said Sprunger. "That's the hope."
Dickman has to wear a life vest for the time being. It's a wearable heart monitor and AED that alerts him of any issues with his heart; shocks him if necessary, and sends out calls for help to those around him.
Dickman and his family are stressing the importance of learning CPR and knowing where the nearest AED is at work or school. WKHS has ordered another AED to put outside near the track.
Dickman said he's thankful to have survived.
"It could happen at any time. so just savor every moment and be grateful for everything you have," said Dickman.