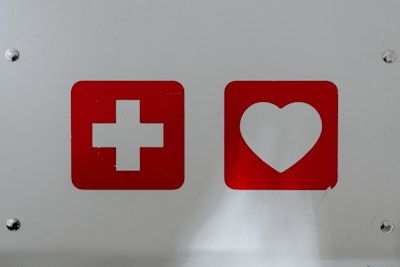 Claudio Schwarz, Unsplash
Each team at Campbellsville (Ky.) High School has its own Automatic External Defibrillator, but athletic director Tim Davis realizes that the mere presence of such a device doesn't equate to a team being prepared for every emergency scenario.
"Like most other schools in the region, Campbellsville's emergency action plan vested responsibility in coaches," reported Dennis George of Paxton Media Group. "Baptist Health Hardin athletic trainer program manager Carol George stressed to the athletic directors that student-athletes needed to be involved."
"I'm going to my teams and I'm asking athletes, 'Where's your closest AED?' " said George, who also serves as the certified athletic trainer at Elizabethtown High School, 43 miles to the northwest. "None of them know where that is. There are not always multiple coaches at a practice. Some sports don't have seven or eight coaches like football. If a team is practicing at 5 on a Sunday afternoon and there is only one coach, and the coach is providing CPR, do the student athletes know where to go to get an AED? What if the coach is the one who goes down? Student athletes need to have a role in this.
"We have failed and admittedly failed if we are not having these conversations with all of our athletes as well," she added. "We need to educate them because this might be them or their teammate who goes down."
That point caught the attention of Davis, a longtime basketball coach, according to Dennis George..
"What if I was practicing on a Saturday morning, and myself or someone else went down," he said. "If I have to give CPR, who's going to call 911? If I am practicing football, does everyone know where the AED is and who has the key to get to it? Those are the things we need to revise."
Davis doesn't want to witness an incident like one that happened in Northern Kentucky a few years ago, when St. Henry soccer player Matt Mangine collapsed and died in the 10 minutes it took EMS responders to arrive. There was an AED in a locked building just yards away, but no one knew it was there.
"If we prepare the best way that we know how so that when that situation does happen, we want to know how to react and what to do," Davis said. "We can always come look back and say that we did everything we could to save someone's life."
Chris Goodin, district athletic director for Taylor County Schools, said the district has AEDs at every facility. He said the district is in the process of adding portable devices for sports such as golf and cross country.
There is also an added emphasis on training of coaches to know how to react.
"Our plan depends on the number of coaches," Goodin said. "If there's more than two coaches, it has to incorporate students. If you don't have a football staff or you don't have a basketball staff or a volleyball staff or something like that, then you don't have a number of adults that can do those things. You have to implement some strategies where the athletes have to be a part of that process."
He said Taylor County's fall sports have been simulating their plans, Dennis George reported. "We want to make sure that our coaches have things in place," Goodin said. "You don't know how to fix or tweak anything until you go and do your action plan."