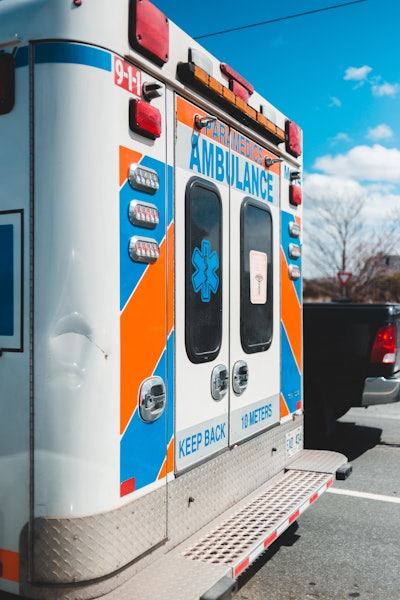 Seventh-grader Memphis Zabawa suffered an asthma attack during a cross-country race, collapsed and was revived thanks to the actions of individuals on the course as well as paramedics stationed with an ambulance at a football game across the street.
As reported by ABC affiliate KETV in Omaha, Neb., the near-tragedy occurred last month, and according to the National Weather Service, the air quality was in the unhealthy zone in the days prior to the meet — a particularly dangerous situation for someone with asthma.
"He looked like he was running slow," said the 12-year-old's father, Justin Zabawa, who was at the meet that day. "His feet looked heavy."
"I remember starting and getting to the trees," the younger Zabawa said. "That's all I remember."
Julianne Gray, a teacher at a different school, was at the meet to watch some of her students run. She didn't know the Zabawa family.
"Memphis and his two friends had come around the corner," she said, "and I looked at them thinking, 'Memphis isn't okay."
Moments later, Memphis collapsed. Justin Zabawa couldn't see his son, but saw his coach running by. "I knew something was wrong," he said.
Gray and a friend took action. "In that moment, you didn't know what was wrong," Gray said. "I think a mother instinct — and a teacher and a coach instinct kicked in — like you have to check on this kid."
Memphis had a heartbeat at the time, but was struggling to breathe. Gray called her school's athletic director to grab the AED and immediately called 911.
"We rolled Memphis back over from his side to his back and he started to turn blue," Gray said. "His lips were purple."
A nearby parent, who was also a nurse, joined the life-saving effort and started chest compressions. Gray began alternating rescue breaths.
By the time Justin Zabawa saw his son, they were performing CPR in the middle of a cross country meet, KETV's Bill Schammert reported.
Gray said her school requires CPR and first aid training for teachers and coaches.
"I never thought I'd be in a position to do CPR are go through those measures on a 12-year-old," she said.
There was another thing working in Memphis's favor. First-responders were only a few hundred yards away, across the street in an ambulance stationed at a Millard South football game.
Gray said paramedics arrived within minutes and attached the AED. She said she still constantly replays the incident in her mind.
"I watched them continue CPR and they had to deliver shocks," she said. "It was terrifying."
Erin Zabawa, Memphis's mother, said the official diagnosis from physicians was that her son had an asthma attack that sent him into cardiac arrest.
"Because of how fast everybody responded — that's why he doesn't have any brain damage," she said. "Everyone responded so quickly."
After a few weeks and several tests, Memphis was back to running. He's already playing soccer and competing in cross country again.
In fact, according to his parents, his lung tests are higher than before the incident. It's a story so miraculous, it was picked up by Runner's World.
"You would have no idea anything happened to him," Justin Zabawa said. "The fact there were people there who stepped in right away — that's the miracle right there."