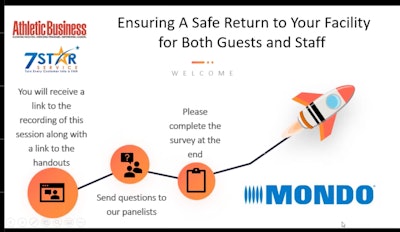 Whether you're the director of a college recreation center or the owner of a fitness gym, you're currently looking for every way possible to ensure that your staff and guests are returning to a safe and comfortable environment. In this webinar, we've gathered a group of professional facility operators from across the recreation, fitness and athletics industries to discuss specific challenges related to preparing both staff and your members/guests to return to your facility in a safe manner.
In this free session you will learn:​​
How to ensure your customers/members/guests feel safe returning to your facility. 
How to navigate mental health concerns as staff return to work. 
How to implement technology solutions, such as reservations software, to streamline your operations. ​
Guest speakers:
Scott Vandermoon | Associate Director, Facilities, Centers LLC at DePaul University Campus Recreation
Shane DeWald | Recreation Manager, Blue Valley Recreation
Marvin Gresse | Assistant General Manager, Stone Creek Club & Spa
Presented by: Ruby Newell-Legner, CSP | Fan Engagement Expert, 7 Star Service
Sponsor: