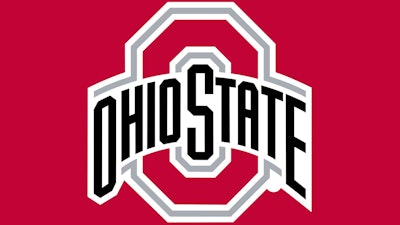 Ohio State's football stadium, which officially opened its doors on Oct. 7, 1922, will recognize a new historical marker at the facility's upcoming centennial celebration.
According to NBC4, the marker was already installed in front of the stadium, which is affectionately called "The Horseshoe."
The bronze plaque is located outside of Ohio Stadium's rotunda and features an outline and shape of the state of Ohio at the top, and a picture of the Oct. 21, 19222 dedication on the left--hand side. The plaque also recognizes Howard Dwight Smith and E.H. Latham Company, the stadium's architect and contractor, respectively.
The plaque also notes that in 1922, the stadium had a capacity of 63,000. Now, 100 years later, the capacity exceeds 102,000.
At recent press conference, head football coach Ryan Day shared some of his favorite memories at the stadium.
"I think the Penn State game in 2018 was one of my greatest memories being down three scores during the fourth quarter. That blackout was unbelievable," Day said. "Even pregame you know, just the excitement of being in that stadium. But I'd say probably my two favorite things are to listen to the crowd after a touchdown or listen to the crowd after a third down sack or stop. Those are my two favorite things because that's what I think the stadium is the loudest. We look back on those times, it makes you smile."