Editor's note: This story originally appeared in Sports Venue Safety, a new supplement to Athletic Business. View the entire Sports Venue Safety digital issue here.
Sean Sepela has spent most of his life around water — as a swimmer, certified lifeguard, swim coach, and currently as the aquatics operations manager at George Mason University. As Sepela has immersed himself deeper into the aquatics world, he has recognized the evolving challenges aquatic facilities are facing today compared to years past. "There are a lot more concerns today compared to when I first started," he says. "Those 'what-if' situations we simply thought about years ago must be evaluated, assessed and trained for to ensure the safety of our swimmers and the facility itself."
While all may seem calm and peaceful in the water, there is a controlled chaos that is occurring outside of it as aquatics directors today must prepare against all potential dangers, regardless of whether or not that danger is deemed a logical threat. At swimming venues, bad fan behavior is considered extremely rare and easily handled, but the ripple effect of the Boston Marathon bombings have made an impact within the aquatics community. As Christopher Seris, assistant director for aquatics at the University of Missouri, states, "You don't really think about unruly fans at a swimming and diving competition, but you wouldn't necessarily expect that at a marathon, either."
RELATED: Online Learning: Training for Your Aquatics Team
Significant hours devoted solely to emergency planning and response training are required for an aquatics facility manager to adequately protect his or her facility, participants, spectators and staff, and the first step in that process is evaluating every possible scenario.
---
BREATHE EASY
On top of use by George Mason students, the Freedom Aquatic & Fitness Center hosts Virginia high school swimming competitions, as well as various local swim meets, guaranteeing hundreds of swim participants daily. Says Sepela, "We have so many people of all ages come to our pool deck that my biggest concern is a lost child. It has so many implications — did that child drown and my lifeguards didn't see it? Has that child been abducted?"
If a child is reported missing, a "Code Adam" goes out to lifeguards, fitness staff and front desk personnel. The building essentially goes on lockdown and anyone fitting the description of the missing child is stopped. But the staff at George Mason is clear on its role in this process, something that wasn't the case years ago. "Growing up in aquatics, we weren't worried about Code Adams and didn't have any type of emergency action plan," Sepela admits.
One scenario that has always been at the top of pool safety planning is breath-holding or breath-control training, technically known as hypoxic training. Competitive swimmers typically limit their breathing to once every five, seven or nine strokes, so this type of training, while dangerous due to the lack of oxygen to the brain, is commonplace. A rise in shallow-water blackouts has many aquatics managers looking at ways to discourage a swimmer holding his or her breath under water, either for fun or as a method for training. "Breath-holding of any kind needs to be more of a focus for my staff," acknowledges Sepela.
LIFE SAVER
The onus of monitoring swimmer behavior and activity falls on lifeguards. Managing those lifeguards can be a challenge, and some aquatic facilities have opted for quantity over quality. Diane Dahlmann, director of recreational services at the University of Missouri, warns against this approach. "You can have more guards on deck but if their brains aren't wired the way you need, you're never going to have the level of safety that you should have," she says.
In an effort to improve the effectiveness of her lifeguards at the renowned MU Student Rec Complex, Dahlmann rotates her lifeguards far more aggressively than in the past, cutting a lifeguard's interval time in the chair from 20 minutes to 11 or 12 minutes before rotating with another lifeguard. "The whole issue of lifeguards — their attention span, engagement, knowing how important their role is — that's become a real challenge for us," she says.
While Dahlmann has to trust that her lifeguards have been properly trained to address the dangers lurking in the water, it is her responsibility, and the responsibility of aquatics managers alike, to address the potential dangers lurking outside the water in her facility. That requires utilizing "eyes" to simultaneously monitor as many parts of the facility as possible.
VISION QUEST
One of the keys to maintaining a secure aquatics facility is an effective surveillance system. The University of Missouri did not have video cameras in place prior to its rec center renovation in 2005. "We're able to effectively monitor who is in the building along with any unusual movements in the building," says Dahlmann, noting that the cameras have also played a role in the center experiencing zero off-hours incidents. Dahlmann is in the process of replacing all analog cameras with digital, and is increasing the number of cameras, as well. Right now, 54 cameras monitor the 300,000-square-foot facility, along with three adjacent synthetic turf fields, a track and a small field house. The plan is to increase that number to approximately 80.
One particular aspect of video surveillance systems Sepela appreciates is the ability to access the security cameras from a remote location, and if something happens during the small window when no staff is present — from 2 a.m. to 5 a.m. — a message is sent to the security personnel on call. A video record of an incident or reported problem is also important for investigative purposes.
While surveillance video cameras have been a technology titan in the realm of aquatics safety, the future may be credentialing systems, according to Dahlmann. "Identification is a big challenge, making sure we are admitting the proper person and making sure that isn't compromised." Down the line, Dahlmann envisions a robot at the door that would give everyone a high-five, picking up the handprint of that student, and then having the gates open for that individual. But for now, "we're in talks about simply adding the validation feature of biometrics by a finger or palm print," she says.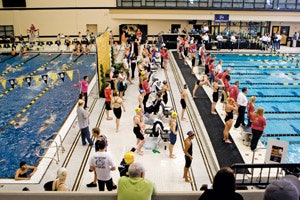 CROWDED HOUSE
Managing daily student traffic is one thing; managing weekend foot-traffic to the tune of 1,000 athletes and 3,000 spectators is another challenge altogether. Seris oversees the competitive swimming and diving events at Mizzou, including the Missouri Grand Prix, part of the USA Swimming Grand Prix Series, which has attracted swimming superstars including Michael Phelps and Ryan Lochte. "Most of the security concerns at an event like that center around crowd management," Seris says. "Moving our spectators and athletes through to the competition pool deck and adjacent staging area can be a logistics headache."
Staffing is key. An aquatic event staff is hired and trained specifically to assist with those types of large events. Seris will position staff at various checkpoints while using rovers to move throughout the crowd, looking for all types of unsafe situations all the way down to spilled trash. That staff is trained to administer CPR and first aid as needed, just like lifeguards. Seris also utilizes a police officer or campus safety officer around the pool area and, depending on the size of the event, one outside, as well, to monitor traffic and people moving in and out of the facility.
RELATED: Athletic Facility Evacuation and Emergency Planning Tips
Dealing with unruly fans is uncommon and rarely has anything to do with the event itself. "Someone might be upset about the seating arrangement or number of restrooms available," says Seris. "Basically you just have to hear them out and let them voice their concerns. It rarely gets to the point of yelling." Two years ago Seris instituted an active-shooter protocol. Given the size of the Mizzou rec center, communication to all areas via staff radio is critical. While no incidents have occurred inside the facility, it has had to be put on lockdown due to incidents elsewhere on campus.
To date, aquatic venues remain one of the safer environments in athletics. There are no strict bag policies or metal detectors, and unruly fans are a rarity in this close-knit community. But other safety and security challenges exist for the modern-day aquatics manager, and a proactive approach to safety can mean the difference between a plan that sinks or swims.