Location: Fort Worth, Tex.
Project submitted by: Brinkley Sargent Wiginton Architects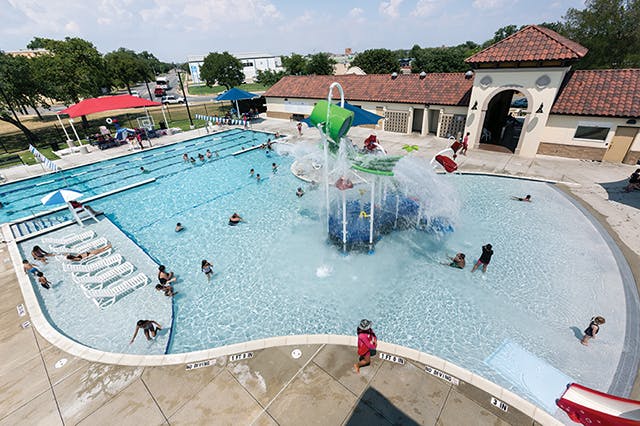 (photos by: ) Click here to see more
 
After budget cuts forced the closing of its pools in 2009 and 2010, the city of Fort Worth in 2013 marked the reopening of its oldest pool — Forest Park Pool — as well as the grand opening of the city's first new public pool since the 1960s. The new Marine Park Aquatic Center replaced an antiquated facility built in 1926. The previous pool had served inner-city families for decades, and it was time that they again had a place to swim, and perhaps more important, to learn to swim.
Built to host 350 swimmers, Marine Park largely follows a footprint for future Fort Worth aquatic centers as envisioned in a recent master plan. The aquatic center includes a wading area with an interactive children's waterscape, a water slide, a 25-yard lap pool, a submerged deck with lounge chairs, shaded picnic tables, a Spanish-style bathhouse with restrooms and changing areas, vending machines and lockers. Funding for the $3.8 million project came from community development block grants and city capital project reserves. The city also put $286,000 in improvements into the surrounding park, including a picnic shelter on the site of the old pool, a skate park, 14 benches, 20 picnic tables and new sidewalks.
---
QUICK FACTS:
Architect of Record: Brinkley Sargent Wiginton Architects, Dallas, Tex.
Aquatic Consultant: Counsilman-Hunsaker Associates, St. Louis, Mo.
Square Footage: 18,268
Cost: $3.85 million
Occupancy: May 2013


SUPPLIERS:
Chemical control systems: BECS Technology Inc.
Ladders/grab bars and lifeguard stands: Spectrum Aquatics
Filtration systems: Nemato Corp.
Lane markers: Antiwave Pool Products
Lockers: Columbia Lockers
Sanitization systems: Stenner Peristaltic Pumps
Water play features: Vortex Aquatic Structures International
Waterslide: SplashTacular Entertainment

VIEW THE ENTIRE AQUATIC DESIGN PORTFOLIO>>

In 2015 Athletic Business® introduced the inaugural Aquatic Design Portfolio. From splash pads to competitive swimming venues, these projects highlight the latest aquatic trends and design concepts. We hope they serve as inspiration to professionals across the athletic, fitness and recreation industries and their own aquatics projects. For more information, click here.