Location: Denison, Ohio
Project submitted by: Hastings+Chivetta Architects Inc.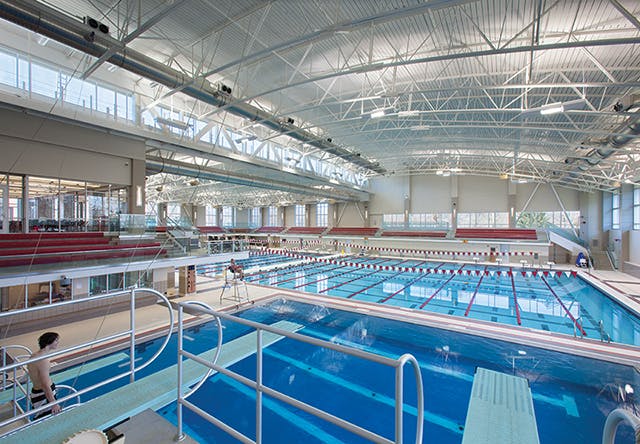 (Photos by Hastings+Chivetta Architects Inc./Fentress Photography ) Click here to see more
 
The 28,200-square-foot Trumbull Aquatics Center addition is the centerpiece of the renovated Mitchell Center at Denison University. The renovation and expansion created cohesion and connection in a facility constructed in the 1940s and expanded three separate times.
The project included extensive creative reuse of spaces to achieve all the project goals and stay within budget. The former pool was filled in and transformed into a two-story fitness space with skylights. The previous weight room was repurposed into a training suite with hydrotherapy. The footprint of the addition was carefully configured to minimize impact on the site. Designers took advantage of existing grades by placing the aquatic center addition to the north and placing the pool deck one level below the main entry to allow for views into the aquatic center from the main level.
The Trumbull Aquatics Center includes a 50-meter-by-25-yard Olympic-size pool — four times larger than the previous pool — with a moveable bulkhead and moveable pool bottom. Ideal for competitions, the venue features two full-color video boards, state-of-the-art timing systems and a high-quality sound system. Videotaping capability allows the coaching staff to film underwater, and cameras are equipped with delayed playback at both boards.
---
QUICK FACTS:
Architect of Record: Hastings+Chivetta Architects Inc., St. Louis, Mo.
Aquatic Designer: Counsilman-Hunsaker, St. Louis, Mo.
Square Footage: 28,200
Cost: $35.5 million
Occupancy: August 2012

SUPPLIERS:
Chemical Control Systems: Hanovia
Heaters: Dal-Tile Corp.
Saunas/Whirlpools: Crystal Fountains
Locker room swimsuit extractors: Aquatic Development Group Inc.
VIEW THE ENTIRE AQUATIC DESIGN PORTFOLIO>>



In 2015 Athletic Business® introduced the inaugural Aquatic Design Portfolio. From splash pads to competitive swimming venues, these projects highlight the latest aquatic trends and design concepts. We hope they serve as inspiration to professionals across the athletic, fitness and recreation industries and their own aquatics projects. For more information, click here.