Location: Dickinson, N.D.
Project submitted by: Ohlson Lavoie Collaborative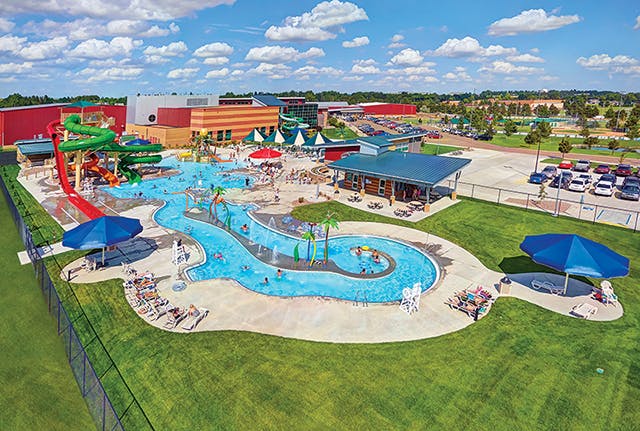 (Photo by InsideOut Studios) Click here to see more
 
When the West River Community Center was designed and built in the early 2000s, it opened to rave reviews and an impressive number of members. Since then, the WRCC continued to serve an ever-increasing population within its walls to the point that usage of the facility exceeded capacity. Contributing to the overcrowding was the closure of the city's outdoor pools in 2010. In 2012, the city asked Ohlson Lavoie Collaborative to move forward with plans for a much-needed expansion of the community center, the ice rink and a new outdoor leisure pool.
With the new pool, the city wanted to offer visitors a true entertainment experience that would establish WRCC as the model recreational facility for North Dakota and beyond. The city also wanted to ensure that the aesthetic look of the expansion and pool blended seamlessly with the overall facility theme, which reflects the beauty and ruggedness of the Badlands, as well as the area's rich history as a hotbed of prehistoric discoveries.
---
QUICK FACTS:
Architect of Record: Ohlson Lavoie Collaborative, Denver, Colo.
Square Footage: 25,638
Cost: $3.3 million
Occupancy: July 2014
SUPPLIERS:
Chemical control systems: BECS Technology Inc.
Access ramps/stairs, ladders/grab bars: Spectrum Aquatics
Cleaners/vacuums: Maxi-Sweep Inc.
Filtration Systems: Nemato Corporation
Gutters: Paddock Pool Equipment
Heaters: Pentair Aquatic Systems
Sanitization Systems: Stenner
Water Play Features: SplashTacular Entertainment, Vortex Aquatic Structures


VIEW THE ENTIRE AQUATIC DESIGN PORTFOLIO>>

In 2015 Athletic Business® introduced the inaugural Aquatic Design Portfolio. From splash pads to competitive swimming venues, these projects highlight the latest aquatic trends and design concepts. We hope they serve as inspiration to professionals across the athletic, fitness and recreation industries and their own aquatics projects. For more information, click here.