Location: Boulder, Colo.
Project submitted by: Aquatic Design Group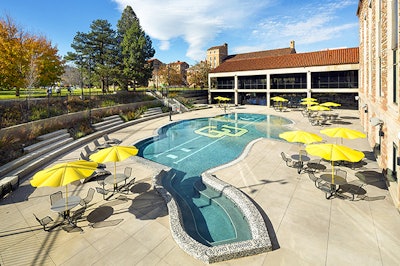 The student recreation center at the University of Colorado was considered a state-of-the-art facility when it was built in the early 1970s. Fast-forward 40 years and the university was looking at a facility that not only lacked amenities but also space to accommodate its expanded student body.
Included in the $63 million expansion and renovation project was a new outdoor recreation pool to meet the demands of the school's active, health-conscious community.
A meeting early in the project spawned the idea to design the pool in the shape of Ralphie, the university's buffalo mascot. Thus, the first mascot-shaped pool in the country was born.
In addition to serving the needs of the students and faculty, the outdoor pool is integral to the sustainability lifecycle of the new student recreation center. Heat waste from an ice rink built as part of the expansion is distributed through a recovery loop and used to warm the center's four indoor pools, serve the building's hydronic heating loop and, finally, dispense excess heat to warm the outdoor pool.
---
QUICK FACTS:
Aquatic Design Engineer: Aquatic Design Group, Carlsbad, Calif.
Architect of Record: Davis Partnership Architects, Denver, Colo.
Associate Architect: Cannon Design, St. Louis, Mo.
Square Footage: 3,500
Cost: $885,000
Occupancy: March 2014
SUPPLIERS:
Chemical control systems: BECS Technology Inc.
Filtration Systems: Nemato Corp.
Lighting: Pentair Commercial Aquatics
Booster Pump: Aurora

VIEW THE ENTIRE AQUATIC DESIGN PORTFOLIO>>
In 2015 Athletic Business® introduced the inaugural Aquatic Design Portfolio. From splash pads to competitive swimming venues, these projects highlight the latest aquatic trends and design concepts. We hope they serve as inspiration to professionals across the athletic, fitness and recreation industries and their own aquatics projects. For more information, click here.