Location: Frisco, Tex.
Project submitted by: RenoSys Corp.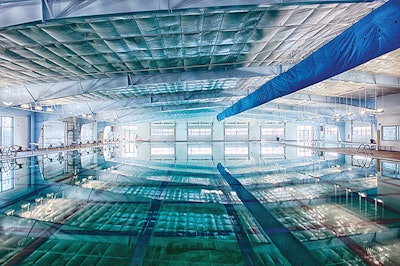 The new Texas Ford Aquatics center, formerly known as Frisco Aquatics, is home to a nationally successful USA Swimming Club and serves the community through a variety of programming, including its SwimAmerica learn-to-swim, U.S. Masters, and aquatic fitness and therapy programs.
The new facility features an Olympic-size competition pool and a 25-yard warm-water training pool for lap swimming, lessons or therapy. Each pool is comprised of a modular stainless-steel vessel with a buttress-and-wall-support system, and utilizes a thick, PVC pool membrane. The pool's perimeter gutter system is also stainless-steel, with PVC grating.
Since the indoor facility is host to many events and high-level training, Texas Ford Aquatics elected to install an Evacuator chloramine-removal system that vents harmful pool compounds and provides cleaner air for pool guests. Additionally, 13 garage doors surround the facility and can be opened when desired.
---
QUICK FACTS:
Design/Build Commercial Pool Contractor: RenoSys Corp., Indianapolis, Ind.
General Contractor: Adolph & Peterson Construction, Richardson, Tex.
Square Footage: 30,000
Cost: $6 million
Occupancy: October 2014
SUPPLIERS:
Stainless Steel Futura Pool Vessel, PVC Pool Surface Membrane: RenoSys Corp.
Starting blocks, accessibility lift: S.R. Smith
Filtration Systems: Miami Filter
Heaters: Raypak Inc.
Lane Markers: Antiwave Pool Products
Pumps: Speck Pumps
Main Drain, Grating: PoolEquip


VIEW THE ENTIRE AQUATIC DESIGN PORTFOLIO>>



In 2015 Athletic Business® introduced the inaugural Aquatic Design Portfolio. From splash pads to competitive swimming venues, these projects highlight the latest aquatic trends and design concepts. We hope they serve as inspiration to professionals across the athletic, fitness and recreation industries and their own aquatics projects. For more information, click here.