Check out the newest products as seen in the April 2021 issue.
GearBoss
Rival™ Athletic Lockers bring a durable, attractive wood locker design to a team room that prioritizes its budget. Unmatched in durability and quality at their price point, Rival lockers are configurable with three width options. They also offer lockable cubbies, padded seat cushions, footlocker shelves, nameplate holders, flip-down garment bars and a variety of color options. The Rival Athletic Locker provides a functional and quality locker solution at an affordable price.
www.gearboss.com/rival-lockers.php
[email protected]
(507) 455-4100
---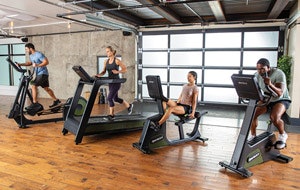 SportsArt
SportsArt's ECO-POWR™ Elite Series of electricity-generating fitness equipment has the same quality build and ECO-POWR™ technology as the original Status Line, while designed to be more compact to accommodate smaller fitness spaces and boutique gyms. The compact design and user-friendly consoles provide a streamlined approach to an engaging workout, while also reducing facilities' carbon footprints through SportsArt's patented ECO-POWR™ technology, which captures human exertion and converts it into utility-grade electricity to help power other items on the local grid and offset carbon emissions. The ECO-POWR™ Elite Series has the potential to capture up to 74 percent of user-generated energy and convert it into renewable electricity — helping to power items such as lights, fans and TVs within the facility.
www.gosportsart.com/eliteecopowr
[email protected]
(800) 709-1400
---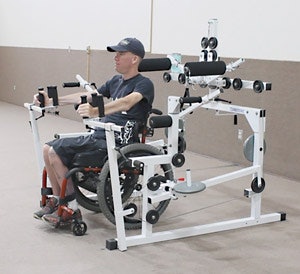 Aqua Creek Products LLC
The ProTone™ fitness machine provides 16 predefined exercises to improve the strength, endurance and overall health of people with disabilities. Additional exercises are only limited by the user's imagination and capabilities. Unique controls allow adjustment of the machine without the need for gripping, allowing users to make necessary adjustments without assistance from others.
www.aquacreekproducts.com/the-protone-fitness-machine
[email protected]
(888) 687-3552
---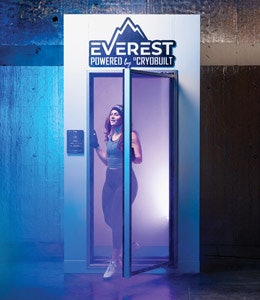 CryoBuilt
The Everest Peak is an innovative full-body electric cryotherapy system cooled purely by electricity with no need for harmful and expensive nitrogen gas. The Everest Peak provides a fun, convenient and comfortable way for members to recover from their workouts. A two- to three-minute session in ultra-low temperatures customized per client provides the desired 30-to-40-degree external skin temperature drop by promoting vasoconstriction and vasodilation. In addition to its health benefits, each Everest Peak system is customizable in color and comes with LED lighting and music options to allow for an immersive, custom cryotherapy experience for as little as $8 per day in electricity cost.
www.cryobuilt.com
[email protected]
(800) 633-1400
---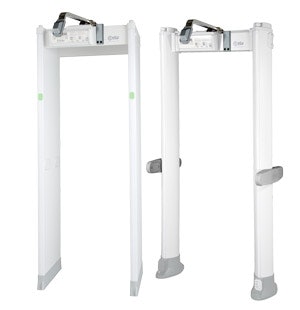 CEIA USA
The CEIA Thermal Detection Unit provides the automatic measurement of body surface temperature for people in transit while simultaneously providing the detection of metallic threats and other industry-leading detection capabilities. The Thermal Detection Unit is available as an embedded upgrade sensing kit that can be installed on new or existing CEIA panel and elliptic column walk-through metal detectors. Designed for fast and cost-effective screening operations, the TDU enables simultaneous threat and fever detection on all screened persons from the same walk-through metal detector. No additional checkpoint space or manual operations are needed, and contact between screeners and the persons being screened is avoided entirely. Continuous calibration of the thermal system ensures maximum accuracy and unique signaling, including the thermal alarm indication on the control unit display.
www.ceia-usa.com
[email protected]
(833) 224-2342
---
This article originally appeared in the April 2021 issue of Athletic Business with the title "New & Improved." Athletic Business is a free magazine for professionals in the athletic, fitness and recreation industry. Click here to subscribe.