Fabric Structures Are Proliferating as Permanent Multipurpose Venues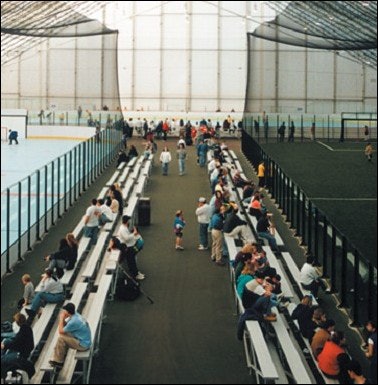 Driving south on Route 18 in Fitchburg, Wis., the view is a suburban tapestry of metal commercial buildings, electrical transmission towers and glimpses of the family farms that for 150 years have served as this region's dominant industry. Looming off to the right, though, at the base of a hill, is a sight unlike any other in the area.
It's Urban Links Golf Dome, and it represents both the promise and the problems of fabric structures in multipurpose applications. An air structure, Urban Links houses a miniature golf course and a two-level driving range. A bank of lights just above the second level shines upward toward the reflective white fabric dome and outward in the direction of the golf balls' synthetic-turf landing zone. A year-old haven for golf enthusiasts through the long Wisconsin winter, Urban Links has started renting its space to local league organizers, and now certain evenings will find kickball, Ultimate Frisbee, football and softball players running around inside the dome.
The transition from golf dome to multipurpose facility has not been without its bumps, however. The facility's semi-opaque roof helps boost the interior temperature to unbearable levels during heat waves (many air structures are for that reason taken down during the summer). The turf, installed mainly for its color, is laid on concrete and is thus punishing on athletes' joints. The lighting, perfectly adequate for driving golf balls, is insufficient in the farther reaches of the dome. In addition, the placement of fixtures blinds infielders to the extent that this fall's inaugural softball league collapsed after teams quit because of concerns over players' safety.
Fortunately, manufacturers of fabric structures and their various components - from the air-handling and lighting systems to the fabric itself - are responding to the changing needs of dome purchasers, and in the process changing the way domes are used and perceived.
Fabric structures fall into three main categories: Air-supported, in which mechanical air blowers maintain the domes' inflation, sometimes aided by cables; frame-supported, in which fabric is stretched over an aluminum or steel frame; and tensile-membrane, in which fabric is stretched with cables over masts, like an enormous tent. (The latter are typically utilized in outdoor applications such as shade structures over stadium grandstands, and are thus outside the scope of this article.)
What frame- and air-supported structures have most in common is unique engineering. In essence, with the fabric or supporting cables tensioned and anchored to an in-ground footing, the conventional science of construction is turned on its head.
"It's the opposite of any other type of building," says Steve Flanagan, president of St. Paul, Minn.-based Yeadon Fabric Domes. "With a fabric structure, you're trying to hold the building down. With every other building, you're trying to hold it up."
It's what keeps these structures up, though, that is the most important distinction between the two. Frame-supported fabric structures are conventional at least in the sense that the frame support is rigid. Strong but lightweight, the frames are generally permanent but offer a number of options for flexibility. Some frames can be unbolted and moved; structures can be specified with movable end walls to help create a sort of open-air pavilion; and the fabric shell itself can even be removed from the frame for outdoor use of courts or pools during the summer.
All but the smallest air structures feature some sort of cable system to help the bubble keep its shape, but air pressure is its primary means of support. Ingress is typically through an airtight revolving door, but code-required fire doors swing out and a single one of these left open overnight can bring down a dome. So, for that matter, can heavy snow if it's not dealt with properly (by increasing the interior pressure). Air structures therefore require alarmed doors, well-maintained mechanical systems and general vigilance on the part of the operator.
"They do fall occasionally," says Derik Goodman, air structures sales manager at Amherst, N.Y.-based Birdair Inc. "An air structure is a lot like an airplane. You can put it on autopilot, but you never want to walk away from it. It's on constantly. If you turn the ventilation off, it will come down. If you leave the air lock open, it will come down. Walk away from a 20-inch snowfall without increasing the pressure and heat, and you're setting yourself up for failure."
But the minimal support (in the case of frame-supported structures) and complete lack of support (in the case of air-supported structures) has a spectacular payoff. Fabric structures are far less costly to construct than conventional structures, a fact aided by their ability to be prefabricated in a factory. Costs vary by region and size, but frame-supported structures cost around 30 to 50 percent as much as a conventional building (about the same range as prefabricated metal buildings, at least for smaller spans), and air structures can come in as low as 10 percent the cost of a similarly sized permanent structure.
"A lot of people who purchase them either don't have a lot of money up front or want to get a business open quickly, and this is the quickest and most economical way to cover a big space," says Steve Wright, vice president of sales and construction for Olathe, Kan.-based Indoor Courts of America. "Typically, they're not looking at a 20- or 30-year business plan."
This is so because of fabric structures' higher operating costs relative to permanent buildings. The types in which the fabric remains in place year-round must be air-conditioned in summer or heated in winter (or both), and although insulation is an option in these permanent installations, it's simply not as efficient as it is in a conventional building.
"You can put an insulation system in them, but there's a point at which you're better off putting in a permanent building," Wright says of air structures. "We've done some studies of up-front and operating costs, and if you're looking at air-conditioning an air structure and being in business for more than four or five years, you're better off constructing a conventional building."
Making comparisons between building types is difficult, of course, and fabric structures are particularly tough to figure because of two seemingly self-contradictory truths. Fabric structures are a more cost-effective option for small applications because operating costs are mitigated. At the same time, they're more cost-effective in large applications because of the large volumes they can span.
The most successful fabric-structure applications, therefore, tend to be niche uses. Small pools and one or two tennis courts can be covered in winter and left open in summer, thereby avoiding both a large volume to ventilate and any size building's greatest operational expense (air conditioning). On the other hand, extraordinarily large, clear-span facilities can be created without incurring huge costs for concrete, steel, site work and great feats of engineering.
Jan Ligas Jr., vice president of Air Structures American Technologies, can see examples of both kinds of fabric facilities within 10 miles of his company's Rye Brook, N.Y., headquarters. One group of entrepreneurs leases a synthetic-turf field from a town during the winter months, covers it with a dome and runs a profitable, 75,000square-foot indoor soccer and golf venue. When summer comes, "they pack up their tents and go home," Ligas says. Pools, though, are the more common niche.
"These pools are out there; the money's been spent, it's invested," Ligas says. "So swim teams or municipalities or private clubs will buy a dome and use these pools that usually get used four months a year. They don't want to spend $1 million, they want to spend $100,000. That's where we come in."
The costliest component in a fabric structure is, not surprisingly, the fabric, and the fabric chosen will affect not only the total cost but the facility's usability and the performance of just about every mechanical and electrical system.
If fabric structures' shells were made of just fabric, it would be relatively simple to specify one. Polyester fabric of the type used for air structures must be strong but supple enough to withstand deflection of the fabric under various conditions. Fortunately, polyester yarns are both. A fabric's tensile strength, determined by the number of yarns per inch and the size of the yarns used, is high enough that a sheet of fabric can elongate by 20 to 30 percent before snapping. Frame-supported structures can get by with fabric with a tensile strength of 200 pounds per linear inch, since the frame carries most of the building load.
Air-supported structures utilize fabric strong enough to hold 600 pounds per linear inch.
But there's a lot more to fabric than meets the eye, as suggested by the wide range of finish weights of fabrics used for domes. While Frank Bradenburg, technical marketing manager of fabric manufacturer Seaman Corp. in Wooster, Ohio, notes that finish weight is irrelevant to discussions of fabric strength, it does begin to suggest the many additions to the polyester before it is installed. The fabric is typically fused with layers of materials of varying properties, and coated both on the inside and outside, depending on the wishes of the prospective owner:
• Opacity vs. translucency. Want to take advantage of natural light inside the dome? Specify a translucent fabric. More and more, though, fabric structures are being specified with opaque fabric to prevent a greenhouse effect from occurring. Domes are made opaque by adhering a layer of black plasticized vinyl to the base fabric. A white vinyl layer is added to the interior to aid in reflectivity (other colors can be added for variety), and the exterior is then coated with a protective vinyl and a white topcoat.
• Large vs. small spans. The smaller the span, the lighter-weight the fabric can be, but this doesn't necessarily involve the size of the dome itself. Some domes' cable systems or frames have large gaps between supporting members, necessitating stronger fabric than might ordinarily be used on a similar-size dome featuring a greater number of supporting members.
• Hot vs. cold climates. Heavier-weight fabrics might be specified when the fabric itself is being counted on to add to the building's insulation value in extreme environments, or its ability to shed snow in snow-belt areas. Opaque domes often include an outer shell and an inner liner, between which is laid insulation - foam bubble-pack in hot climates, sealed fiberglass in cold.
• Large vs. small budgets. This is the classic case of getting what you pay for. Heavier-weight fabric formulations include a thicker topcoat that protects the fabric from ultraviolet rays and precipitation that can permeate the fabric and lead to failure. In addition, certain topcoatings are prized by fabric manufacturers for their cleanability and longevity, and are warrantied accordingly. Paying 20 percent less for the dome might mean getting a warranty that's 50 percent shorter in duration.
The move toward fabric domes in multipurpose applications is driving the industry toward wider use of opaque fabrics and thicker, more expensive roof fabrications, Bradenburg says. "UV protection is related to how well the topcoating is formulated, and typically, higher-pigmented PVC will weather better than high-translucency products. So not only do they block heat, they last longer."
Formulations of topcoatings, and of the fabric they coat, are subject to interpretation, and many companies' claims inevitably contradict each other. For example, the fact that topcoatings wear away over time is enough to convince Bradenburg that they shouldn't be counted on to shed snow. "It's not going to be there after a few years; I think it's misleading to the buyer," he says. "The tops of these buildings are flat, and if snow gets a chance to build up on one, it will. And the thing about air structures is, once they start to dip in at the top, it forms a depression that gets deeper as the snow collects. It's truly the snowball effect at that point."
Mike Ragen, who heads up U.S. sales of Guelph, Ontario-based The Farley Group (a manufacturer of air-supported structures), notes that at the least, local building codes require that all operators have the systems they need to withstand any climatic circumstance. "There are full emergency backup systems on all air structures; it's the law," Ragen says. "You can't build one for public occupancy without a backup emergency air supply. So if for example you lose your electricity, you have a supplemental gas-, diesel- or propane-powered boiler that comes on to maintain heat and pressure in the building."
Yet, others caution that manufacturers' claims should be weighed against commonsense interpretations of building codes. Mike Brickler, director of sales and marketing for Ventura, Calif.-based frame- supported fabric structure manufacturer Clamshell Buildings, says that building failures result as much from company philosophy as from operator error.
"Engineering, like medicine, is not black and white," Brickler says. "People wish that their doctor could tell them exactly what's wrong with them, and fix it. In reality, many times it's a very gray area. In engineering, people can say a building's strong enough because of the way they analyze certain figures such as snow loads and wind loads. We use very conservative estimates as a company, whereas other companies are very liberal in some of their interpretations. A lot of people say that because of the angle of a roof, it will shed snow and therefore doesn't have to support the snow load. But what some won't tell you is that when the snow falls off, you still have to remove it from the site, because if it accumulates against the wall it can collapse the building. That's part of the fine print."
Another often-ignored aspect of fabric structures is the cost and time involved in taking them down - something else that is driving the trend toward permanent fabric-structure installations.
"Almost all the small clubs still take theirs down on a seasonal basis," says Ragen, adding that larger domes are inherently problematic. "It is very uneconomical to heat an uninsulated golf dome in winter, but at the same time it is extremely expensive to take down a large dome. It's infinitely cheaper to just keep it up during the summer."
Ragen estimates the cost of removal and reinstallation at between $7,000 and $15,000 a year; Yeadon's Flanagan tabs the cost at $3,000 to $6,000 for a single tennis court to $10,000 to $20,000 for a multisport dome. Flanagan says these costs lead about half of owners to handle the process themselves, which he says is fairly straightforward once they've seen it done by an experienced crew. Birdair's Goodman, though, advises against the do-it-yourself solution. "A lot of municipalities think that if they see us do it once they can do it, no problem," he says, "but a lot of variables can come into play. If the dome is damp, and you pack it up and put it away for the summer, mold and mildew can lead to some unpleasant issues, both aesthetic and structural. Or, if you fold or roll it up incorrectly, you can get some degradation of the topcoating."
The alternative? Leave them up, as many more owners are doing. Goodman estimates that 30 percent of small-dome operators no longer take their domes down, and upwards of 90 percent of larger multipurpose dome owners never had any intention of doing so. It's clear that fabric structures have more than just a toehold in a business dominated for years by prefabricated metal building manufacturers.
"Field houses would not exist in the private sector if it weren't for fabric structures, because most people can't afford to cover, say, 70,000 square feet of clear-span space and cover the debt service," says Ligas. "With fabric structures, you get a quality building for 20 years with short-term financing of five to seven years. All of a sudden, having spent, say, $1.2 million, you're in the indoor sports business, charging the same amount of money that a $10 million recreation center might charge. There's a huge niche there, and nothing else can fill it."