Breaking Ground
University of Northwestern-St. Paul has broken ground on new athletic facilities for its football, soccer, baseball, softball and tennis programs (right). The $10.7 million project will include new synthetic turf fields for football/soccer, baseball and softball, as well as six regulation-size tennis courts, updated bleacher seating and new locker rooms. Completion of the new facilities is expected by fall 2014.
The University of Wyoming broke ground last month on the first phase of a $30 million renovation of its Arena-Auditorium, the facility's first major upgrade since 1982. Initial work, expected to be completed by the start of the 2014-15 basketball season, will include upgrades to the court, seating area and arena technology. The second phase will focus on renovations of the facility's exterior, including a new glass entryway, ticket booth and concessions areas; pavilion upgrades; a hall of fame; and a historical center. By Architectural Means P.C. of Cheyenne is working in association with Denver-based Sink Combs Dethlefson the project.
The Clarksville Athletic Club in Clarksville, Tenn., has begun work on a $4 million expansion. The club will grow from its current 40,000 square feet to 70,000, adding more strength training space, two additional cardio areas, two additional locker rooms, a full basketball court, a jogging track and a children's fitness area. In addition to new spaces, the club will be adding new programming, as well as virtual fitness kiosks. Designed by Clark & Associates of Clarksville, the expansion is expected to take 10 months to complete.
Utah State University broke ground last month on a new USU Student Recreation and Wellness Center. Planned to be the new focal point of student activity for the campus, the $30 million facility will offer a fitness center with areas for cardio and weight training and a walking track, three basketball courts, a multi-activity court, study lounges and a student wellness center. When the center opens in August 2015, it will also be home to the campus recreation offices, as well as the outdoor recreation program. Salt Lake City-based architectural firm AGC worked with 360 Architects of Kansas City on the project design, taking inspiration from the local canyons for the building's exterior.

The Grapevine (Tex.) Community Activities Center (below) broke ground on an expansion project last month. Aimed at transforming the center into a multigenerational facility, 65,000 square feet will be added to the center's current 49,000-square-foot building. Included in the addition is a leisure pool and outdoor aquatics deck; two full-court gymnasiums; racquetball courts; weight and fitness spaces; group exercise, aerobics and dance studios; classrooms; and a community room/events hall. The project, designed by Barker Rinker Seacat of Dallas, is expected to be completed in 2015.
---
First Pitch
Commissioners in Pasco County, Fla., have approved an agreement with Blue Marble Strategic on the building and operation of the Fields at Wiregrass sports complex. Under the agreement, the county will contribute $11 million for infrastructure upgrades, while Blue Marble will pay for the construction of the athletic fields, dormitories, a 2,100-seat stadium, a parking garage, batting cages and other amenities. The company now has six months to arrange funding for the project, after which construction would take approximately 18 months... The Kansas Board of Regents has approved $62 million in upgrades to Kansas State's Bill Snyder Family Stadium, Bramlage Coliseum and Tointon Family Stadium. Included in the upgrades will be $50 million for an overhaul of the north end of Snyder Family Stadium, including new training facilities and expanded space for football operations... Arizona State University has launched a campaign to raise $50 million toward a $225 million renovation of Sun Devil Stadium. Pending approval from the Arizona Board of Regents, construction would begin in spring 2015... The Parks and Recreation Department in Corpus Christi, Tex., is working on a plan that would donate a 50-acre lot to a private developer who intends to turn the space into a sports complex. The complex would include soccer and baseball fields and basketball courts, and officials hope it would draw athletic tournaments and tourism dollars. The final plan is pending a vote by city commissioners... The nonprofit Prospect Meadows has kicked off a $2.6 million fundraiser to bring new ball fields to Marion, Iowa. The 17-acre Prospect Meadows Ball Fields will be built on land leased from the county and offer 17 fields, including one for people with disabilities. The project, estimated to cost a total of $9.4 million, is expected to be completed by 2016.
---
Grand Openings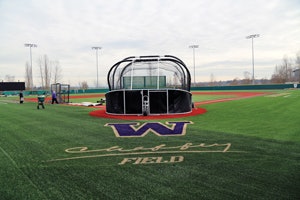 The University of Washington's renovated Husky Ballpark (right) is now open. The $15 million reconstruction project replaced wooden bleachers and portable toilets with a new grandstand, restrooms, concessions areas, luxury suites and a press box. A synthetic turf field and new scoreboard were also included, as well as an 8,000-square-foot player development area. SRG Partnership of Seattle designed the project, which features a brick exterior, similar to the recently completed Husky Stadium... The New Clarksville Base Physical Fitness Complex is now open at Fort Campbell, Ky. The $18 million facility offers cardio and weight workout areas, locker rooms, a classroom, an aerobics room, an indoor running track, a 40-foot-tall climbing wall, a multipurpose gym and an NCAA-style gym with two courts, and outdoor softball fields. At 75,000 square feet, the complex is the largest of its type at Fort Campbell. Moveable dividers add programming flexibility throughout, from morning physical training, functional fitness and physical therapy to group cycling classes and MWR Sports and Fitness office tournaments. Gresham, Smith and Partners of Birmingham, Ala., led the project design... The Windsor Athletic Center opened last month in West Windsor, N.J. The $28 million facility, originally planned as a Jewish Community Center until funding interrupted construction in 2012, offers a full-size basketball court, an Olympic-size swimming pool, a fitness center and locker rooms, as well as multiple classrooms. Recreational fields and walking trails will be added as weather permits...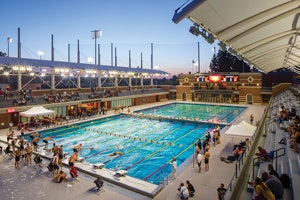 The University of Southern California's Uytengsu Aquatics Center (left) opened in February. The new venue, which is home to the USC swimming, diving and water polo teams, is built around the original long-course and diving tanks that hosted the 1984 Olympic Games swimming, diving and synchronized swimming events. Designed by California-based ELS Architecture and Urban Design, the facility now features permanent seating for 1,500 spectators and the ability to flex to accommodate 2,500 spectators for larger events, a shade canopy, lighting for nighttime competitive events, dry-land training facilities, locker rooms, team rooms, lounges and offices.