Breaking Ground
Georgetown University has begun construction on its John R. Thompson Jr. Intercollegiate Athletics Center, though a formal groundbreaking will take place next month. The $62 million project is a major priority of the university's $1.5 billion For Generations to Come fundraising campaign. Expected to be completed in August 2016, the four-story, 144,000-square-foot facility will include practice courts, locker rooms, team meeting rooms, lounge areas and coaches' offices for men's and women's basketball. The complex will also house locker rooms for four additional varsity sports, weight training and sports medicine rooms for all athletes, a Student-Athlete Academic and Leadership Center, team meeting facilities for all varsity programs and a new hall of fame. Bowie Gridley Architects of Washington, DC, is the architect of record and Populous of Kansas City, Mo., is the associate architect for the project.
Infrastructure work is under way on the long-awaited $278 million (Canadian) Mosaic Stadium at Evraz Place in Regina, Sask. Replacing the outdated Mosaic Stadium at Taylor Field, home of the Saskatchewan Roughriders, the 33,000-seat, open-air stadium will feature a sunken-bowl design, wider individual seats, a general admission lounge and a translucent spectator roof with the potential to add a full roof shoud it be desired. Excavation of 300,000 cubic meters of dirt and foundation work will be followed by the erection of four cranes over the coming months, setting up for significant progress to begin next spring. Dallas-based HKS Inc. is the lead design engineer, with B+H Architects of Toronto serving as architect of record. Substantial completion is expected by August 2016, with full construction wrapped by the start of the 2017 football season.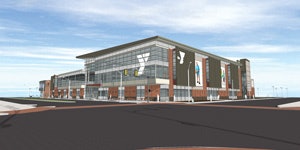 The YMCA of Greater Indianapolis broke ground last month on a new $22 million downtown facility. The three-story, 87,000-square-foot CityWay YMCA, designed by Browning Day Mullins Dierdorf Architects of Indianapolis, will feature two swimming pools on the first floor and three full-size gyms on the second floor. An adjoining 12,000-square-foot facility will house medical offices. The facility, expected to open by the end of next year, will serve as headquarters for the YMCA's "Top 10 by 2025" initiative, which aims to make the city one of the 10 healthiest in the country.
The Lititz recCenter in Lancaster, Pa., has embarked on a three-phase expansion project. The first phase will add 10,000 square feet to the facility's north side, expanding the fitness area to include functional training, a yoga and Pilates studio and a massage room. The first phase will also see the building's entrance drive realigned, its parking lot expanded, and stormwater issues addressed. Phase two, estimated to cost $1.45 million, will expand the childcare area and gymnasium, adding four new pickleball courts and one new basketball court. The final phase will provide renovations to the 53-year-old Lititz Springs Pool.
---
First Pitch
Wisconsin-based climbing gym Adventure Rock has received approval from the Milwaukee Zoning, Neighborhoods & Development Committee to build a combination apartment complex and climbing center... The Department of Parks and Recreation in Eagle, Idaho, is forming a task force to pursue construction of a new sports complex to combat the town's shortage of athletic fields. The city will then begin looking into expansion options... The Armstrong School District Foundation has launched an effort to raise funds for new athletic fields at Armstrong Junior-Senior High School in Manor Township, Pa. The 3,500-seat stadium will feature a synthetic turf field for football and soccer surrounded by an eight-lane track and pole vault area. The project would eventually add a practice soccer field, grass softball and baseball fields, a javelin throw area and six tennis courts.
---
Grand Openings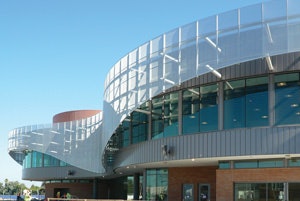 Students at the University of California, Riverside will return this fall to an expanded Student Recreation Center (pictured). The first phase of the $37.2 million project added 75,000 square feet to the existing SRC, including a new multi-activity court, an outdoor pool, an indoor jogging track, a climbing wall and an additional 20,000 square feet of weight and cardio spaces. New outdoor tennis courts and basketball courts also were included. The second phase of the project will renovate the existing SRC and take about six months to complete. CannonDesign of Los Angeles led the project design... Construction wraps up this month on Liberty University's new 30,000-square-foot softball stadium. Featuring synthetic turf with a dirt infield, the stadium meets NCAA super-regional standards. Designed by Richmond, Va.-based Baskervill, the stadium also includes locker rooms for the home and visiting teams as well as umpires, an expansive athletic training room, a state-of-the-art team meeting room, coaches' offices, a large press box, indoor batting cages, a large scoreboard and video board, and chair-back seating for 1,000 fans... A new running track opens this month at Lowell (Mass.) High School's Cawley Stadium. Replacing a worn and eroded 15-year-old track, the $600,000 rubberized track is expected to help attract regional meets...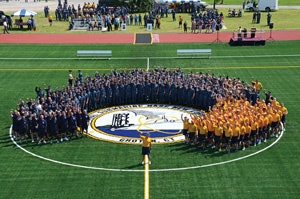 The Navy Region Mid-Atlantic has completed a series of track and field synthetic turf projects at its Submarine Base New London, Ct. (pictured); Joint Expeditionary Base Little Creek, Virginia Beach, Va.; Naval Station Norfolk, Va.; and Naval Air Station Oceana, Virginia Beach. Also completed were gym renovation projects at Norfolk Naval Shipyard, Portsmouth, Va., and Portsmouth Naval Shipyard, Kittery, Me., totaling $1.7 million and $2 million, respectively. Funding for the series of projects was provided by grants from Commander Navy Installations Command Headquarters in Millington, Tenn. Additionally, a $33 million replacement gym and fitness center funded through the Military Construction Program was completed at Naval Station Newport, R.I., and included a six-lane, 25-meter indoor pool, an indoor running track and a floating floor in the cardio area, which was designed to offer excellent views of nearby Narragansett Bay.