Breaking Ground

(Renderings Courtesy of Populous)
Kansas State University has broken ground on the new Vanier Football Complex (above) at Bill Snyder Family Stadium. Designed by Kansas City, Mo.-based Populous, the $69 million project began in December with the demolition of the existing Vanier Complex. The new facility will feature an expanded Academic Learning Center, an 18,000-square-foot strength and conditioning center, a nutrition center, and a new sports medicine and recovery center with state-of-the-art hydrotherapy and recovery pools. The project will also see the construction of a 140-seat team theater, meeting rooms and new offices for the football program, as well as an expanded football-shaped locker room. The new facility is expected to be completed in time for the 2015 football season.
Following a $1 million grant from the George S. and Dolores Dore Eccles Foundation, construction of the first phase of the Ogden (Utah) Community Soccer Complex has begun. The $4 million, 10-acre complex will include three synthetic turf fields with bleachers, lighting and scoreboards. Phase one, which is expected to open this summer, includes the construction of the first field; additional funding is being sought for phases two and three, as well as to construct a concessions building. The facility, which will be renamed to reflect the Eccles Foundation's donation, will provide a home for the Ogden High School boys' and girls' soccer teams. The complex will also be used by local nonprofit groups and club teams.
Construction of the Westlake Athletic & Community Center has begun in Eanes, Tex. The facility is being built in partnership with the Eanes Independent School District, which has supplied the land and will have priority access to the facility during the school day, and Westlake Athletic Center LLP, which will fund construction of the 60,000- to 70,000-square-foot facility and handle maintenance, operation and staffing. The facility will include basketball and volleyball courts and an indoor turf area, with the potential to add an aquatic center in the future.
The University of Nebraska-Lincoln broke ground in December on its John Breslow Ice Hockey Center. The $11 million facility will be owned and maintained by the university and used by its hockey programs and recreational and club sports, as well as host local groups and open skating. The center will cover 54,000 square feet and include one NHL-size ice sheet with seating for 700; locker rooms for teams, public use and officials; an elevated warm viewing area; concessions areas; and office and event spaces. Designed by DLR Group of Omaha, the facility is expected to be completed by August.
---
First Pitch
The University of Maryland board of regents has approved a $155 million plan to convert the school's 59-year-old Cole Field House into an indoor football practice facility and sports medicine center. The renovation will be funded using $25 million in state funds, $25 million from the university (to be repaid from Big Ten revenues), and private donations, including a $25 million gift from Under Armour founder and Maryland alum Kevin Plank. The former basketball arena is currently used for intramural sports and recreational activities.
Northern Illinois University has unveiled a $138 million facility master plan that will renovate Huskie Stadium and other athletic facilities. Private funds will be sought, and a timeline for the overhaul will be based on the needs of each program, as well as funding. The plan calls for increasing seating at Huskie Stadium, including the addition of luxury seating options. New facilities would be built for baseball, tennis and Olympic sports.
Following the successful debut of its $8.5 million aquatic expansion last year, Newtown Athletic Club in Pennsylvania has announced a $10 million expansion and renovation. The "Breaking Boundaries" plan calls for a 30,000-square-foot renovation and expansion of various indoor and outdoor areas.
RELATED: Newtown Athletic Club Renovation and Expansion
The Tulsa (Okla.) County Parks Department is working with Tulsa Little League Inc. on an agreement that would construct smaller versions of six Major League ballparks at LaFortune Park. The $3 million project would be funded and maintained by Tulsa Little League and used by more than 100 teams each year. Once an agreement is reached, construction will start in 2016.
---
Grand Openings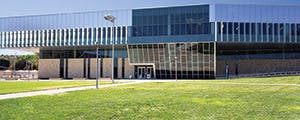 (Photos Courtesy of C.W. Driver) Click here to see more
The Bronco Recreation and Intramural Complex (pictured) is now open at California State Polytechnic University, Pomona. The $45.9 million, three-story recreation center features a three-court gymnasium, a multipurpose activity court, an elevated jogging track, weight and fitness areas, racquetball courts, a 10-lane lap pool with attached recreational area, a wellness center and a 53-foot-tall climbing wall. Designed by LPA Architects and constructed by C.W. Driver, both of Irvine, Calif., the 120,000-square-foot facility is LEED Silver certified, with features such as solar heating for the pool and tubular skylights to bring in natural light.
The Fort Walton Beach (Fla.) Recreation Complex celebrated its grand opening in January. The $8 million facility replaces three aging city recreation centers and offers a gymnasium, a fitness center, racquetball courts, a cafe area, spaces for senior citizens and administrative areas. The new center, designed by DC Architects Inc. of Fort Walton Beach, will also feature seven new outdoor baseball and softball fields, three new soccer fields and 10 new batting cages.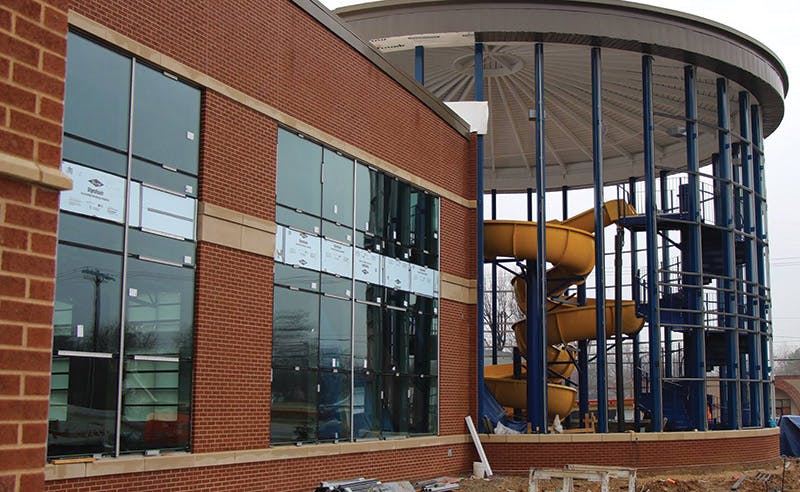 (Photo Courtesy of Hub Recreation Center)After equipment shipping and other issues delayed a scheduled November opening, construction of the Hub Recreation Center in Marion, Ill., is finally complete. The $12.5 million facility features a six-lane competition pool, as well as a therapy and recreation pool with a lazy river, a youth center, locker rooms, a walking track, group exercise rooms, cardio and weight training areas, and a two-court gymnasium. Designed by Baysinger Architects LLC of Marion, the Hub will host leagues for basketball, volleyball and dodgeball, as well as community events.
In January, Wellesley College celebrated the reopening of Keohane Sports Center Field House following a $10 million revitalization project led by Sasaki Associates of Watertown, Mass. Existing building skin and floor surfaces were replaced, and, most notable, the project added a mezzanine level to the field house, creating an additional 5,000 square feet of fitness programming.