Breaking Ground
After years of planning, construction of Parker Hannifin Downtown YMCA (pictured) in Cleveland has begun. The new facility will occupy two floors of former retail space and offer 40,000 square feet of fitness space, including a three-lane lap pool, a sauna, a steam room, networked fitness equipment, a group cycling studio, three group exercise studios, and a social gathering space. Scheduled to open in January 2016, the $8.9 million project was designed by Moody-Nolan Inc. of Cleveland.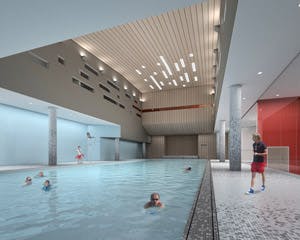 (Renderings Courtesy of Moody-Nolan) Click here to see more
Construction of Emerald Glen Recreation and Aquatic Complex has begun in Dublin, Calif. The $33 million aquatic complex will span 32,000 square feet and house one of the area's largest indoor recreational pools. Intended to be a regional draw, the complex will also include an outdoor competition pool; a water slide tower with two high-velocity drop slides and a variety of other slides; a 4,500-square-foot, surf-themed water playground; and a pool with a small slide for younger children. The project, designed by Dahlin Group Architecture of Irvine, Calif., is expected to be completed in early 2017.
Lafayette Christian School in LaGrange, Ga., broke ground this spring on the first phase of a new athletic complex to house the school's 14 athletic teams, which currently practice at facilities scattered throughout the community. The first phase of the project will construct a stadium for football and soccer, along with parking, concessions and locker room facilities. Also included in this phase is construction of two pools. A second phase will construct a baseball and softball field, a practice field and tennis courts.
Grand Valley State University breaks ground this spring on a $7.8 million expansion of its recreation center. Expected to be completed by fall of 2016, the expansion will add 17,000 square feet of space for cardio and strength equipment, storage space for members, and an indoor cycling studio. Designed by Hastings+Chivetta Architects of St. Louis, the project addresses the university's need for additional space to serve its growing student population.
---
First Pitch
The Milwaukee Bucks and Marquette University have partnered to construct a new a multipurpose facility that will house collegiate and professional athletic programs, academic research and wellness initiatives. Currently in design, the center will be built on seven acres of land recently acquired by the university and include indoor playing fields for several Marquette teams, as well as recreation and fitness facilities... The Winona (Minn.) City Council has voted to proceed with plans to move the city's outdoor skate park from the East End Recreation Center to inside the West End Recreation Center, which is not currently being used by the city. Approximately 25 percent of the existing skate park's equipment would be usable, and funding details for the new equipment are yet to be determined. Advocates for the new skate park hope to begin work by September... The Auburn-Lewiston YMCA in Auburn, Maine, has proposed a site for its new fitness center. Administrators are focusing their efforts on putting together a feasibility study for the location in Lewiston, as well as identifying potential donors and partners. The plans call for an $8 million to $10 million aquatics and fitness center to accommodate 5,000 members. A different site the Y had purchased in 2011 with the intention of building the complex is now being considered for a summer camp and recreation trails.
---
Grand Openings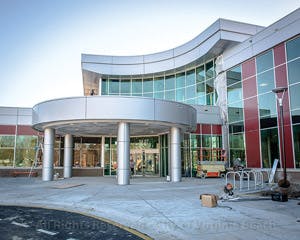 (Photos Courtesy of City of Virginia Beach) Click here to see more
The new Bow Creek Recreation Center (right) in Virginia Beach, Va., celebrated its grand opening last month. The original facility was built in the 1960s as a private country club and golf clubhouse before being acquired by the city and adapted and renovated over the years, closing in 2012 to make way for its replacement. The new $28 million facility, designed by Moseley Architects of Richmond, doubled the size of the previous rec center to 68,000 square feet, offering an indoor pool, a two-court gymnasium, expanded fitness spaces, and modernization of elements throughout the building. Built to achieve LEED certification, the recreation center also features LED lighting and geothermal heating and cooling. In addition, the surrounding landscape was transformed to include a new playground and walking paths, as well as a stormwater management system to mitigate the area's flooding issues... Life Time Fitness opened a new 112,000-square-foot location in Raleigh, N.C., last month. The club is expected to draw between 6,500 and 8,000 members and employ nearly 300 staff members. In addition to exercise and training areas, gym courts and a spa, it has a leisure pool and lap pool with a cabana area for families. The facility also includes a half-mile running track and turf fields for outdoor athletic activities...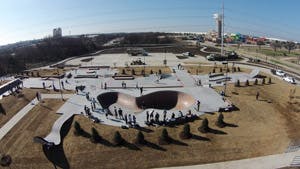 (Photos Courtesy City of Roanoke) Click here to see more A new 20,000-square-foot Roanoke Skate Park (pictured) is now open at Cannon Parkway Park in Roanoke, Texas. Designed by SPA Skateparks of Austin, the park embraces the city's "Unique Dining Capital of Texas" theme with a butter-knife-inspired grind rail and a feature shaped like a giant spoon in addition to the main bowl. The parks and recreation department reached out to the local community for design ideas for the $1.1 million park, part of a larger parks project that included sand volleyball courts, a walking trail and lights... The University of Manitoba is celebrating the grand opening of its new Active Living Centre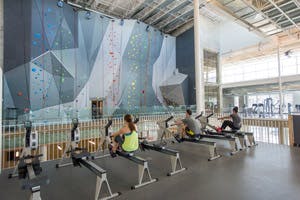 (Photos by Ian McCausland) Click here to see more (pictured) this month. At 100,000 square feet, it's the largest fitness center in Manitoba, housing cardio, resistance and free weight equipment; a 40-foot-tall climbing wall; and a 200-meter track. The four-story, $45 million (Canadian) project, designed by Cibinel Architects of Winnipeg, sits on stilts above a parking lot and features extensive floor-to-ceiling glass windows. The center will be renamed as part of the fundraising campaign.
---
This article originally appeared in the April 2015 issue of Athletic Business with the title "Forward Progress."