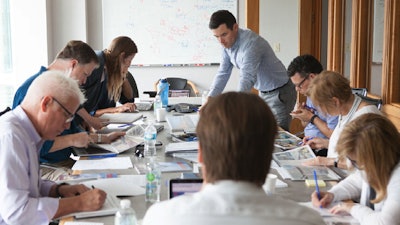 Recreation brings individuals together and builds communities around common interests. Rarely is that more evident among chosen Facilities of Merit® than it is with the 2018 class of 10 winning projects — which includes campus and community recreation centers, an aquatics center, a sports complex, an intramural building and two YMCAs. Even facilities housing intercollegiate athletics also make ample room for wellness enthusiasts.
Facilities of Merit winners were selected in July by a panel of seven architects at the conclusion of two days of deliberations at AB Media headquarters in Madison, Wis. Next month, the architects, consultants and facility owners behind each winning project will be honored at a reception at the Athletic Business Conference & Expo in New Orleans.
Thanks to all 62 entrants for helping ensure the program's high level of competition, and congratulations to the 2018 Facilities of Merit.
The projects below each feature beautiful photography from this year's winners, judges comments and more. Click the 'Read More' button to launch the presentation, and scroll through to view.