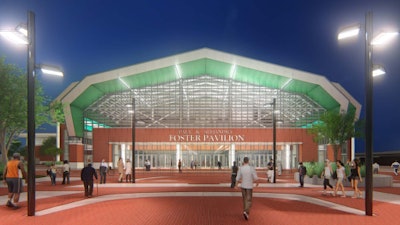 Baylor University
Baylor University and the City of Waco, Texas, have announced an agreement to partner on the riverfront location of the Paul and Alejandra Foster Pavilion, which like its football predecessor McLane Stadium will be in the highest visibility area of the city's growing Riverfront district.
The new $185 million home for Baylor's championship men's and women's basketball teams will be located along the Brazos River on the west side of Interstate-35 adjacent to the University's Clifton Robinson Tower, which will remain. The project is part of a projected $700 million in upcoming investments along the riverfront on University Parks Drive.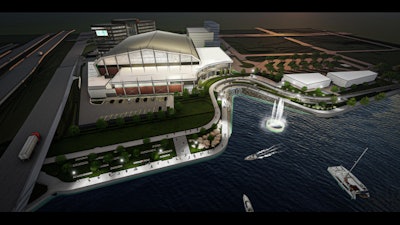 The project scope of the Foster Pavilion will include:
A 245,000-square-foot facility

Seating for 7,000 fans, with additional standing-room-only areas for approximately 500 spectators

Two separate premium club spaces at a combined 8,500 square feet

Two 2,000-square-foot video end boards

Visiting locker rooms with the flexibility to accommodate two to four teams

Development Center for Baylor's championship women's and men's basketball teams, including:

Private entrance and elevator, separate practice courts, dedicated locker rooms and team lounges

Office facilities for each coach and administration

Shared sports performance-related spaces, including strength and conditioning, athletic training/treatment, hydrotherapy, nutrition and more

Enhancements and upfits for the arena to support additional events, such as concerts, performances and public events, including stage rigging, full catering kitchen and cooking capability, additional dressing rooms for performers and related offices.
Under the terms of the MOU, the City of Waco and Baylor are to negotiate and execute a facility use agreement providing 90 calendar days to the City for concerts, performances and other public events in a manner that do not conflict with basketball operations or University priorities.
Construction on the Foster Pavilion is expected to begin in June 2022 with an early opening of the pavilion targeted for January 2024. The Development Center's opening is anticipated in April 2024.
In addition, with the future Baylor-Waco partnership, Baylor basketball gamedays can expect multi-agency support for gameday traffic, pedestrian and public safety. — Baylor University
---
Florida Agricultural and Mechanical University's athletics department recently announced multiple capital projects and facility improvements.
FAMU Athletics partnered with Daktronics to install new video boards and sound systems in the Al Lawson Center and Gaither Gym Complex. These improvements will drastically enhance the game day and event atmosphere.
The video board project will cost approximately $1 million, and is slated to be completed in late spring of 2022.
The Al Lawson Center is home to FAMU basketball teams. The new floor design will feature official marks of Nike and the LeBron James Brand. The design will be installed immediately after the 2021-22 basketball season.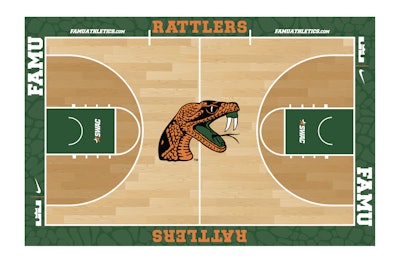 In addition to a new video board display, Gaither Gymnasium is undergoing a floor replacement, featuring Nike-branded designs and new hydraulic basketball goals to ensure the facility is used for multi-purposed events. Gaither Gymnasium is home to the FAMU Volleyball team.
Moore-Kittles Field, the home of FAMU baseball, is also in line for several significant improvements. The new netting backstop system from Netting Pros and Astroturf's artificial infield are all expected to be completed by the Rattler's season opener. The artificial turf will allow the Rattlers to play in all weather conditions year-round. — FAMU Athletics
---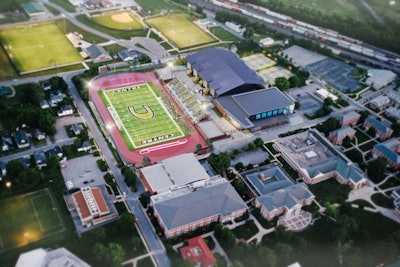 Centre College in Danville, Ky., has announced a new initiative for a $50 million expansion of their athletic facilities. The plans include a brand-new 10-lane, 50-meter pool with a movable bulkhead, plus 1- and 3-meter diving boards. The natatorium will also have seating for 700 people.
"This new facility will allow us to continue attracting talented students from around the nation and across the globe not only to work with our world-class faculty but also to participate in a premier athletic and wellness program with dedicated coaches and staff who teach important leadership skills such as teamwork, resilience and determination," Centre College President Milton Moreland said.
The $50 million pricetag in new construction is a big bill for an NCAA Division III school, but fundraising is already underway. According to Centre College, $38 million has already been raised.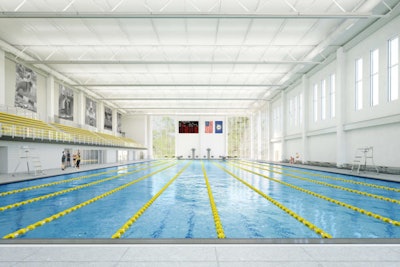 New and expanding facilities included in the initiative:
A 10-lane, 50-meter pool with a moveable bulkhead, an integrated diving well with 1-meter and 3-meter diving boards, and seating for 700

A six-lane, 200-meter indoor track and turf infield with event seating for 800; this area can easily be increased exponentially by using the turf infield and will double as a large space for campus events, such as the annual Commencement ceremony, concerts and debates

A 6,000-square-foot strength and wellness center

A nutrition center that includes an educational component

Hospitality and engagement areas

Locker rooms and multipurpose event spaces for activities such as yoga

An enhanced Athletics Hall of Fame
Centre College currently sponsors NCAA DIII men's and women's swimming and diving programs. Morehead says he believes the new aquatic facility will help expand the rosters of those teams. For the 2021-22 season, Centre has 25 women and 16 men on its swimming and diving rosters. Last season, the men's and women's teams both finished third out of seven teams at the Southern Athletic Association conference championships. — SwimSwam.com, Centre College