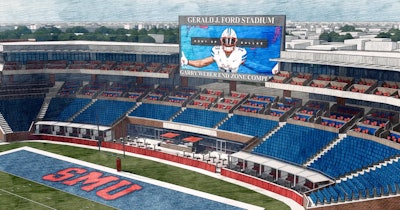 Via SMU Athletics
A $50 million commitment from the Garry Weber Foundation is the largest gift in the history of Southern Methodist University Athletics and supports a $100 million drive for a new 192,500-square-foot Garry Weber End Zone Complex at Gerald J. Ford Stadium in University Park, Texas.
The gift continues an exciting new era for Mustang football and SMU as part of the University's recently announced $1.5 billion campaign, SMU Ignited: Boldly Shaping Tomorrow. With the drive, SMU Athletics will reach a new milestone, having invested $250 million to develop and enhance championship-caliber athletic facilities across campus.
The End Zone Complex will:
Bolster the efficiency, occupancy and functionality of Ford Stadium through better accessibility and premium fan seating.

Empower Mustang student-athletes with dynamic new spaces for strategy- and team-building activities.

Strengthen the health and well-being of SMU Athletics through improved nutrition and sports medicine facilities, as well as better training and recovery options.

Further SMU Athletics' momentum toward the upper echelons of competitive athletics.
The complex will anchor Ford Stadium's south bowl and will connect the stadium's existing east and west gate entries. The three levels of the new complex will increase the functionality, efficiency and overall experience of Mustang football for student-athletes and fans, as well as inspire interest and investments in athletics across SMU's campus.
Team-focused spaces will include new locker rooms, a weight room, position-specific meeting rooms, a full-team auditorium and a kitchen and training table to support all of SMU's 484 student-athletes. The new facility will also house football coaches, support staff and video and recruiting services.
The newly constructed concourse will offer premium experiences for fans, expand guest facilities, improve pedestrian accessibility and add an inviting breezeway that joins the stadium's entryways to the internal field. The facility will reflect the University's Collegiate Georgian architectural style, for which it is known. — SMU Athletics
---
Idaho State University is celebrating a new addition to the athletic program. Thanks to Portneuf Medical Center, the space at the Sports and Orthopaedic Center has been transformed into a new Athletic Training Center.
"The athletic training room is really important for treating student athletes, preparing them for games and matches, and we didn't have a very adequate space for them," said Athletic Director Pauline Thiros. "It was very small. We could treat about four student athletes at a time."
The center opened last week and now can treat up to 30 student athletes at a time.
All of the athletic programs will have access to the rehab space, evaluation tables, nutritionists and athletic trainers.
"It's a one stop shop in terms of athletic training and delivering care and prevention of athletic injuries to our student athletes," Thiros said.
Thiros believes this new addition will help them gain an advantage in recruiting.
"For a long time, we've been dead last in the Big Sky in terms of the quality of our athletic training space, and now we are on par with the best programs," Thiros said. "We're better than most and equal to just about anybody."
This facility will also enhance the experience of the student athletic trainers who volunteer their time to help them build for the future.
"They shadow our athletic trainers pretty frequently and use this space really as a learning laboratory," Thiros said. "So, that is very much in line with our mission as an institution of higher education."
Ultimately, Thiros says this will help boost student morale and let them know how much they want to invest in their care.
"It's just great to be in a beautiful space that's branded with a lot of school spirit that reminds you where you are and why you're here and how important you are," Thiros said. "That's really important that we make our student athletes feel that." — KIFI-TV
---
Michigan City High School officials are showing off a renovated fitness center and weight room following an open house and ribbon-cutting ceremony last week.
New weights featuring things like adjustable benches, bars and bumper plates have replaced all the weights and other equipment dating back to 1995.
Four treadmills and two elliptical machines were added and a new rubberized floor sports the school logo on every other tile.
Three wall-mounted large screen monitors allow patrons to watch training videos.
Phil Mason, head football coach, said the atmosphere is more inspiring and the new layout allows him to bring in more players at a time for weight training.
"It's extremely functional. It's just an awesome place for us to get in and get our work done," he said.
The facility is open to all students and staff.
A $75,000 grant from the Healthcare Foundation of LaPorte went toward the nearly $104,000 cost of the renovation.
Maria Fruth, the HFL's president and CEO, said the project is in line with the foundation's mission of making LaPorte County one of the top 10 healthiest communities in the state.
Student-athletes will also use the facility as part of their physical education curriculum.
High School Athletic Director Craig Shaman said everything is new except for a few of the old machines that were still in good shape.
"It's something that other schools and other people are now envious of and, usually, we're on the other end of that," he said. — NWI Times