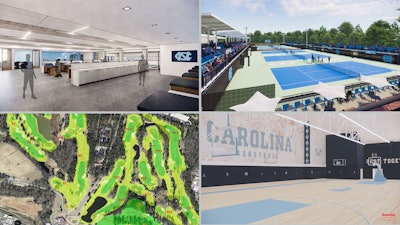 Construction and renovation will soon begin at the University of North Carolina at Chapel Hill on a new practice facility and locker room improvements for women's basketball, a new sports medicine facility in the Kenan Football Center for football, a new practice facility and course improvements at Finley Golf Course for men's and women's golf, and a new outdoor stadium and practice courts at the Cone-Kenfield Tennis Center for men's and women's tennis.
The four new facility projects were approved by the UNC Board of Trustees and the UNC System Board of Governors, and fundraising efforts are underway for all of the projects.
Women's basketball practice facility and locker room enhancements
The women's basketball program's new dedicated practice facility will be adjacent to Carmichael Arena, built within the Woollen Gym footprint. It will be easily accessible from the team's locker room area, allowing student-athletes to utilize the area. It will feature a full court, teaching stations utilizing modern instructional technologies, a state-of-the-art video system and ample storage and equipment for the team. The locker room and shower areas will also be improved, building on the enhancements to the team meeting area completed in 2019. The project cost is approximately $6 million dollars and is expected to begin later this spring and be completed during the fall 2022 semester.
Football sports medicine facility
A new sports medicine facility will be built on the northwest corner of the existing Kenan Football Center, providing state-of-the-art space to meet the medical and rehabilitation needs of the 120 football student-athletes. Additionally, the adjacent team lounge will be updated to offer relaxation and study spaces for the team. This project is an initial phase of future improvements to the Kenan Football Center, and is expected to begin in March 2022, and be completed in March 2023. The cost for this phase is $15 million.
Men's and women's golf practice complex and Finley Golf Course improvements
A new practice complex will be built on the current holes 10 and 11 at Finley Golf Course, giving the Men's and Women's Golf student-athletes a dedicated space to work on all aspects of their games. The complex will include practice areas for short game, approach shots, putting, driving and more. Improvements to the full course include the construction of two new holes (with two holes lost to the practice area), the reshaping of other holes, new greens and tee boxes, and a "flip" of the course with the current Hole 12 becoming Hole 1. The practice range is the first phase of the project, with a new team building designed for Phase 2 of the project. The cost for this phase is $13 million, and it is expected to begin in Fall, 2022, and be completed in late summer of 2023.
Men's and women's tennis facility
The Tennis project also includes multiple phases. This initial phase will include the construction of a new stadium with state-of-the-art competition and practice courts for student-athletes. Additional amenities include elevated stadium seating, championship lighting and a modern scoring system. Future phases will include a new team building and improvements to the indoor competition areas. The cost for this initial phase is $17 million, and it is expected to begin in March 2022, and be completed in early spring 2023. — GoHeels.com
---
The University of Maryland recently announced a new planned basketball facility.
During the introductory press conference for new men's basketball head coach Kevin Willard, Maryland athletic director Damon Evans announced that the university has raised $40 million and will soon start construction on a new basketball practice facility.
The Barry P. Gossett basketball performance center will be home to both the Maryland men's and women's basketball teams.
Construction should begin in 2023, and it's estimated that it will take a year and a half to complete. — WDVM-TV
---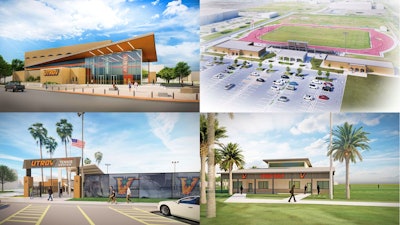 The University of Texas Rio Grande Valley Department of Intercollegiate Athletics announced an investment of $30 million to upgrade existing athletics facilities that will impact all 16 sports over the next three years, including enhancements to the UTRGV Fieldhouse, UTRGV Soccer and Track & Field Complex, Orville Cox Tennis Center, UTRGV Baseball Stadium and weight room, and the building of a new golf facility at McAllen's Champion Lakes Golf Course.
UTRGV vice president and director of athletics Chasse Conque said the project will be funded by increased revenue streams, such as fundraising and increased ticket sales, that the athletics department has been fortunate to generate in recent years. Per state law, neither tuition dollars nor state appropriations may be used to support the UTRGV athletics department.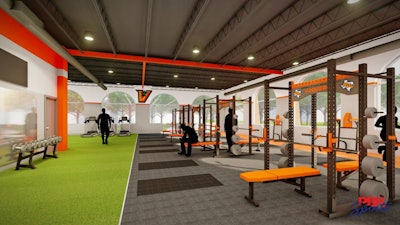 The first round of renovations is already underway, as a new weight room is being constructed in the same building as the UTRGV Fieldhouse.
Future renovations to the area around the field house include a new practice gym for the basketball and volleyball teams. Additionally, the field house itself, the university's largest multi-purpose facility that houses basketball, volleyball, and campus and community events, will be renovated to now include:
a new 15,000-square foot entrance plaza/atrium;
a new lobby including a Hall of Fame and Hall of Honor area;
team store;
concessions;
public restrooms;
a new, unique way to watch games;
new ribbon and video boards;
and new seating.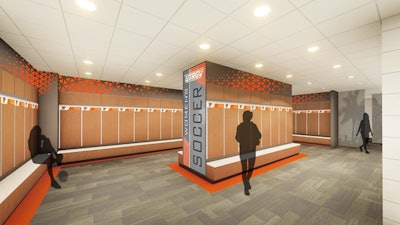 Renovations to the UTRGV Soccer and Track & Field Complex are also underway, as a new press box will be installed prior to the start of the 2022 soccer seasons. UTRGV is also installing a new sound system to upgrade the student-athlete and fan experience.
>Construction on an operations center for the soccer and track & field programs will begin soon, with new locker rooms and coaches' offices as well as a new sports medicine facility for those programs.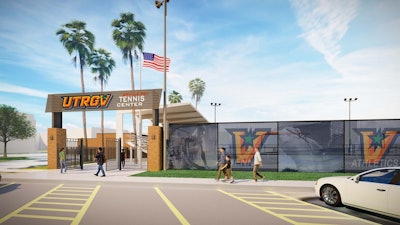 Last year, UTRGV Athletics resurfaced the courts at the Orville Cox Tennis Center. Now UTRGV is planning to expand the footprint of the facility by building new locker rooms, coaches offices, public restrooms, a sports medicine area, and a concession stand. The renovations also include a new entrance.
UTRGV has already begun upgrades to the UTRGV Baseball Stadium, including the recent addition of five corrals and renovation of the 10 suites. Additional maintenance to keep the friendly confines of UTRGV Baseball Stadium, which was built in 2000, in top shape will be completed as well.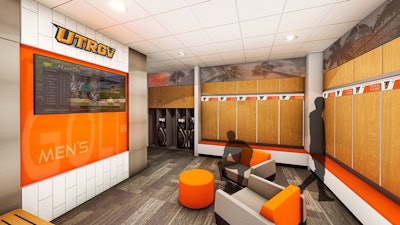 UTRGV Athletics plans to build a golf facility next to the driving range at Champion Lakes Golf Course, pending UT System Board of Regents approval, that will include locker rooms, coaches' offices, and hitting bays.
"What's happening in athletics helps to support the university's goal of creating a more vibrant campus life for all our students," UTRGV President Guy Bailey said. "We want our students to engage with athletics. We want them going to games. We want them here on campus. We want this to be a central part of their lives. We want them to graduate with very little debt. We want them to stay in the Rio Grande Valley. Think about what a great place we can create by working together. That's what this is all about."
"I have long said that if we're going to expand our sports offerings, the first thing we need to address is taking care of our existing programs," Conque said. "We have been planning these projects for nearly two years and we are excited to start getting shovels in the ground as we #RallyTheValley by upgrading our student-athlete and fan experience with improved venues to watch us compete for years to come." — Goutrgv.com