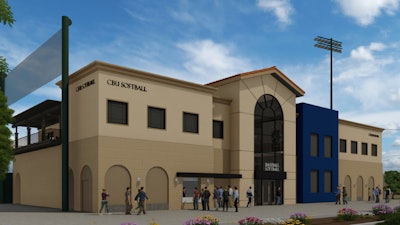 cbulancers.com
California Baptist University Athletics is investing over $20 million in the current phase of capital projects and facility enhancements, with several projects that began earlier this year wrapping up in time for the 2022-23 season. In all, CBU has invested over $100 million in athletic-related projects over the last decade.
This fall brings the debut of the CBU Soccer Stadium, while improvements were made at CBU's baseball and softball fields, Totman and Funk Stadium, this past spring. Additionally, a new baseball and softball clubhouse will soon be under construction. The CBU Events Center, Van Dyne Gym and Lancer Aquatics Center have had a number of improvements made recently, as well.
The baseball and softball programs will move into a new 14,200 square foot clubhouse soon to break ground inside the Lancers Outdoor Athletic Complex. The facility, expected to be completed by Summer 2024, will be strategically located between both Totman and Funk Stadiums, featuring amenities such as locker rooms, sports medicine and physical therapy space, offices for the coaching staffs and a conference room. Additionally, gameday concessions will be upgraded to help enhance the fan experience with improved food and beverage options for baseball, softball and soccer home games. The facility will also feature balconies overlooking both fields, providing a unique perspective with great views. — CBU Lancers
---
In Enterprise, Ala., the baseball and softball fields at a community college are receiving some upgrades for future players and fans to enjoy.
The $1.25 million Enterprise State Community College project, which began in July, will include the installation of new bleachers, press boxes, backstops and netting for both sports.
A new, code-compliant concession stand with restrooms will also be constructed in the complex, and irrigation and landscaping will be added to the area. The project is expected to be completed by mid-October.
"I am very excited for our coaches and players to see the new facilities at our baseball/softball fields," Athletic Director Jeremaine Williams said. "These updates will help recruiting tremendously. This is big for the community to be able to come to a game and enjoy the college athletic atmosphere that ESCC will provide, and it shows the Wiregrass that we are serious about athletics. The future of our athletic department is going in the right direction, and it's great to see that our administration is behind athletics."
Head Softball Coach Clair Goodson echoed his statement, saying the upgraded facilities will increase community support and recruiting efforts for the College's athletic department. — WTVY-TV
---
High school students in Idaho Falls, Idaho, will soon be able to call sports practice fields their own: This week officials celebrated the groundbreaking for the Tiger Athletic Complex at Idaho Falls High School.
The complex is located off of East 49th Street near Holmes. The property is 60 acres but not all of it will be used strictly for the complex. It will be located near the proposed site of a new Idaho Falls High School, however, the project is separate from the complex.
Idaho Falls High School currently has no home fields, and most of the athletic teams practice and play on city fields scattered throughout the city. The Tiger football team has been practicing in a retention pond behind the school that is normally filled with storm debris.
The groundbreaking has been years in the making. The project is a public-private partnership that includes private donations raised to fund part of the complex.
"This project is a result of immense teamwork by parents, coaches, volunteers, community members and alumni," said Heather Thompson, director of the Tiger Club, who will oversee private fundraising to raise additional money to develop the complex.
The Idaho Falls Board of Trustees set aside $2 million in reserve funds last year to start work on TAC.
"As the concept came forward, we needed a great place for our students to be able to not only practice but come together and just have a great time in learning skills outside of school and so this particular property is going to serve that purpose…we are pretty excited about it," said Jim Shank, District 91 superintendent. — EastIdahoNews.com