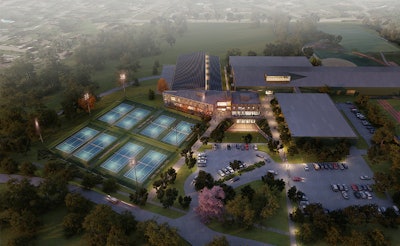 Courtesy of Skidmore College
Skidmore College in Saratoga Springs, N.Y., is embarking on a new health, wellness, fitness, tennis and athletics center.
The new center will bring together all aspects of student health and wellness support — including mental health and counseling; health promotion and education; physical fitness; and wellness across the mind, body, and spirit — in a holistic approach to student health within a single complex on Skidmore's campus.
The new structure, to be built alongside the existing Williamson Sports Center, will include Skidmore's Health Center, the Counseling Center, and Office of Health Promotions, currently located in satellite spaces across campus.
The new fitness center will serve the entire Skidmore community and combine state-of-the-art equipment, including free weights and cardio, with dedicated spaces for exercise and wellness programming such as yoga, meditation, group fitness, martial arts and spin. In addition, an NCAA-caliber tennis complex — including eight outdoor tennis courts and four indoor courts, varsity athletic training spaces and additional athletic support — will form a major part of the project.
The project will also include new locker rooms and team meeting rooms.
The current fitness center will be repurposed as a training facility exclusively for varsity athletics, enabling more dedicated space and programming for athletes while simultaneously creating space for recreational fitness users.
The entire project could be finished as early as 2024, according to the university. — Skidmore College
Skidmore is embarking on a new health, wellness, fitness, tennis, and athletics center, with the support of a generous lead gift from the McCaffery-Wagman-Wachenheim families. Read more: https://t.co/hOyN7bzDZP

— Skidmore College (@SkidmoreCollege) December 9, 2022
---
A new softball stadium at Thompson Valley High School in Loveland, Colo., is nearing completion, which will allow the team to practice and play on campus for the first time in the coming season.
Athletic director Kevin Clark said that previously, the team had to travel every day for practice to city facilities, either Barnes or Centennial Park, which also hosted the team's "home" games.
Now the team will prepare and compete on its own turf.
Construction is nearly complete on what had been a mostly unused swath of empty field to the east of the school. Sod is in place and the field itself is mostly complete, with only a few sets of bleachers and a scoreboard in deep right field remaining before the next softball season begins in June.
The total cost of the project is not yet determined.
Donations to offset some of the costs of the project, which is largely being paid for by the 2018 bond issue, are being accepted, along with paid advertisements that will be displayed on banners or on the scoreboard. — Loveland Reporter-Herald
---
Changes are coming to the athletic fields next to Monticello (Ill.) High School. The school board unanimously voted yes in late November to approve updates.
A new soccer field will go inside the track with added bleachers, and the grass baseball, softball and football fields will be replaced with turf.
Dan Sheehan, Monticello's athletic director, said the department has had challenges with the grass spaces in the past.
"We had to move a JFL game to Decatur St. Theresa because it rained too much and we couldn't risk losing our field," he said. "The Saturday morning turf for the little kids playing soccer, the diamond space, the overall benefits that it could have for this community is because now the fields can be used non-stop."
He said anyone in the community will be able to use the space, not just students. Superintendent Adam Clapp said crews plan to break ground around December or January, and the project is expected to wrap up by late summer. — WCIA-TV