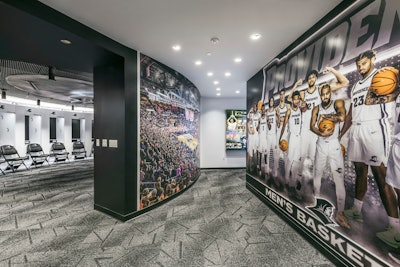 Courtesy of CannonDesign
Providence College in Rhode Island recently unveiled its newly renovated men's basketball locker rooms within Amica Mutual Pavilion.
The dynamic, state-of-the-art space improves athlete and coach experiences through expanded space and resources, state-of-the-art technology, an improved trainer space, increased privacy and more.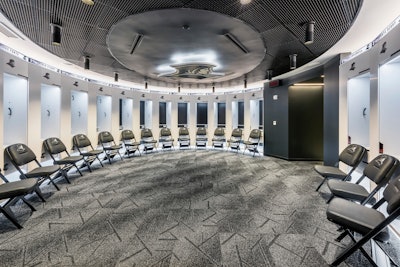 The locker room also has an expanded lounge area for guests (recruits and their families).
The project was designed by CannonDesign, constructed by Dimeo and KJ Branding led on graphics. — CannonDesign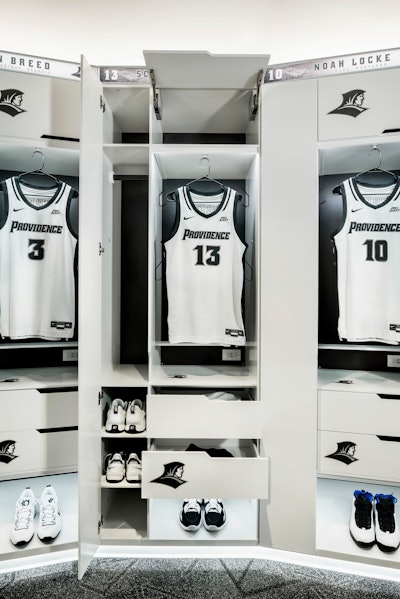 ---
With a chandelier hanging above an elevated piano on the 50-yard line of the indoor practice field, Auburn University in Alabama celebrated the opening of the Woltosz Football Performance Center in early January with a grand opening gala.
The $92 million Woltosz Football Performance Center is 233,428 square feet and includes indoor and outdoor practice fields.
Dedicated in August 2021 and housing Auburn's football operations since the conclusion of the 2022 season, the facility features a dozen named spaces, including the Creel Family Player Development Lab, which boosts 25,000 square feet of strength and conditioning equipment and training space.
Eighty-five Auburn families gave at least $25,000 for the project, including 56 who gave $100,000 or more, 11 gifts of at least $500,000 and five of a million dollars or more. — Auburn Tigers
---
In Macon, Ga., a high school recently cut the ribbon on a new six-court tennis center.
Westside High School, the home of the Seminoles, and the Bibb County School District celebrated the new center on campus in a ceremony on Jan. 18.
The center is home to six new courts, bleachers, sheltered areas and even pickleball markings on some of the courts.
"I know athletics saved me as a kid, and I'm just glad that we have this opportunity today," said Westside athletic director Dr. Candice Roberson.
The project was completed by Sheridan Construction. — Bibb County Athletics
---
Check out last week's Facility Friday lineup: