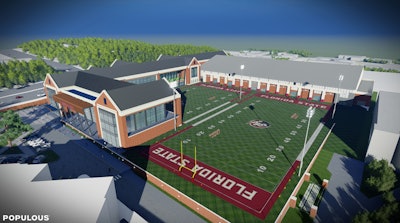 Courtesy of Seminoles.com/Seminole Boosters/Populous
The Florida State University athletics department and Seminole Boosters Inc. hosted a ceremony in mid-December to celebrate the start of work on a new home for Seminole football to be named the Albert J. and Judith A. Dunlap Football Center.
Construction of the 150,000-square-foot facility will benefit all the Seminoles' sports programs as it will allow for the repurposing of space that will be vacated in the Moore Athletic Center.
The project will cost approximately $100 million and is expected to be completed sometime after June 2024.
The Seminole Boosters announced in April many of the amenities that will be included inside the center including:
Dedicated football training facility attached to the existing Dunlap Athletic Training Center
13 position meeting rooms
Indoor walk-thru meeting area adjacent to position meeting rooms
Locker room
Dedicated recruiting lounge/suit
Offices for Football Coaching Staff
Private Event Space
Strength training and weight room features will include:
Walk-thru recovery pools
Custom hot/cold plunge pools
Underwater treadmill pools
Dedicated recovery suite
Cryotherapy, hyperbaric chamber, high altitude room
Team meeting rooms
Player development areas
Virtual Reality/Performance Enhancement Areas
Nutrition/Fueling Stations
Coaches Video/Production Offices
"Great things are happening on our campus and within our athletic programs," Vice president and director of athletics Michael Alford said at the ceremony. "This new facility will be a fitting and well-deserved home for our legendary football program that will provide our student-athletes with the proper environment in which to train while addressing deficiencies that arise naturally as facilities age and needs grow." — Seminoles.com
---
In Sioux Center, Iowa, $8 million and months of hard work led to the opening of the American State Bank Sports Complex on Jan 20.
The city and Dordt University worked together to plan the 250-by-470-foot domed complex. An air-inflated dome and indoor turf facility, the American State Bank Sports Complex will host athletic competitions and training, wellness activities, and events. The complex is anticipated to draw 200,000 visits each year.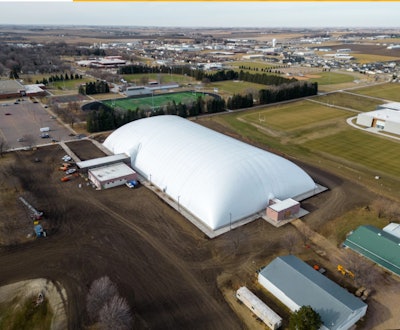 Although the official grand opening was held in late January, some events have already been held at the complex. Dordt University president Erik Hoekstra said at the opening that he's enjoyed seeing the community use the space he envisioned five years ago.
"It's just an unbelievable blessing. That's really where the joy is, so ribbon cuttings are great, but to see this facility in use is my real joy." Hoekstra said.
While nothing is currently planned for future expansion, Hoekstra said that is might include courts for volleyball, basketball, tennis, or even pickleball. — Dakota News Now, Dordt.edu
---
The Naval Academy Athletic Association in conjunction with the USNA Foundation announced on Jan. 25 that they accepted a leadership gift from an anonymous donor earmarked for constructing a new 33,000-square-foot lacrosse facility on the Yard in Annapolis, Md.
The two-story Navy Lacrosse Center would celebrate the history and traditions of Navy lacrosse, while serving as a testament to the Naval Academy's commitment to the Physical Mission of the Brigade of Midshipmen. The men and women who play for Navy Lacrosse would train, learn and build relationships in one of college lacrosse's preeminent facilities. The anticipated facility would be constructed adjacent to the Glenn Warner Soccer Facility on the Academy grounds.
Every area and detail of the Navy Lacrosse Center is designed for the development of our midshipmen and would provide the resources for the Navy men's and women's lacrosse programs to compete for and win championships at the highest level.
Coaches' offices, locker rooms and wardrooms for both the men's and women's programs would provide cutting-edge technology and amenities to include athletic training and rehabilitation spaces, a strength and conditioning facility, a nutrition center and theater. Additionally, a rooftop terrace that features a 360-degree view of the Naval Academy and the Severn River is planned and would provide an inviting gathering space for recruits and their families, as well as a space to host alumni functions.
Additional commitments have also been realized and as a result, the NAAA is coordinating development efforts towards raising the $22 million necessary for construction. The process is advancing in cooperation with NAVFAC Washington and pending final endorsement by the Secretary of the Navy. — Navysports.com
---
Tahlequah (Okla.) Public School hosted a groundbreaking for a new indoor athletic facility on Jan. 4.
The new building will be at the school's baseball and softball fields and will be used to benefit all high school and junior high athletics, especially during inclement weather.
"With the turf football project, we won't get rained out as much for football practice, but if there's lightning or hailing or anything like that, we'll be able to practice football there," TPS director of athletics Matt Cloud said. "[If it's] really cold in the winter, soccer could be in there practicing, so it's kind of an outdoor sports indoor facility."
The new facility will comprise about 11,500 square feet and will include retractable batting cages and a turf floor.
Cloud said in certain situations other extracurriculars — such as the band or robotics — will be able to use the building, as well.
He said the reason for building the facility is to allow students to have a dedicated practice space. The campus has a turf room that doubles as a weight room, making indoor practices difficult.
Cloud said with weather permitting, people will start to see the structure go up at the end of February, with the project possibly being finished by October.
"The timeline that the construction company gave us was a 10-month deal, but with that being said, once the building goes up, it's pretty streamlined. I don't see it taking that long," Cloud said. — Tahlequahdailypress.com
---
Take a look at and share these recent Facility Friday highlights: