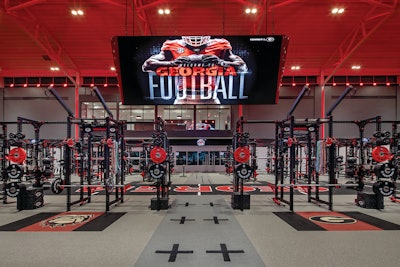 Photos courtesy of HOK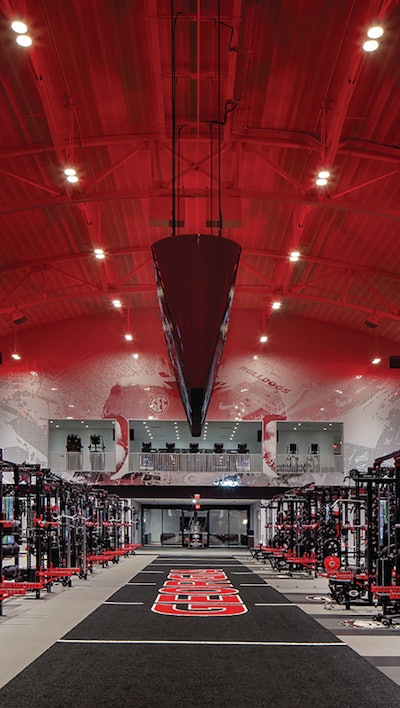 Occupied just prior to the University of Georgia winning back-to-back football national championships, with a grand opening sandwiched between titles, the reimagined Butts-Mehre Heritage Hall is the epicenter of a Bulldogs dynasty that's perhaps just getting started.
Its 24,000-square-foot, second-level weight room features 32 lifting racks positioned on an independently supported 13,300-square-foot platform to mitigate noise and vibration throughout adjacent spaces serving the football program. But the feature that commands instant attention is a 10-by-26-foot, double-sided LED board — its 5,200-pound weight suspended from the room's 44-foot-6-inch-high ceiling. Bisecting the lifting space lengthwise, with screens tilted 15 degrees from vertical, the board can display regular TV, UGA recruiting content, instructional workout video clips and the real-time results of head-to-head strength competitions thanks to Perch software that communicates between the Sorinex racks on the floor and the screens hanging 13 feet above.
"Anytime you do one of these fancy things that either is a really big space, where it's going to cost a lot just purely on the square footage, or the technology itself is really expensive, you almost have to find the dual purpose for it — the double impact of it," says HOK senior associate and project designer Paul Joran, who consulted with UGA strength and conditioning coach Scott Sinclair on the board's optimal positioning and purpose. "It's the strength and conditioning benefit of it, but also the recruiting kind of wow factor."