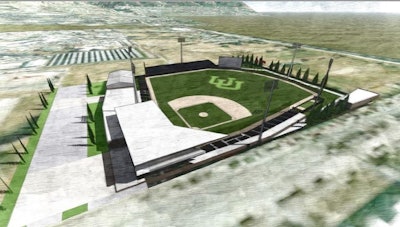 Rendering courtesy of the University of Utah
A fundraising drive to construct an on-campus baseball stadium at the University of Utah is underway following a decision last week by the university's Board of Trustees that grants contingency approval for the project.
The proposed stadium would be built on Guardsman Way at the site of the current Utah Baseball practice field, and could open as early as 2025.
The team has shared Smith's Ballpark in downtown Salt Lake City with the Salt Lake Bees minor league baseball team as its primary home park since 1996.
In January 2023, Bees ownership announced plans to move the team and build a new stadium in South Jordan. Salt Lake City is currently in the process of evaluating plans for the future of the site on which the stadium currently stands, including the possible demolition of Smith's Ballpark after the Bees' final season in 2024.
Director of athletics Mark Harlan said plans for the stadium call for a capacity of 1,200 with fan amenities including concessions, restrooms and ticketing offices, as well as team facilities including locker rooms, team spaces and coaches offices. The total project is expected to cost $35 million, with the majority of the funding privately raised.
"We're very appreciative of the terrific partnership we have enjoyed for nearly three decades with the Salt Lake Bees and the City for our baseball program to play its home games at Smith's Ballpark," Harlan said in a university news release. "This is also a tremendous opportunity for us to finalize our quest to find an on-campus home for Utah Baseball that has been pursued for nearly 10 years."
The university has been evaluating potential sites for a new ballpark on campus for nearly a decade. The process began with as many as eight potential sites, narrowed to five by a study in 2019, including two locations on Guardsman Way.
The university is sensitive to concerns raised by the community during previous planning sessions and is working to address issues related to traffic and parking, noise, field lighting and safety.
Utah Baseball hosts about 22-24 home games during a typical season, from March through May. Generally, half of those games are played in the evening.
Factors that planners considered included:
Compatibility with on-going campus planning and growth
Site buildability (not requiring extensive relocation of existing facilities)
Proximity to parking in campus lots immediately north of the stadium
Access to other Utah Athletics facilities
Visibility
Access to public transit
The ultimate vision for the facility, Harlan says, is that the ballpark becomes a community asset. — University of Utah
---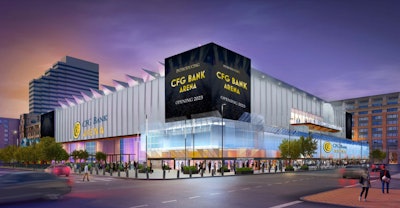 In early April, Baltimore, Md., and the Oak View Group celebrated the grand opening of the CFG Bank Arena following a $250 million renovation designed to make it a first-class venue for entertainment and sports events.
A ribbon-cutting ceremony marked a new chapter in the history of the 14,000-seat arena, which opened in 1962 as the Baltimore Civic Center.
Renovation work began in early 2022 and included a revamped seating configuration; new concourses, restrooms, and concessions areas; updated mechanical systems and a redesigned exterior.
The refurbished arena had a test run in February, when Baltimore hosted the Central Intercollegiate Athletic Association's Men's and Women's Basketball Tournaments, but there was still more work to finish.
The contractors, led by Clark Construction Group of Bethesda, completed the upgrades after the tournaments ended, knowing the first concert was April 7.
"This is not a renovation. It's a reimagination," Maryland Gov. Wes Moore said. "It's not just about a building and an infrastructure. It's about: How do we see ourselves? And the truth is that progress is not inevitable. Progress doesn't happen just because. Progress happens because we're intentional about it, because we make decisions, we push forward even when it's not easy. And what we're seeing here today with this work … is the culmination of people who are just very intentional about making this happen."
At the opening, Oak View Group also turned on for the first time a new illuminated sign at Baltimore Street and Hopkins Place that will help light up the building's exterior after dark and promote future events.
Baltimore Mayor Brandon Scott said the improvements didn't cost taxpayers a cent, because the Oak View Group funded the renovations in return for rights to manage and lease the facility. And he points out that the renovations were completed in slightly more than a year, a time frame that naysayers thought would be impossible to pull off. — Baltimorefishbowl.com
---
The University of Montana is breaking ground on its new $10.2 million Grizzly Indoor Practice Facility.
The 110,000-square-foot building will have an inflatable roof that will be the first of its kind in the Big Sky Conference.
The facility will include a regulation-size synthetic football field, four 150-yard sprint lanes for track athletes and two long-jump pits, two pole vault bars and a hammer, javelin, discus and shot-put area for field athletes. The facility also will house winter practices for Grizzly soccer and softball teams.
UM said the facility will serve student-athletes of every sport, and will provide recreational opportunities to all UM students and members of the Missoula community.
The indoor practice facility is 100-percent privately funded, meaning no student tuition or Montana taxpayer dollars are being spent on the project.
As part of the project, UM also will construct a permanent structure that will connect to the indoor practice facility to house a lobby, restrooms, storage rooms and mechanical space.
Staging for construction began in early April. The estimated completion of the facility is fall 2023. — NBC Montana
---
Take a look through and share these recent Facility Friday highlights: