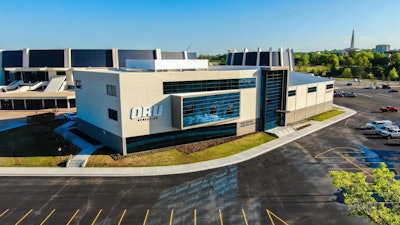 Courtesy of Oral Roberts U. Athletics
Oral Roberts University cut the ribbon on the $15 million Mike Carter Athletic Center in mid-April.
At almost 50,000-square-feet, the new MCAC includes basketball practice courts, administrative and coaches offices, and a 10,000-square-foot indoor sports performance area.
Located southeast of the Mabee Center, the Mike Carter Athletic Center is also home to the ELI (Education, Learning, Integrity) Academic Center, which includes individual and group study areas and dedicated team rooms.
The new three-story athletic center features two NCAA-regulation courts for men's and women's basketball, an expansive sports performance space, a stadium-style meeting room along with 30 administrative and coaches offices. The center is named in honor of ORU athletic director emeritus Mike Carter, who now serves as university's vice president of development and alumni relations.
The MCAC's opening comes at a time when ORU is experiencing historic growth. For 14 consecutive years, ORU's enrollment has increased, and in the fall of 2022, ORU surpassed 5,000 students for the first time in history. — ORU Athletics
---
The first dedicated indoor pickleball gym in the Town of Byron, Mich., area is now open near Byron Center.
"In our area, there isn't enough dedicated indoor pickleball courts. We wanted to bring that experience as quickly as possible," Dan McConnon, owner said.
The All In Pickleball Gym features seven courts. Two of those are dedicated trainer courts where beginners can learn the techniques and skills to become more advanced.
Surrounding each court are 16-foot containment nets.
McConnon saw the demand of people wanting to learn the game and the shortage of places to play, so he set out on a two-week trip across the country to tour different indoor facilities.
He, along with three of his partners, signed a lease on a 21,000-foot facility at 400 76th St. SW, Suite 8. It was formerly an auto glass shop. — WOOD-TV
---
Also in mid-April, the Omaha Marian High School unveiled its new outdoor athletic complex.
The high school held a ribbon-cutting ceremony for the $7 million project, which includes upgrades for soccer, tennis, softball and track.
The new soccer field is the largest high school, FIFA-regulation turf field in the Omaha area and features a new press box and LED scoreboard.
The track has a six-lane synthetic track and turfed infield, while the new softball facility has a new press box, extended dugouts and pitching warm-up area.
There's also an improved plaza and parking for fans. — KETV
---
Take a look through and share these recent Facility Friday highlights: