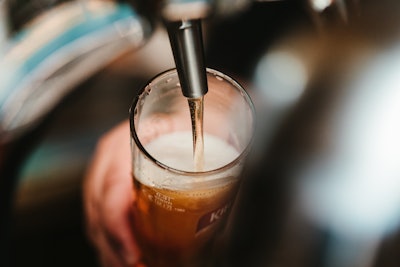 File Photo/Unsplash
About a month after the Milwaukee Brewers extended alcohol sales an inning longer, the Brewers reverted back to a seventh-inning last call.
On Monday, alcohol sales at American Family Field were cut off at the end of the seventh inning during the series opener against the Dodgers, according to an MLB.com report.
The team announced April 7 that the stadium would extend alcohol sales on a trial basis. club spokesperson Tyler Barnes said the reversal announced this week is because the amount of alcohol sales during the extended window was not significant.
"We've got two homestands under our belts and there have not been any serious issues with general behavior related to the extended sales," club spokesperson Tyler Barnes said. "But what we've found is that the amount of time we've extended it by averages it out to 15 minutes extra. Because it's late in the game, the sale of alcohol and all concessions drops off a cliff once you get to the eighth inning."
Related: Brewers Extend Alcohol Sales as Games Get Shorter Due to Pitch Clock
With that data showing the vast majority of alcohol sales still occur prior to the eighth inning, the club is opting to err on the side of caution and practicality. The Brewers are home all week against the Dodgers from Monday-Wednesday, and then host the Royals from Friday-Sunday before hitting the road again.
In announced the trial alcohol sales extension, president of business operations Rick Schlesinger told MLB.com that the team would collect data and revisit the decision at a later date.
"I'm comfortable that our people are going to be monitoring the situation well and making sure that people who shouldn't be served won't be served, regardless of what inning it is," Schlesinger said then, as reported by MLB.com. "The vast majority of fans behave responsibly. In fact, I will tell you because I get the data, that the number of incidents of misbehavior with alcohol are down. I think people have more sensitivity and awareness.
"But again, if we see some concerns, safety is No. 1 and we'll revisit it. If it turns out that this is causing an issue or we feel that it might cause an issue, then we'll revert to what we have done previously."