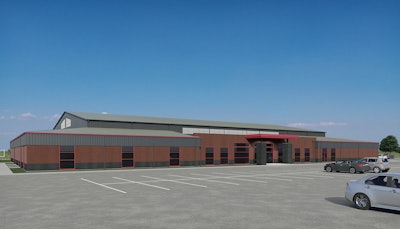 Courtesy of Blackburn College
Blackburn College — a private college in Carlinville, Ill. — broke ground May 2 on the future home of a new athletic practice facility.
The $6.4 million building will provide vital indoor space for eight of Blackburn's NCAA Division III athletic programs and essential intramural and recreation room for the entire campus.
"No other Division III school in the Midwest will have a practice space like ours," said baseball coach and interim athletic director Mike Neal. "The uniqueness of the facility is certain to aid in the recruitment and retention of students."
Boasting more than 40,000 square feet of space, the indoor facility will be a home base for Blackburn's golf, softball, baseball and soccer programs.
Located on the north end of campus, it will feature a 200- by 120-foot turf field, retractable batting cages, a golf performance center with simulators, and a putting and chipping green.
The new building will also include new locker rooms, coaching offices, and athletic training space.
Site work on the building is expected to begin in the next couple of months, with an estimated date to be completed in the fall 2024 semester. — Blackburn College
---
Mason City (Iowa) High School's new athletic facilities opened in late May.
After years of proposals, funding and construction, Mason City now has three new additions: a fieldhouse, weight room and natatorium offer up to date equipment and facilities for the teams of Mason City high school to host events and practices.
Girls' basketball and volleyball head coach Curt Klaahsen is also the co-activities coordinator and said that the plan is to also open the door to opportunities for youth and national tournaments, considering the size of the new pool and fieldhouse.
Along with the pool is added seating, which can now hold up to 470 spectators.
The swim team used to compete at John Adams Middle School and according to Hugo most people would end up having to stand during events.
Head coach of the boys' basketball team Nick Trask mentioned how one of the biggest things for him is being able to now watch all of his teams practice and host games in the same building. The fieldhouse is capable of holding six basketball games at once.
The fieldhouse also features a six lane 200-meter track and space for field events.
Head football coach of the Riverhawks Josh Reuter explained that the weight room is a total game changer for all students, not just the athletes. Students can now earn P.E. credits during the day using the weight room whereas prior their opportunities were limited.
"Our kids used to have to come in before school and lift, so we're talking 6 or 6:30 a.m.," Reuter said. "We've now transitioned to doing this in the school day with something we call "Performance P.E.'"
The weight room is also open for students to use after school and for all teams during the summer. — The Globe Gazette
---
A new glute-focused gym has opened in Columbus, Ohio.
The Peach Haus is the latest business to open on North Fourth Street in Italian Village.
Peach Haus will offer a series of aptly-named individual and group classes designed to strengthen the glutes while demystifying scary gym equipment, owner Molly Lyons said, including the Booty Basics, All About the Buns, Total Body Balance and Bootycamp Training.
While the boutique gym is open to all genders, Lyons said she hopes it can be a space where women, in particular, can workout without intimidation and learn to use gym equipment that often resembles "torture devices," she said
The Peach Haus, at 1046 N. Fourth St., will held its grand opening in May. — WCMH-TV
---
Take a look through and share these recent Facility Friday highlights: