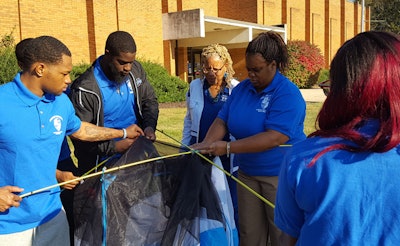 Nestled about 30 miles west of Philadelphia, Cheyney University of Pennsylvania owns the distinction of having the longest history out of all historically black colleges and universities (HBCUs) in the United States. The school has been renamed five times during its 186-year history since it was first founded in 1837 as The African Institute by the Quaker philanthropist Richard Humphreys.
See related: Cheyney University History & Traditions
But a long and storied history doesn't mean that it's always smooth sailing for the administrators and staff members who are serving the current generation of CU students and helping them develop the character, intellect, and talent required to succeed in today's world.
In 2018, President of Cheyney University Aaron A. Walton made the commitment to join the Healthier Campus Initiative and to provide additional resources for pursuing the 41 evidence-based guidelines developed for improving menus, exercise options, and resources for food security.
See related: "CU's New Commitment To Promote & Support Healthier Options On Campus Puts It At The Forefront Of The Cultural Shift Towards Wellness"
But like many institutions of higher learning—and too many small schools and HBCUs—Cheyney's momentum was starkly challenged by the pandemic. As COVID-19 restrictions have gradually eased, and schools across the country move towards a new normal in the wake of a global pandemic, I've been working closely with many campuses to regain that pre-pandemic momentum and to support champions for student wellbeing.
One of my favorite collaborations, by far, has been working with Success Coach for Cheyney University of Pennsylvania's Academic Affairs Tracey Smith and her team of passionate and creative professionals. Tracey has presented at Healthier Campus Initiative conferences and is actively reaching out to share Cheyney's successes even in the face of limited funding.
Creativity doesn't cost a thing
Cheyney University offers ten major and six minor degrees and is currently home to about 700 undergraduate students. Coming out of the pandemic, university professionals are seeing increasing numbers of students experiencing food insecurities, strained mental health, decreased physical activity, and a reduced sense of overall wellbeing.
"At Cheyney, we are committed to student academic excellence, character development, and social responsibility," says Tracey. "Our partnership with Continuum Solutions LLC and the Healthier Campus Initiative has been a valuable resource as we work to sustainably keep that commitment." Over the past year, we've collaborated on several creative initiatives to the benefit of CU students, and together we've increased the opportunities for CU students to be active and improve their overall wellbeing.
Food insecurity is a real obstacle for many college students on campuses across North America, and Cheyney University students aren't immune to its chilling specter. "We've seen a definite increase in the number of student visits to the food pantry," says Roslyn Henderson, Director of the Trio Student Services Program at Cheyney University. During #HEALTHYCAMPUSWEEK2022, the Cheyney University Wolf Pantry provided fresh produce for the campus' traveling produce wagon. Additional nutritional activities and support were provided by CU's dietary services.
For the second year, Cheyney University success coaches Katrina Banks, Laura Vargus, and Tracey Smith have raised awareness for and provided activities to the campus community about wellbeing by providing a Woosah Day on the quad where students and staff could come and participate in Chakra Balancing, chair massage, meditation, and yoga. We know that recreation programs that emphasize mindfulness and exercise can reduce perceived stress, anxiety, depression, and negative mood.
Physical fitness and activity has also been an area of focus for CU professionals. Pat Walker, the former Cheyney University Intramural and Recreation Programs Director, put the c in creativity by designing the Cheyney Backyard Bowl in collaboration with West Chester University in 2018–2019. The partnership encourages recreational sport participation and social interactions between the two neighboring PASSHE institutions located roughly seven miles apart. Flag football, 3v3 basketball, volleyball, and 5v5 basketball contests have been held, with winners collecting points toward the overall University Champion.
Current Cheyney University Intramural Director Sue Rumer has been continuing this activity since the pandemic concluded. The collaborative partnership gives college recreational sports participants an opportunity to compete, coordinate, officiate, and connect with skilled peers from outside the Cheyney University walls and to take the benefits of recreational competition to a higher level.
The creation of the Howlin Wolves Swimmers is another creative collaboration to come out of Cheyney University this past year: A group of four recreation major and minor students came together for about a month of daily swim practices off campus. The Howlin Wolves Swimmers represented Cheyney University at the first ever HBCU Swim Meet at Morehouse College in Atlanta, competing hard and securing several second-place finishes.
In addition to all those efforts, CU Intramural and Recreation Programs and Healthier Campus teamed up to celebrate the 40th anniversary of the Lady Wolves Division I Basketball Team playing in the first-ever D1 Championship title game against Louisiana Tech in March of 1982. Cheyney remains the only HBCU school to play for a DI National Championship; the 1982 Cheyney team was also the first team to make it to the Final Four and a championship game with an all-women coaching staff and it was also the first Black coaching staff at an NCAA Division I finals.
C. Vivian Stringer, who coached that 1982 team, is in the Naismith Basketball Hall of Fame and in the spring of 2023 ESPN released a feature special on Coach Stringer and the 1982 championship team.
The Women's Basketball Coaches Association and CBS Sports also released a documentary on Coach Vivian Stringer this past year titled Dear Coach Stringer.
See related: "Will the 1982 Cheyney team finally get due recognition?"
The Healthier Campus Initiative's Largest Physical Challenge and #HEALTHYCAMPUSWEEK encouraged CU professionals to embrace creative activities year around. "Physical activity is so important," says Tracey. "We got to move it, move it!"
See related: "Join the Largest Physical Activity Challenge on September 20"
This work is personal for me
While Tracey and her team have been collaborating with me and the Healthier Campus Initiative going back to 2018, Cheyney University has been near and dear to my heart since I was three years old; this work is profoundly personal for me. My grandfather, Coach William O'Shields, was inducted in the Cheyney Athletics Hall of Fame in 1979. He came to campus in 1947 as the first male Health and Physical Education teacher; he was promptly put in charge of the athletics program, where he would eventually coach football, cross country, basketball, and track and field.
In 2005, the Cheyney University football stadium was re-named O'Shields-Stevenson Stadium in honor of my grandfather and fellow Cheyney Athletics' hall-of-famer James Stevenson. In 2018, administrators had to make difficult decisions about the downsizing of athletics programs at Cheyney, and ultimately football was suspended until the financial situation at Cheyney improves.
It's been a pleasure to partner with Cheyney University and to witness their incredible work with limited resources. I know my grandfather would be proud.