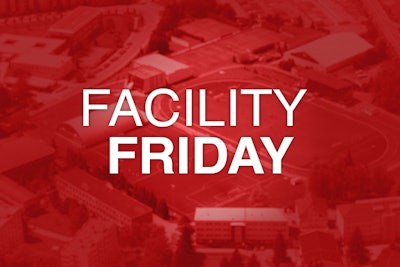 Wayne State College, in collaboration with RDG Planning and Design and Hausmann Construction, proudly announces that ground was broken Sept. 15 for the Athletic and Recreation Facility Renovation and Addition project.
The $30-million project is a multi-phased construction project designed to have a significant impact on Wayne State and the region it serves. The project will include a new air-supported structure with an indoor track and turf field and renovations to Rice Auditorium and the Recreation Center. [KTIC]
Like the one coach who came before him, Steve LaPrad now officially has his name linked to Fort Dorchester's football facility.
During a ceremony Friday, Sept. 15, at Bagwell Stadium, LaPrad had the honor of cutting the ribbon marking the opening of the school's newly refurbished football field that has been named in his honor. LaPrad was joined by family members, friends, players he coached, football fans and officials representing school district, city, county and state governments at the ceremony hosted before kickoff for the 2023 home opener for the Fort Dorchester football team. [Post and Courier]
The University of Iowa plans to begin construction of a new Gymnastics and Spirit Squads Training Center this fall, pending approval by the Board of Regents, State of Iowa.
The new, climate-controlled practice facility will feature competition-style beams, vault runways, uneven bars and a floor-exercise space. In addition to nearly 21,000-square-feet of practice space, the facility will house locker rooms, meeting and athletic training rooms, office space and a multi-purpose room. The $20 million project — paid for by athletics department revenue and private gifts — will be built on the Hawkeye Campus, adjacent to the women's soccer and field hockey facilities on Prairie Meadow Drive. [Hawkeye Sports]
Iowa seeks Regents approval to pursue nearly $100 million in building projects https://t.co/TUI8f4yWfy

— Art Fridrich (@Ahighervision) September 21, 2023