Podcasts
Jesse Campanaro, President of Total Gym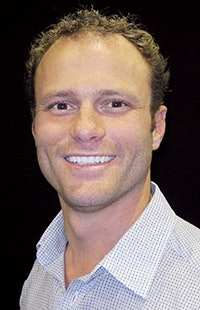 Growing up in the industry and assembling Total Gym gliding planks in his family garage with his buddies, Jesse Campanaro proves that despite the good fortune of being the son of the founder, no one is as prepared to lead a fitness company in the 21st century as he is. In this episode, Jesse joins Hossein and Leigh to talk Chuck Norris, Christie Brinkley and the next 40 years of fitness.
Listen to Jesse's episode on iTunes
"I think some of the big things that are coming up in the industry is this movement into functional training - body-weight training - and really helping people move themselves better. It's kind of moved from in the past, a bodybuilding industry where it was about big muscles and isolation, to more of a wellness-focused industry where it's about getting people healthy. And that's really where I see over the next say 20, 40 years with Total Gym. Our mission is helping millions of people get healthier. That's what we do."
- Jesse Campanaro on the future of the fitness industry

Chapters
President of Total Gym - 3:00
Looking ahead to Total Gym's future - 5:44
Growing up in the industry - 10:22
Upholstering Glideboards in the family garage for 50 cents - 12:03
How to take a product to market - 14:40
Differentiating Total Gym from other products - 18:28
What mistakes have you made in your company? - 21:51
How do you want the industry to change in the next 40 years? - 26:19
What it's like working with your parents - 28:27
Did you ever want to do anything else? - 33:30
Obesity as a disease – The chemical & emotional challenge - 37:45
Who is your mentor other than your dad? - 43:10
How did you do in gym class? - 46:40
Favorite workout? - 48:01
Favorite Chuck Norris-isms - 50:00
Why go to college in cold Massachusetts? - 54:51
Word associations - 57:30