Major vandalism at high school athletic facilities has forced administrators to get proactive.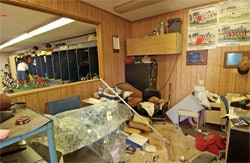 Sometime between the late hours of June 9 and the early hours of June 10, vandals broke into the baseball facility at Sandalwood High School in Jacksonville, Fla., and wreaked $20,000 worth of havoc. They shattered the glass partition separating the coach's office from the players' lockers, destroyed a television set, knocked out light fixtures, dumped paint on stereo components inside the baseball field's public-address booth and, switching to spray paint, even desecrated team photos and the American flag. "They went berserk in there," baseball coach Billy Bell told the Florida Times-Union after assessing the damage.
Sandalwood, which has been victimized by athletic facility vandals three times during the past year, is far from alone. A recent sampling of police blotters from around the country reveals destruction of high school sports fields, press boxes and other athletic department property that law-enforcement officials in affected communities say goes beyond mere pranks:
In late May, vandals entered the football field at New Prairie High School in New Carlisle, Ind., and ripped out the padding from tackling sleds and pole vault landing mats, broke three windows in the press box and scattered components of the facility's $20,000 audio system far and wide. Estimated damage: $50,000.
On April 28, one day after a new $685,000 synthetic turf was unveiled at Broadneck High School's Lawrence E. Knight Stadium in Annapolis, Md., someone defaced the field with three burn marks ranging in length from three to 12 feet. A 70-foot-long batting cage net from the school's nearby baseball field also was ripped loose and set ablaze behind the visiting team's dugout, leaving another burn mark about 12 feet in diameter. Estimated damage: $12,000.
End-of-the-school-year behavior at Everglades High School in Miramar, Fla., included the burning of a 15-foot phallic symbol into one of the football field's end zones in late May. Estimated damage: $1,000.
"Pranks are no longer considered pranks," Joe Melita, chief of the Broward County School District's Special Investigations Unit, told the South Florida Sun-Sentinel upon surveying the Everglades damage. "We take these things very seriously."
"These things" can be prevented with little more than common sense, according to Chris McGoey, a security expert with offices in Los Angeles and San Francisco. "At the high school level, it's all about access," he says. "Some facilities have good access control, where people can't get into certain areas. Others just leave spaces open 24 hours a day."
Many schools are now taking more proactive approaches to combating vandalism. In addition to simply offering rewards for information leading to culprits' arrests, many have added 24-hour surveillance cameras, increased after-hours lighting and security patrol, constructed higher fencing and installed alarm systems.
Some have even tried tapping into the collective conscience of their student bodies. Administrators at Santa Fe (N.M.) Public Schools, fed up with damage to their facilities that included an arson fire causing approximately $100,000 worth of damage to the synthetic-turf football field at Santa Fe High School last November, launched a vandalism hot line on March 31. Manned weekdays from 8 a.m. to 5 p.m. by the district's facility and risk management specialist (not by an answering machine or hired answering service) it encourages anonymous callers to report incidents and share crime-solving tips.
"We have had some calls, but we have not had any calls that have led to an arrest of someone who has committed an act of vandalism," says Sarah Schlosser-Moon, the district's public information officer and director of community services. "I think that's due to the fact that the hot line launched in late spring, when students were already starting to think about graduation and the summer. This year, they'll start the school year knowing about it. We're asking the principals to really promote this. We know students talk, and they often know exactly what happened in a particular incident."
McGoey agrees. "These are the types of acts of vandalism that are filmed and put on MySpace," he says, referring to the popular online community that allows users to share photos, journals and streaming videos. "Somebody knows who did these things. People brag about it. The school just has to get a network going that allows it to tap into that kind of information flow."
Security and student safety is everyone's job, he says, and shouldn't be left solely to district administrators, school principals and security officers. But while opening lines of communication between local police, school staff members, students, parents and the community is always a good idea, fortifying a school's physical plant is still the top priority. McGoey recommends evaluating the fencing around fields and spectator areas to make sure access is prohibited and cannot be compromised after games and practices conclude. Post signs stating the open hours for such facilities, and implement a campus-wide curfew that can be enforced by police and school employees. If property damage does occur, keep track of the dates and times, and try to establish a pattern.
The Wake County Public School System in Raleigh, N.C., has developed at least nine major initiatives to help fight crime inside its 20 high schools-including a building-access-control system and a district-wide $1.3 million contract with a private security firm. But very little funding is left to provide protection to the district's myriad outdoor athletic venues and fields, says senior director of security Russ Smith, largely because those sites have not been targets beyond concessions stand break-ins and press-box graffiti. "Of all the vandalism we have, a very small portion of it happens to be at athletic facilities," Smith says, adding that he plans to increase security in and around those areas as soon as more money becomes available. "While I feel like we have a good program in place, we have to keep improving. Our district is on the cutting edge academically, so we should be in the same place with security."
Back in Santa Fe, where the football field arsonist is still at large, Schlosser-Moon is hopeful that the vandalism hot line will eventually prove to be as effective as other steps the district has taken toward improving safety at its two high schools, four middle schools and 20 elementary schools. A safety and security steering committee meets regularly with local law-enforcement officials and helps train school employees how to respond to critical incidents. Meanwhile, police surveillance (in vehicles and on foot) has been increased around outdoor facilities, and new digital cameras strong enough to zero in on details as small as brand logos on shirts were recently installed.
"Kids don't deserve to go to school in a facility covered with graffiti or where the football field has been damaged to the point where they can't use it," Schlosser-Moon says. "They deserve to go to school where the facilities look nice and are appropriate for them."