One recreation facility's annual maintenance checklist.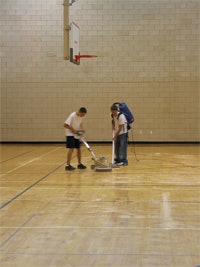 At Warner Park Community Recreation Center in Madison, Wis., the week preceding the Labor Day holiday has various nicknames, depending on the staff member.
To director Brad Weisinger, the last week in August is "Down, But Not Out Week," when the Warner Park center is closed to the public as its staff conducts annual maintenance. Weisinger's head maintenance mechanic, Kelly Wilson, on the other hand, prefers to call this period "Hell Week."
Down Week's activities are arduous, to be sure. But each task-from dusting to painting to floor refinishing-is critical to keeping the seven-year-old center in as good shape as it was in 2001, when it won an Athletic Business Facility of MeritT award. "I've always been into the idea of closing for a week," says Weisinger. "We really try to keep our building looking brand-new."
This endeavor requires year-round vigilance. In advance of Down Week, Weisinger assembles his staff to hash out a strategy for their facility's annual shutdown. "We talk about our priorities, based on our accomplishments throughout the year and the major projects we got done during the previous year's Down Week," he says. "I think it's good for all of my staff to be involved in this process because they spend a lot more time in some parts of the building than I do. They have a good feel for what we need."
The Warner Park center's list of annual maintenance tasks is generally prioritized in this manner:
Screen and recoat gym floors. "We always start with the bigger things," says Weisinger. "It's pretty much a given that the gym floor is first."
Strip and reseal locker-room and rest-room floors. This task includes scrubbing dirt from grout and laying down near urinals a poultice that absorbs odors.
Paint walls, as needed. This is done every two or three years, at most. One exception to this rule is a hallway that leads to the locker rooms and a gymnasium entrance. "We paint this area every year because we ask people who come to our games to walk down this back hallway and into the gym, instead of across the floor," says Weisinger. "Little kids touch the walls constantly."
Organize the front-desk area and send old files to storage.
Inspect the fire alarm system. "Alarms will be going off all day today. We've learned that this is the best time for us to check our smoke detectors and sprinkler heads because there is no disruption to our customers," says Weisinger, who, rather than devote valuable staff time to this task, hires an outside contractor. "There are hundreds of them and they're located on high ceilings. Plus, if we have issues over the course of the year, we're under warranty because the company did the inspection."
Inspect fitness equipment.
Sanitize chairs and tables in arts-and-crafts and child-care rooms.
Shampoo carpets.
Dust metal surfaces, including window blinds, light fixtures and ductwork.
Dust and oil wood surfaces, including wall paneling and furniture.
Inspect the HVAC system. The Warner Park center doesn't have an aquatic center, sparing its staff what is potentially a considerable hassle and expense. Wilson's attentiveness to the HVAC system's upkeep also contributes to this task's low priority. "Kelly's methodology is that about two weeks prior to Down Week, he'll start checking things so that if work has to be done by an outside consultant, we can do it now," says Weisinger. "He's also a big believer in regularly changing filters. Typically, mechanicals are the least of our problems if we've maintained them throughout the year."
Miscellaneous. Generally, only interior maintenance concerns are addressed during Down Week. But this year, members of Weisinger's staff convinced him of the need to pressure-wash the Warner Park center's circular drive to remove oil stains, gum and other built-up debris. In addition, a local garden club has volunteered to re-landscape and maintain an area outside the glass-fronted fitness room. "We really do like the appearance of our building," says Weisinger. "This will step it up a bit more."
In all, Down Week activities cost about $6,000. "We stay at the same level of maintenance budget requests every year," says Weisinger. "We've been pretty lucky."
Weisinger also counts himself fortunate to have a dedicated facility staff of about a dozen employees, including only five full-timers, who supply most of the labor. For part-time employees, participation in Down Week is optional, although they're paid normal wages if they choose to work.
To keep morale high through week's end, Weisinger holds a picnic on Wednesday afternoon so that his staff can "celebrate what we've accomplished," he says. "We invite our alders, our advisory committee, anyone who wants to come. Everybody brings a potluck dish and we barbeque. Plus, we bring water pistols, shoot each other and just laugh a little bit."