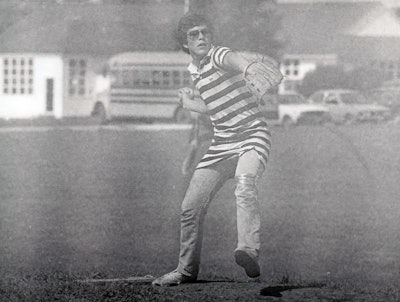 I was on the mound, and had just retired the first Deerfield batter in the bottom of the fifth, when the Deerfield coach went ballistic. Time was called, and he came out to argue with the umpire that my "uniform" - a long, black-and-white nightshirt that hung loosely over my patched jeans - was interfering with his hitters' ability to see my pitches. That was a laugh. I didn't throw hard enough to dent bread, but here I was on Deerfield's perfectly manicured field, ahead big in a game that we'd win 10-3, surrounded by similarly clothed teammates (Chris, our first baseman, who'd keyed a rally by sprinting to first on a walk and stealing second on the play, like one of his heroes, Pete Rose, was wearing a multicolored satin disco shirt and yellow pinstriped pants) and the opponents were getting desperate. This was sports at The Putney School in the spring of 1979. A high school senior, I was the toast of the school for that week, having thrown the surprise complete-game win. The following week, I earned a second start, this time at home, and lost 10-0 to a no-hitter.
Our home diamond was the sports-field equivalent of patched jeans. Located on one side of a lawn used mostly as a soccer pitch, it had no skinned infield or pitcher's mound, just a pitching rubber staked into the grass. The same was true for other sports: Basketball, for example, was played upstairs in the barn, next to stacks of hay bales. The lack of uniforms was a point of pride in this arty, farm-oriented community, and when the soccer team decided to purchase uniforms a couple years after I graduated, it was treated as if the school had lost its collective soul.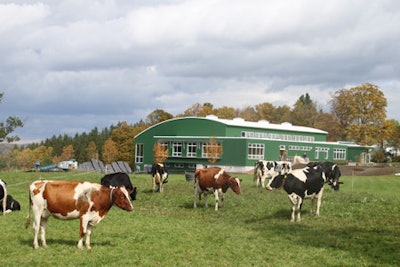 This is all brought to mind as the 75-year-old Vermont school this weekend gets set to dedicate its first sports facility, a $7 million, net-zero-energy field house that is aiming for LEED Platinum status. It's an austere building, with one larger open space for court sports, a cross-country ski waxing room, a climbing wall, a fitness/group-exercise room and locker rooms - and it isn't yet fully paid for, which is sort of the Putney I remember, too. But it's going to elevate recreation and movement - sports movement, not dance movement - to the level of the school's other, more popular arts, and it's going to help them beat schools like Deerfield, occasionally, in student recruitment. As a symbol of two seldomly linked movements in this country over the past 30 years - sports and sustainability - the Putney field house is pretty much unparalleled.