It's a scene no facility manager wants to walk into on a Monday morning: a gym flooded with water.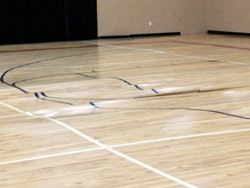 Maybe a pipe burst, the fire sprinklers went off, the roof leaked or something more catastrophic occurred. "There isn't anyone who plans for severe storms or roof damage," says Ron Fenhaus, sales director at Action Floor Systems LLC.
And the majority of facilities will likely be lucky enough to never experience a significant incident, but that doesn't mean they shouldn't be prepared for it. This fall alone, the University of Arkansas' Bud Walton Arena suffered water damage after heavy rains caused "water infiltration;" play on the University of Missouri Recreation Center's courts was briefly suspended following a sprinkler malfunction; and an overfilled pool caused water to seep through walls and destroy a high school court in Milton, Wis.
"A lot of it is how quickly the owner reacts," Fenhaus says. "You don't have days to make a determination. The very first thing to do is control the source of the water. Then immediately pick up any of the moisture that's pooled on the floor, and call the local hardwood flooring contractor to get them there as quickly as possible to assist and assess."
EBB TIDE
The degree of damage a floor sustains and whether it can be saved depends on a variety of factors, the most important being time. "If it's a minor spill on the floor where somebody's dumped some water, get out the shop vac, get it cleaned up, and chances are there will be no issues," says Fenhaus. "The majority of the time when people have challenges, it's because they chose to ignore it or didn't know about it right away."
Once water penetrates the surface of the floor and soaks into the sublevels, the entire floor is, well, sunk. "Plywood, if it gets wet, will delaminate," says Todd Goodrich, technical manager with Robbins Sports Surfaces, referring to the two ?inch layers of plywood used beneath maple flooring in typical floating floor constructions. "It will expand, and the moisture will get up into the maple, which will in turn cause the maple to expand. Once the maple expands, it can't return to its original position on the floor."
The type of floor affects how much room it has to expand, which in turn affects its ability to recover. "A floating floor can only expand to the side, and there's an expansion gap," explains Steve Chase, general manager with Fitness Flooring. "Once it hits the wall, there's nowhere to go. A nailed-down floor has gaps every six or seven rows so that it can expand. A floating floor will recover better because it's not losing its attachment, but with nailed-in, once it starts to come up, it's losing its attachment to a subfloor."
The history of the floor is also a factor. "It's not so much the age but number of coats of finish," explains Fenhaus. "On a floor with many coats of finish, a surface spill will have much less potential to infiltrate the wood. If it's a brand new floor, it's going to be more susceptible to moisture getting between the boards. The more finish a floor has, the greater the initial resistance to a surface spill."
Whatever the circumstances, if a facility operator acts quickly enough, the floor might be salvageable. "When the boards are popping out, that's time for replacement, a done deal," says Chase. "If it's just cupping, you can dehumidify."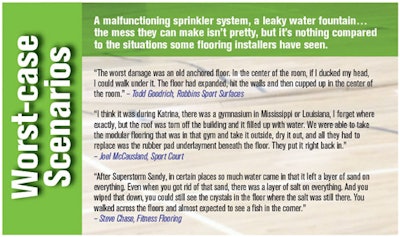 TIME DRY
Dehumidifying is a different challenge altogether. The goal is to get the humidity level of the room and the moisture level of the wood back to normal levels. Typical moisture content for maple flooring is about 8 percent, with some room for variance built in. Aside from causing the wood to buckle and pull free, higher moisture can lead to issues such as mold and rot.
"Anything above 10 percent gets a little dicey," says Chase. "At 12 percent, you might as well pack it in. Around 10 percent you can run a commercial dehumidifier for about a week, if it's not getting any better, you have to look at replacing it. But if you can dry it out, there's a good chance you can sand and refinish and it'll all be flat again."
Depending on the floor and the cause of damage, there are other options, as well, says Joe Cooper, general manager of strategic innovations at Connor Sports Flooring. "With certain types of resilient athletic or synthetic products, you can pull them back, dry them out, and if you can determine the entire floor does not have a moisture problem, you can shot blast the concrete and install a localized moisture barrier coating. Then you can clean the bottom of the product and re-glue it to the coated concrete."
It's a process that takes time - time that facility owners don't always have. If, after waiting, the floor can't be saved and must be replaced, the facility has lost even more precious time. Though the process will be different for every situation, Goodrich estimates that to tear out and reinstall a 10,000-square-foot floor, "from the time someone walked in and saw it was flooded to the time they got back in - if everything worked out just right - figure about two months."
That's two months of rescheduling athletic programs, gym classes and other events. While insurance companies might prefer to wait it out than pay out, facility owners concerned with getting a court back online might want to get a second opinion, recommends Cooper. "That's when a facility should contact the Maple Flooring Manufacturers Association and get an independent third party's opinion."
---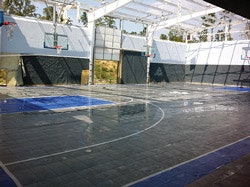 FLOOD OF FORGIVENESS
While no comparison to a quality hardwood court, synthetic flooring provides a more forgiving alternative to facilities facing a greater concern of water damage - those in flood zones or those that lack a reliable HVAC system. "A good choice would be a poured-in-place urethane floor," says Todd Goodrich of Robbins. "You can flood those, mop them off and you're good to go again."
Not all synthetic floors are impervious to water damage, of course. "A lot of synthetic floors are adhered to the floor," says Joel McCausland, director of product management at Sport Court. "Vinyl, rubber, poured urethane. If they get substantial water damage under them, it's going to destroy that glue. If that's the case, you can't lay that back down."
Modular flooring acts a bit differently, sitting off the floor like a floating floor rather than in direct contact, McCausland says, and because it's not glued down, it can be pulled up, dried and put back down. Still, it's not an excuse for facility owners to take their time cleaning up spills. "If a floor has a polyurethane coating, you wouldn't want to submerge that for long periods of time because it affects that coating just like it affects glue." - E.A.