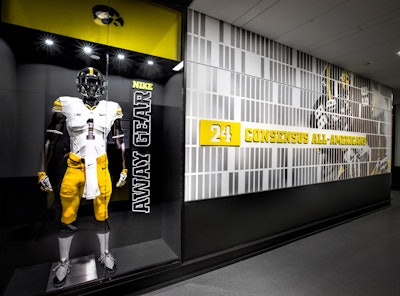 This sponsored content was provided by Forty Nine Degrees. What is sponsored content?
A brand carries a certain emotion and leaves an impression. The Hansen Football Performance Center at the University of Iowa does just that — all 218,000 square feet. Without a doubt the Hawkeye brand leaves an everlasting impact on everyone who walks through the doors — especially recruits. The rich history of the Iowa football program is brought to life throughout the facility, incorporating key architectural elements to unify the space and bring the Hawkeye story to life.
Ben Hansen, assistant director of football operations, and Paul Federici, director of football operations, provide us a glimpse of what the Hansen Football Performance Center project entailed at Iowa.
What was the branding vision Iowa had going into this project?
The University of Iowa wanted to promote the Iowa football brand to past, current and prospective student-athletes and visitors by recognizing the extensive academic and athletic successes of its football student-athletes. We worked diligently with 49 to create a unique and specific vision to the branding of the Hansen Football Performance Center.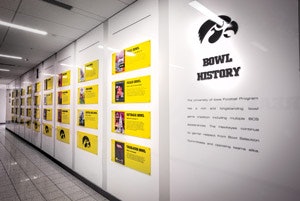 How did you decide what storylines would be featured within the facility?
We are fortunate here at Iowa because our history is full of outstanding team accomplishments, a passionate fan base, individual accolades and a proven track record of sending student-athletes to the NFL. With that in mind, the University of Iowa, Substance Architecture and 49 collaborated in every regard to share Iowa football's academic success stories, as well as Big Ten Conference and professional football success stories of individuals and teams. The outcome combines facility functionality, high-end graphic design and production, and museum-level finishes. We are fortunate to have as many stories as we do and believe 49 did an outstanding job showcasing all of them.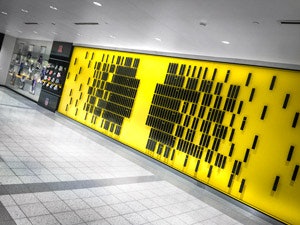 What emotion did Iowa want to portray throughout the facility?
Iowa football wanted current student-athletes, our football alumni, recruits and visitors to know that our historical academic and athletic success is due to the lineage of student-athletes. We want all of these groups to not only be proud of what they experience after visiting the Hansen Football Performance Center, but also the manner in which they experience their visit. This facility is not geared toward a specific generation; however, every individual walking through this facility will feel various emotions from excitement, amazement, thrill and remembrance.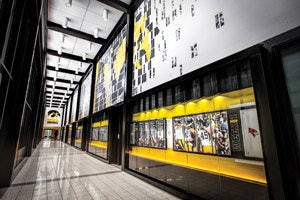 What is the best thing you have heard about the overall look/feel of the facility?
We often hear that the Hansen Football Performance Center is "by far the best facility in the Big Ten." We couldn't agree more.
What advice would you give peers looking to brand their own facility?
Never lose sight of those who have helped make this possible, recognize the power of including past student-athletes' academic and athletic achievements. Be secure in who you are as an institution, program and community. Consider the scope of your graphics project and whether it matches the personality of your program. Strive to make your graphic component complement your facility, not overshadow it. Lastly, don't be afraid to think outside the box. Not only did we want to represent the past; we have and continue to strive to bring in new and fresh ideas to the branding of this facility. With the help of 49, every idea and outside-the-box suggestion is a possibility.
---
This article was provided by 49. 49 delivers brand experiences for collegiate and professional athletic facilities. Visit the company online at www.experience49.com