It wasn't all that long ago that a high school gymnasium served primarily as the largest classroom on campus. During the school week, physical education was still a requisite course of study for underclassmen in most regions of the country, and sports practices jockeyed for occupancy after school hours.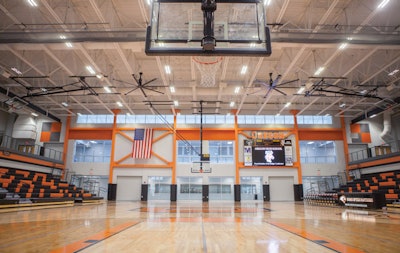 Prepping for game nights involved pulling telescoping wooden bleachers out from their folded positions along opposite gym walls, as well as dropping basketball backstops from the rafters, inserting volleyball stanchions into floor sleeves or unfurling wrestling mats. The first row of seating became the team bench and a scorer's table — a mere countertop supported by pipes, perhaps — might be fitted into sockets on a bleacher plank a row or two higher. The P.A. system of a microphone and horn speaker was all that was needed to communicate which player made the shot or committed the foul, which team won the set or which wrestler emerged victorious from his weight class.
Step into a gym for a high school athletic event today and take note of the production value now being assigned to the space. Game night has gone big time, with investments in equipment and technologies that transform that big box classroom into something more akin to a collegiate arena in terms of atmosphere.
Here are a few of the ways high schools are enhancing the fan experience inside their gymnasiums:


Seating
Wooden bleachers still provide gyms with a rich, traditional aesthetic, but many schools are opting instead for contoured plastic bleacher seating for fan comfort and maintenance staff peace of mind. Such seating allows for incorporation of team colors, and graphics have advanced from jagged lettering spelled out by alternating the colors of individual seating blocks to detailed imagery spanning large portions of the bleacher unit — whether its open or closed. Schools can even communicate motivational messages with wording transferred onto stair risers.
Aisles have become safer with the advent of handrail codes, and certain bleacher systems come with handrails that rotate into position as the bleachers are opened, thus eliminating the extra step of installing and removing them before and after games. Aisle railings and end guards can even be customized to bear the team colors.
A game-night seating enhancement that requires no railing at all is the incorporation of temporary three-row units along the baselines, creating more of a four-sided arena enclosure. Students, in particular, favor this location, often arriving to the gym early to secure their seats under the basket.
For schools that still utilize the first row of their sideline bleachers for team benches, an innovative product now exists that attaches chair backs to the front row using a minimal number of stanchions (two stanchions may support several chairbacks in between). The front row can also be specified to leave gaps between sections of seats, allowing room for wheelchair access and scorer's tables.
Alternatively, team bench seating at the high school level can take the form of upholstered folding chairs of the kind seen on collegiate and professional sidelines, complete with thick cushioning and team color and logo coordination on seats, backs and gussets.


Scorer's tables
Typically positioned courtside between team benches, scorer's tables no longer serve the sole purpose of giving the keeper of the official scorebook a surface to write on and the P.A. announcer a place to sit.
Schools have been dressing up the scorer's table for decades — facing it first with static signage, then backlit panels and now LED digital displays capable of communicating animated graphics and real-time game statistics while serving as a supplemental scoreboard. A combination of messaging media can be employed through a system of interlocking scorer's tables, allowing a digital table to be flanked by static back-lit tables, for example.


Video
There is no more conspicuous indicator of the technological trickle-down effect of the game-night experience from the professional level to colleges to high schools than the video display board.
While the type of four-sided center-hung scoreboards common in professional and college arenas are extremely rare in high school gyms (at least one exists, in Texas), wall-mounted video screens are gaining major traction at the prep level. "High school indoor displays are the fastest-growing trend line that we have," says the representative of one leading video display manufacturer.
The sophistication of the displays themselves and their control software can be the same, regardless of the level of competition, though systems can be scaled in terms of overall size of the board and pixel-width specifications (the smaller the number, the higher the resolution) to satisfy varying budgets. Like pro and college programs, high schools can display traditional scoreboard content on a video board along with animated features, fan prompts, and player photos, profiles and game statistics. Perhaps most important, at least in terms of a system's up-front affordability and ongoing revenue-generation potential, schools can cast a wider sponsorship net with digital technology than the space on a static board might allow, and sponsor ads can be updated more easily.
High schools in particular have made their game-night video shows an educational opportunity, providing students with real-world marketing and production experience (see this month's Purchasing Guide, page 62).

Mascots
While school spirit can come to life on gym walls through video animation, there's just something engagingly old school about a costumed mascot working the crowd on game night.
Mascot costuming has come a long way since the days of student volunteers sticking their heads into papier-mâché forms crudely crafted in house. Several companies that manufacture some of the most iconic professional and collegiate mascots offer the same services to high schools, allowing them to take advantage of the durability of molded foam, a plush appearance and proven ventilation and vision features for the wearer's safety.
While custom mascot costumes can cost upwards of $15,000, those designed around in-stock head forms suited to the most common team names — eagles, bulldogs, panthers or bears, for example — can be purchased in the $1,000-to-$4,000 range.


Game-specific equipment
Before fans can experience game night, the gym has to be converted to the sport at hand. That process has gotten easier over the years with lighter, stronger and more easily adjusted stanchions for basketball and volleyball moved into position manually, as well as automation that allows basketball and volleyball equipment to be folded and stored near the gym's ceiling and raised or lowered with the push of a button.
Moreover, the evolution of high school competition has at times dictated new pieces of game-night-only equipment. Beginning in 1981, jump balls were limited to the start of high school basketball games and overtime, and the alternating-possession indicator — which today typically takes the form of a box with illuminated arrows situated on top of the scorer's table — was introduced to speed up the game.
Another potential change focused on the pace of play will require another piece of equipment to enter the high school gym space on game night. Nine states have either implemented a shot clock (typically 30 or 35 seconds) or are in the process of doing so, thus surrendering their seats on the basketball rules committee of the National Federation of State High School Associations, which has yet to endorse such a rule change. Eighteen of 29 state associations responding to a 2017 NFHS survey indicated they are against shot clock implementation, and impact on the game is only part of the reasoning — cost of installation and operation are cited, as well. Meanwhile, a majority of 6,000 high school coaches participating in the survey said they favor a shot clock.
Indeed, time may be running out on offenses that hang onto leads by holding onto the ball. In March, USA Basketball and the NBA jointly recommended a 24-second shot clock be introduced to high school competition nationwide.

Converting the high school gym — from educational space by day to event destination at night — has never been easier, or more exciting. Even permanent spirit-inducing gym features such as wall and floor graphics have gotten bigger and better, as has the branding of wall and stanchion padding. Given the technological changes witnessed over the past 50 years, it's a virtual slam dunk that more high school gyms will continue to mimic collegiate and even pro arenas in the interest of heightening the game-day energy level of players, students and fans.
---
This article originally appeared in the September 2018 issue of Athletic Business with the title "Prepping the high school gym for game night." Athletic Business is a free magazine for professionals in the athletic, fitness and recreation industry. Click here to subscribe.