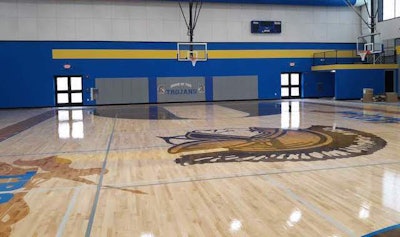 Webber High School in southern Illinois faced a major problem. Several years ago the school, built in the 1940s, was deemed uninhabitable due to structural issues. A new high school would have to be built from scratch. Fast forward and the district is ready to open a brand new high school later this year. One of the focal points will be the sparkling new gymnasium and particularly, the unique floor at the center of it. AB caught up with Bluford Unit School District superintendent Shane Gordon to hear about this project and how this stunning gymnasium floor came to life.
Tell us a little bit about Webber High School and this new school you'll be opening:
It's a small high school with about 130 kids in grades 9-12. The last four years the students have actually been in a section of the elementary building and we made that the "high school." We sectioned off some classrooms and made that a space for them as best we could. It's greatly anticipated for the students and staff to have their own space and own identity.


The new gymnasium looks beautiful. What are you most excited about there?
Our old gym was nicknamed "The Pit." It was sunken down with the bleachers built up around it. I think something like "The Coliseum" will be a new appropriate nickname. It's such a large, vibrant space. I think for the kids it will be an amazing atmosphere. The building as a whole will give us a whole new identity.

Also, we'll be able to host postseason events with the IHSA which we couldn't do previously. So we're excited to be able to do that and have people from all over southern Illinois come enjoy our new building.


The gym floor is a big part of the school's identity. What went into creating such a unique floor?
It's an Aacer floor, installed by Stalker Sports Floors, an Aacer Certified Dealer. I can't say enough good things about Stalker. The communication back and forth was excellent. The owners, Beth and Steve, Beth is the graphic designer and I was really impressed and pleased with what they came up with. It's something different. We wanted some contrast, but didn't necessarily want to do that with paint since our walls are so vibrant. So there isn't much paint on the floor. But there's a great amount of detail and it stands out. I was really pleased.


When you're signing off on any big purchase, what are the factors that are important to you?
We always have to keep cost in mind whenever we tackle anything. But from there, you're looking for quality and we definitely have achieved that with this Aacer floor, which is a beautiful First Grade MFMA Maple. I'm also a large proponent of communication. I have played a fairly active role in all of the little details and I don't think that would be possible without good communication. Stalker was really great about communication, just going back and forth on all the details as it has come together.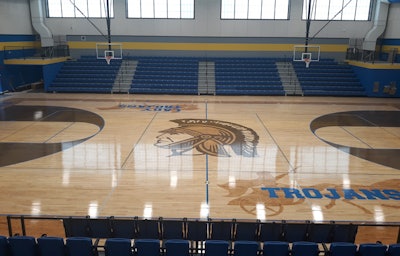 What has been the reaction when people see the new floor?
Anyone who has seen it is just amazed. Students haven't been in there yet, but even the architecture firm and general contractors -- everyone's reaction is kind of the same. The wow factor is there. It's unique. It just looks really clean and classy.


How long do you intend this floor to last?
I would say and fully expect and hope it lasts the life of the building. With proper care and maintenance this will be a 50-60 year investment.


A follow up question with Steve Stalker of Stalker Sports Floors: Why do you enjoy working with Aacer Sports Flooring?
Stalker: The thing I like about Aacer is the quality of their product, their commitment to quality. They're one of the few mills that sells the complete floor system including the subfloor. It also helps that they're helpful and easy to work with. From the top down, they have great support.

With this Webber High School floor, it turned out really well. We did some of the impossible with a stain on top of stain and with that First Grade MFMA Maple, it really pops and will give the school a look that will last for many many years.
---
For more information on flooring solutions from Aacer Sports Flooring, visit their website.