The University of Utah men's basketball program was the 1998 national championship runner-up — its lone Final Four appearance in the 32 years prior and 21 years since. That said, one could argue that in 2015 the university opened a basketball practice facility that's second to none.
The $36 million, 101,000-square-foot Jon M. and Karen Huntsman Basketball Facility features three players' lounges — one each for the men and women, and one that encourages comingling. There are hot and cold plunge pools not only in the training area, but just off each team's locker room. The four-story building's rooftop terrace overlooks Salt Lake City and the Jon M. Huntsman Center, where the Utes play their games, and the mountain views are truly one of a kind.
Basketball practice facilities have become the norm for doing business at the Division I level over the past decade, as a means to better accommodate student-athletes' schedules, coaches' practice philosophies, and any given program's culture.
"The genesis of these buildings is pretty easy to understand," says Nate Appleman, a senior principal at architecture firm HOK. "The arena tends to be one of the most heavily used facilities for an athletic department between the basketball programs, the volleyball programs, wrestling, gymnastics, so this type of facility really came out of the fact that that main court floor was just overtaxed from a timing standpoint. Schools began to invest in the basketball programs as a way to separate them out from the main arena floor and get them their own court to be able to practice."
"What the stand-alone facilities have done for a lot of universities — it's for coaching, it's for individual training, it's for shoot-arounds — and you don't have to have that scheduling conflict with the concerts or commencements or anything else that might happen in an arena," says Jeremy Krug, a senior associate at Populous, the firm behind the design of Utah's facility and dozens of others.
Access is key. "We love the phrase 'day in the life of the student-athlete,' " Krug says. "Well, it's kind of a mixed bag when I have to go to class or I have to go to a tutor or I have to go to the training table to eat, back to practice, watch film. When can I get that hour or 30 minutes of shoot-around? To have your own facility and your own practice gym, now it kind of works with all student-athletes' schedules. That's where you started seeing universities invest in these stand-alone facilities. What they're trying to do is get these student-athletes to a gym, to a court, to a basket so they can get in there and shoot around and work on their individual training."
What form any given facility takes is as varied as the programs themselves, with some common denominators.
"Title IX is a driver in facilities like this. What you do for the men's program you have to equivocally do for the women's program, so a lot of the time you see these facilities having a mirror image — one side for the men, one side for the women," Appleman says. "Generally, the basic program consists of a court or a court and a half or two courts that are dedicated to each of the teams, and then each team will have their own locker room, their own film room, lounge, coaches' offices and meeting rooms. Then you get into variables like is dining offered? Is equipment distribution and storage a piece of it? Are there academic opportunities that occur within the facility? How prevalent or not is sports medicine, athletic training and the weight room?"
These are all questions that inform a facility's design and ultimate functionality. But it all starts in the gym.


Renovating for Equity at Notre Dame
When Missy Conboy played basketball at the University of Notre Dame from 1978 to '82, she practiced in "The Pit" — an auxiliary gym within the Joyce Athletic and Convocation Center, which also housed Purcell Pavilion, the competition home of Irish men's and women's basketball. The Pit had morphed from a gym used by several varsity teams and campus recreation groups to essentially a domain alternating between the men's and women's basketball programs.
As of last May, however, Notre Dame basketball has occupied space dedicated to each team within the remodeled and repurposed Rolfs Athletics Hall, which had opened as the home of campus recreation in 1998. When recreation moved to a new location in 2018, work began to tweak Rolfs' existing space to provide separate but mirror-image practice courts, locker and office areas for men and women, and to add such shared amenities as player lounge, nutrition, athletic training, and strength and conditioning areas.
"I've been fortunate to be able to work on a number of facilities, including our large stadium project, our hockey facility and now this," says Conboy, Notre Dame's senior deputy athletics director. "Having been a former women's basketball player myself at a time when equity was not something that we enjoyed — no fault of Notre Dame, it was just the norm in the industry — it was really fun to make sure that everything was absolutely equal for the men's and women's programs."
Fun, but challenging. "The biggest challenge of this space was that it was shared space, so what we had to suggest to the coaches is that we had to leave it generically Notre Dame basketball in the main spaces, but once you get into your gyms and once you get into your offices, that's where you can really celebrate your program."
Renovating the existing Rolfs Center with the help of design firm Perkins and Will saved Notre Dame time and money, according to Conboy. "Essentially, it was move-in-ready in 11 months, and I don't think there's any way we would have been able to get it done in 11 months had it been a new facility," she says, adding that the budget of $18.6 million was a little more than half of what the university could expect to spend if it had started from scratch.
In the end, a facility was created that is distinctly Notre Dame. "We don't try to necessarily compete with all our peer institutions to be bigger and better, but we do try to use great care to make our spaces very unique and to really pay a lot of attention to detail," Conboy says. "We try to build a lot of our theming details right into the finishes of the building. It might be a little bit of extra work and effort, but it feels very integrated with the design of the building."

Court space
"When I go in to talk with a client and program the building, we basically ask the questions that are going to create the sizes of boxes," Krug says. "One of the first questions we would always ask administration is, 'Do you want a men's basketball gym and a women's basketball gym?' "
"If you ask coaches, that's what they would generally prefer, that there is a court or a court and a half dedicated to each of the programs," Appleman says. "There are instances where there's just one big gym and it's got two courts in it, and then it's just a scheduling thing between the men's and women's programs as to how they utilize it."
Utilization begs additional design drill-drown in terms of each program's gym space. "We always say designing a basketball practice facility, obviously, starts with practice and the size of your practice gym," says Krug. "How many goals do you want? A standard court is two, as we know, but sometimes you might have four on the sides, so you have a total of six. At Utah, we have a total of eight because of the way that they just want to function and have enough shoot-around and warm-up area. It becomes unique. It's basically its own design strategy right there around the practice itself."
At minimum, gyms will have one NCAA-regulation court on which to run full practices, but often that space will be complemented by two or more separate half-courts or "functional arcs," as Krug calls them, where drills can be conducted. These smaller surfaces may be oriented perpendicular to the main floor. "That's always the diagram that makes the gym volume a little bit bigger," Krug says, "but it also helps at practice if we don't have shooting guards running into each other on one basket."
When sizing court spaces, schools should also be cognizant of the facility's off-season potential. "The other question that comes up is high school camps," Krug says. "We want hundreds of kids to come through these programs, so the size of those gyms should accommodate the maximum amount of youths coming through to practice in June or July."
In addition to the courts themselves, the gym volume may accommodate ancillary elements. Says Krug, "You might have a coaches' wall off to one side that might have a TV or a whiteboard, because we don't have the time to go back into a film room or a coach's office. We'll always have satellite training, so we have rehab elements right off the practice court for injured athletes. So there's a lot that's designed around the practice court itself."


Arena feel
A primary goal of any basketball practice facility is the re-creation of arena conditions. "You want to replicate everything that you can from their home court in their arena into the practice gym," Krug says, "so we'll get all those specifications, and that way there's nothing different from me going to practice and me going to compete."
Specifying the same basketball goal models and wood floor systems in the practice facility as appear in the competition venue is typically not a challenge, and goes a long way to prepare players for the feel of their arena. A school might even put an identical scorer's table in the practice gym. But trying to match an arena's light levels and the "shooter's eye" are where things can get tricky.
"They want to re-create that environment as much as they can, but a big box, which is effectively what the gyms tend to be, is not a very good representation of what an arena feels like — with the seating going back and the center-hung scoreboard. The ceilings tend to be a lot higher in arenas than they would be in a basketball practice facility," Appleman says. "It's difficult. Even the lighting is different. Practice facilities tend to be a bit brighter because there's a desire to include natural light — certainly indirect natural light, so you want to get north light in there if you can. But a lot of schools want to bring that natural light in just to lighten up the space and just have a more pleasant environment, and arenas tend to be dark, with the lighting really focused on the court — that Staples Center effect."
Krug feels faithful lighting replication is a must. "That's one of the first questions we'll ask: 'What are the light levels in your arena, and how can we design the same for the practice gym?' " Krug says. "The paint scheme and everything else is just kind of your connection as far as where you are on the court, and it's also for recruiting — that when you walk through and sell this practice gym, it looks very similar to the arena."
Maybe it even sounds like it, too. "Acoustics is big in these practice gyms, because we might have three coaches with whistles and a lot going on, but they always ask for a sound system so that they can easily pipe in crowd noise," Krug adds. "Anything that we can do to re-create that environment of where they're going to compete only helps these student-athletes as they practice."
Duplicating depth perception, however, is the most daunting task of all. "That's the one missing piece, I would say, when trying to re-create an arena setting. It's four vertical walls, 12 feet off the baseline, and we know there's not an arena in the country that looks like that," says Krug, adding, "We've even looked at technology as far as LED boards to re-create that depth or that distraction — for instance, stepping up to shoot a free throw in front of a student section — so you're not just shooting on a vacant goal."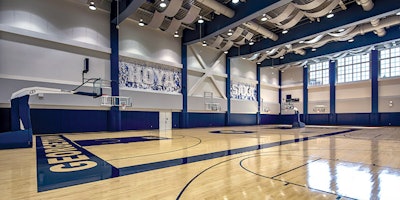 Player areas Practice routines are top priority, but greater emphasis than ever is now being placed on student-athlete recovery. That's why an increasing amount of square footage in dedicated basketball practice facilities is being carved out for such things as fueling stations, sleep areas and hydrotherapy. Says Appleman, "Those kinds of recovery areas are sometimes part of the player lounge, where kids can go in and put on the NormaTec boots and have that compression to help them recover from their workout."
Fueling stations in practice facilities typically stop short of a full kitchen, which is instead reserved for the economies of scale (chefs, staff), not to mention the socialization, afforded by full training tables. Fueling stations may range from a Gatorade machine right off the practice court, weight room or training room to a small snack bar "that's fruit, nuts, bagels, Gatorade, water, chocolate milk. It's just quick, easy access," Krug says. "You might have multiples of these areas that could be a hundred square feet, could be 400 square feet. It depends on the refrigerators, the sinks, the storage and everything else."
That kind of convenience is echoed in onsite sleep spaces, which may house two or more sleep pods, recliners or bunk beds, or any combination, within 300 to 400 square feet. "Sleep is a big trend right now," Krug says. "If I'm coming to one facility, I don't have to go back to my apartment or my dorm to take a nap for 20 or 30 minutes before practice."
Hydrotherapy options are now commonplace, as well. Says Krug, "We normally would have a hot and cold plunge pool, and a HydroWorx 2000. That's your underwater treadmill that basically gives injured players the ability to still condition, take all the weight off of their body depending on the depth, and it also gives them video to see how their muscles and joints might be reacting when they run."
It's all part of a new focus on student-athlete wellbeing. "When we talk about mind, body and soul of human performance, we need nutrition and we need proper sleep, and then we also need to watch film and practice," Krug says. "Essentially, these practice facilities are trying to check all of those boxes in terms of student-athlete needs, and really are trying to consolidate the time that it takes to go from one spot to the next."
Even spaces that are underutilized by comparison are no less essential to the basketball practice facility's alter ego: recruiting attraction. Appleman points to players' lounges in particular, which serve as metaphor for the bigger picture.
"We used to laugh about football facilities and the players' lounge. Everybody would complain about the fact that nobody would ever use the players' lounge," says Appleman, quickly adding, "If you didn't have one, though, you were negatively recruited against for not having one, even if nobody uses it. Basketball practice facilities are very similar in that if you don't have one, you better have a pretty damn good story to tell, a really great arena and really great exclusivity in terms of the usage of that court in order to justify not having a practice facility to show recruits. It's kind of gotten to the point where it's a must-have."

NBA impact
One might think that the National Basketball Association would pamper its multimillionaire players in ways most colleges could only dream of. And while there are plenty of palatial practice facilities at the professional level, some colleges are in a league of their own.
"A players' lounge for a college might be programmed a little bit differently," says Populous architect Jeremy Krug, whose firm has designed basketball practice facilities at both levels. "You might have pool tables. You might have ping pong. You might have a lot of those amenities because those kids are going to stay in that facility longer than a professional athlete who just lives a couple miles down the road and probably has that stuff at his house."
"It's not necessarily the NBA that has been driving this," says architect Nate Appleman, whose firm HOK likewise has handled pro and college basketball projects. "In both basketball and football, college has really driven the training facility landscape, but that trend is starting to change. The thought at the college level has been that recruiting is such a big part of it that you have to have a bit more opulence, something that will catch the attention of a 16- or 17-year-old kid in order for them to come to your school. In the professional ranks, it was about contracts, so the facilities could be a bit more utilitarian. Now, what you're seeing with free agency is that there has become a bit of a recruiting cycle even within professional sports. You get that anchor superstar, and then they want to surround themselves with talented people. It makes it a lot easier to do that if they have a really great facility in which to train together. Particularly in the basketball world, there's not a lot of difference between today's NBA teams and today's collegiate teams. They're generally the same age. The NBA is becoming more of a young man's game, with the whole notion of the one-and-done rule."
"The NBA facility is starting to mimic a lot of what college currently has. It used to be that in a lot of arenas we would have a dedicated locker room and just one practice gym right off of it," Krug says. "Well, now, the NBA's going to all these stand-alone facilities to get players out of the arena and into their own private building somewhere else, because the other thing about the NBA is that it's all about privacy and security — making sure we can get the athletes in and out of that facility, and you don't have a whole bunch of people inside the arena, which is actually under one roof."
---
This article originally appeared in the November | December 2019 issue of Athletic Business with the title "Designing basketball practice facilities that check all the boxes." Athletic Business is a free magazine for professionals in the athletic, fitness and recreation industry. Click here to subscribe.