Deerfield Academy Athletic Complex is located on a site constrained in terms of width,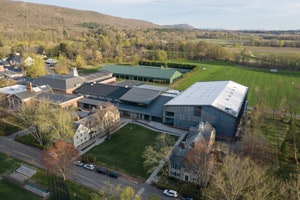 depth and even height. Shoehorned between student residences, existing athletic facilities, wetlands and a burial ground, this voluminous campus addition stacks a fieldhouse, volleyball venue and fitness room on top of an ice arena — the latter sunk below grade to keep overall height in line with existing buildings and local zoning ordinances. Sasaki designers created a barn-like structure that seems perfectly at home in historic rural Massachusetts while still projecting a modern presence on the prep school campus. This was achieved by offsetting the roof's peak in saltbox fashion, with a slope that reaches down toward the pedestrian scale of the building entrance, as well as by facing the structure with a high-density fiber-cement rain screen of varying tones and textures arrayed by computer program to suggest weathered barnboard. "There weren't a lot of inches to spare in any direction," says Bill Massey, Sasaki's principal in charge of the project. "We knew we were trying to enclose a lot of programs for Deerfield, and a rink and fieldhouse are both large-footprint elements that want a certain amount of height. So how do we express the building from the outside so that it feels like it's not overwhelming the buildings next to it but also recognizes that it's a sports facility? You don't want to diminish the functional use of the building by trying to dress it on the outside to look like something it's not. It was a balancing act. Where I think we succeeded was designing a building that fit within the vernacular of that region of Massachusetts but still had a forward-looking, contemporary expression."
---
This article originally appeared in the May 2021 issue of Athletic Business with the title "Barn-like building packs programming for prep school." Athletic Business is a free magazine for professionals in the athletic, fitness and recreation industry. Click here to subscribe.