Careful Attention to Design and Maintenance of Locker Rooms Can Greatly Enhance A Facility's Image - And Contain Its Odor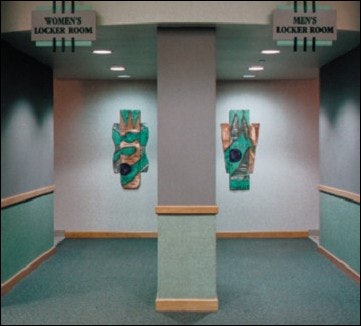 Recently built athletic, fitness and recreation facilities boast bigger and better amenities than ever. Attractive front lobbies, natatoriums with numerous pools, and fitness areas with cutting-edge equipment are just a few of the things becoming commonplace as facility managers strive to create a pleasurable environment for users. With all the attention placed on user satisfaction, however, there is a less glamorous amenity that should not be forgotten: the locker room.
Nothing repels a fitness enthusiast faster than a locker room with standing water, humidity and offensive odors. Whether it's in a private health club, a public recreation facility or even a university athletic facility, a locker room will most likely be the first and last area a person visits, and its appearance will leave a lasting impression.
Deciding how to equip locker rooms to ensure that they will be able to withstand the moisture that is inherent to these spaces requires much consideration. Some materials work better than others in locker room environments, and different types of facilities will call for different products. A public recreation center, for example, needs materials that can withstand hard and heavy use. "There's certainly a stronger push toward more durable materials in public recreation centers," says David Sprague, principal at Denver-based Ohlson Lavoie Corp., an architectural firm with experience in designing both public recreation centers and private health clubs. "There's not as much of a sense of ownership from people who use a public recreation center as there is from people who use a private club, and let's face it, there are a lot more crazy kids in there who just don't have the respect for the facility that members of a private health club would have. A lot more damage can occur in a public facility, so we gravitate toward a more bulletproof-type design in all public recreation center surfaces."
Regardless of the type of athletic facility, many different locker systems and locker room flooring options are available to help architects and facility managers choose the right products to meet a specific locker room's needs.
Metal lockers feature holes and slots for ventilation in a variety of configurations - some feature door vents only, while others are ventilated on all sides. Although enamel-based coatings are used to help prevent rust, scratched lockers and any uncoated metal parts can corrode in environments with high levels of humidity or chlorine. When not exposed to high levels of moisture or chlorine, however, metal lockers can last for at least 20 years. Also problematic in some moist environments are plastic laminate lockers, which consist of plastic glued onto a particleboard core. These lockers have been known to warp in extremely humid environments; if moisture is not prevented from reaching the particleboard core, the core can expand, causing screws to come loose and the locker to delaminate.
Two types of solid, non-metal lockers are better suited to wet environments: plastic and phenolic. Plastic lockers made from 100 percent polypropylene are immune to corrosion and warping in high-moisture areas, and they can also withstand non-abrasive chemical cleansers. Solid phenolic lockers are constructed of panels that are thermal-fused and compression-molded. Phenolic lockers will not rust, warp or delaminate in high-moisture areas, making them a prime choice for many architects designing locker rooms that are located near an aquatics area.
Wood lockers make up a sort of special case. While the door of a wood locker is typically solid wood, the body of the locker is a laminate, often wood veneer glued to particleboard. Wood lockers are also much more expensive than other options, so they tend to be seen in areas where they are not exposed to high humidity - for instance, team locker rooms and upscale health clubs. Private clubs that have pools or insufficient ventilation may discover firsthand why water and wood (especially particleboard) don't mix.
Floor surfaces offer a similar range of choices. While many architects shy from specifying carpet in locker rooms, it is more impervious to moisture than many people think. Carpet used in these applications features a vinyl-backed moisture barrier. The yarns of the carpet are laid into liquid vinyl and dried to eliminate any chance of unraveling. While not recommended for areas exposed to large amounts of water, it is often used and works well in locker room changing areas that are not located near swimming pools or excessive moisture, such as those found immediately adjacent to showers.
Ceramic tile is architects' default surface selection in as many areas of a locker room as possible, including the showers, the shower area, the drying area and the walls - and not without reason. Ceramic tile is a popular locker room surface because it is slip-resistant (if kept clean) and easy to maintain. Even more slip-resistant and less expensive is an epoxy-based coating that is applied right over concrete, into which quartz granules are set while the epoxy cures. While this surface has its champions, some facility owners complain that it is difficult to keep clean and tends to show circulation paths over time. A third bonded-to-subfloor option is flooring made of recycled rubber. Epoxy-bonded to a subfloor to form a nonporous surface, this surface is impact-, indentation- and scratch-resistant.
Rubber sheet goods can also be loose-laid over a concrete floor or some other surface that is not performing to the satisfaction of the user. Another option is known as flow-through flooring, which can be used in any area of a locker room that has excessive water, including inside showers or in a shower or changing area. Available from a number of different manufacturers, flow-through flooring is configured in rolls or locked-together tiles, and stands about a half-inch high. Water flows through holes in the surface to the subfloor below and then to floor drains, while air circulating through the holes allows standing water to dry. Flow-through flooring is slip-resistant and made with an agent that prevents the growth of bacteria, mold and mildew.
Specifying materials that can withstand moisture, while always important, is obviously less vital if a locker room's air quality has been properly dealt with. Two of the most common problems in locker rooms are humidity and odor, but both can be reduced or avoided altogether through sufficient ventilation.
Although many private clubs might not have pools, some will have a spa area connected to the locker rooms that includes amenities such as a steam room and a whirlpool, both of which generate a great deal of humidity. "When you're doing your design, you'll want to create a wet area with a steamer, a sauna, a whirlpool and showers, all well-consolidated," says Sprague. "An exhaust fan connected directly to the wet area should run right out the roof of the building. All the humidity and chlorine smell will be pulled in that direction, so it will not seep back into the changing areas of the locker room." According to Sprague, as long as the wet area has a good exhaust system, the changing area will remain comfortable. "Generally, the typical HVAC system will handle any humidity problems in a locker room," he says.
In a public recreation facility with locker rooms connected to an aquatic component, however, the entire locker room should have exhaust fans, according to Steve Blackburn, vice president of Barker Rinker Seacat Architecture in Denver. "You don't want the humidity or the odor to migrate to other parts of the building," he warns. "You don't want to walk in the front door of the facility and smell the locker room. You have to treat the locker rooms as you do the rest rooms - you have to exhaust all the air that you put into the locker room out of the locker room. Everything supplied has to be fresh air; you can't recirculate."
While exhaust systems take humidity and odors out of the building, a locker room must also be equipped with a way to remove excess water from the area. Floor drains are important in the fight to eliminate standing water, but putting them in properly is even more so. The correct number of floor drains, and the correct slope in the floor to allow water to get to them, are both extremely important considerations.
Since water is damaging to locker room surfaces, some architects even put floor drains in areas where a great deal of water isn't anticipated. In locker rooms located near swimming pools, for example, floor drains can be found in changing areas. "We've gotten into the habit of putting drains into the locker room changing areas because people don't necessarily stop in the drying area and dry off," says Blackburn. "They go right from the shower area into the changing areas. That's also why we don't specify carpet. Carpet is just always wet, and over time, it breaks down, and it can be a huge problem. You can find it in private clubs, but we're dealing with the public on college campuses as well as in public recreation centers, and we feel a hard surface and lots of floor drains is the way to go."
In addition to an exhaust system and floor drains, architects and facility managers recommend installing fans to create steady airflow throughout the locker room. The more air movement, the quicker surfaces will dry, reducing standing water and the mold, mildew and odors that come with it. "You're never going to see the type of air movement from an HVAC system that you will from a ceiling fan," says Sprague. "A lot of facility operators like to have ceiling fans in their locker rooms to get the air moving."
Those who operate and maintain team locker rooms in particular can reap the benefits of fans. As athletes go in and out of these locker rooms daily with sweat-soaked practice clothes, uniforms and equipment, facility operators must do whatever they can to minimize odors. "We have big ceiling fans in our locker rooms," notes Jack French, equipment manager at the University of New Hampshire. "To dry equipment, you need good heat at night and a good amount of fresh air coming into the locker room." Unwashable equipment, such as shoulder pads, elbow pads, shoes and helmets, must be hung up in the locker room and dried every night, French says.
Another way UNH reduces odors in its locker rooms is by following a strict cleaning regimen, in which both laundry and locker rooms are cleaned daily. "We have bins in our locker rooms," says French. "The athletes put their dirty laundry in the bins, and it's hauled right out of there. Even if athletes just lift weights, they get clean laundry for the next practice. The key is to keep your locker room with fresh laundry so that old, dirty laundry is never left in the lockers."
Even after proper design and maintenance measures have been put in place in locker rooms, facility managers have the option of purchasing specialty products, such as deodorizers, to make their jobs easier. One of these options is a deodorizer that can be sprayed on athletic equipment, pads, gloves, shoes, clothing, workout equipment and locker room surfaces. Deodorizing sprays eliminate odors caused by bacteria, mold and mildew. Other deodorizing products can be hung in lockers or placed in athletic bags and will neutralize odors for weeks.
Many facility managers at universities use deodorizing products in team locker rooms. "A hockey locker room is horrendous," says Gary Morrissette, president of Pro-Vent Athletics, a manufacturer and distributor of deodorizing and cleaning products for athletic equipment, apparel and facilities. "One player's bag, towel and equipment smells bad enough, but imagine 20 players' stuff. Locker rooms are especially bad when football, basketball or hockey are in season, because athletes are practicing or playing almost every day, and the equipment doesn't have a chance to dry out. Deodorizing products can help control those odor problems."
Even without using extra deodorizing products, facility managers can take steps to reduce locker room odor. "Equipment managers realize that the most important thing is to air out the equipment," says Morrissette. "Throwing stuff into a locker or into a bag just keeps things damp. It's like throwing a wet towel into the corner of the bathroom floor after you take a shower; it'll never dry. So we recommend to people that they hang equipment up and allow air to circulate through it. That will help eliminate odors and mold."
Like athletic equipment in school facilities, wet swimsuits left lying in lockers in health clubs and recreation centers can cause rust, mildew and warping. Purchasing a swimsuit water extractor is one way to keep a locker room dry. Facility users can place their swimsuits into the extractor, and in a matter of seconds, a high-speed spin process removes up to 95 percent of the water in the suit.
Another reason to keep locker rooms as dry as possible is to prevent users from getting fungal conditions such as athlete's foot. The warmth and dampness of shower areas and locker rooms is a breeding ground for this malady, which attacks the feet and causes dry skin, itching, inflammation and blisters. To prevent the spread of athlete's foot in locker rooms, facility managers can purchase dispensers that kill existing fungus on the feet. A popular step-on dispenser features two treadles which users pump with their feet, triggering a spray of solution that kills existing fungus, preventing users from spreading it throughout the locker room.
While there is no shortage of options of locker room components and products, frequent supervision and cleaning are some of the best and simplest ways to make sure a locker room environment stays comfortable for facility users. Regular walk-throughs by staff, along with hourly removal of any standing water and cleaning of counters and floors, can go a long way toward warding off odor trouble before it starts. The more time staff members spend in the locker rooms, the more quickly they can spot potential problems and take steps to resolve them.