With Player Comfort and Team Cohesion In Mind, Locker Rooms Within Professional and Major College Athletic Venues are Designed to Serve as Well-Appointed Homes Away From Home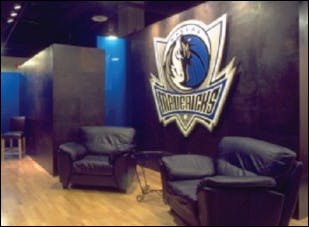 The University of Texas men's and women's basketball programs will celebrate a homecoming of sorts this October. For the first time, both teams will inhabit locker rooms designed for their exclusive use.
"We have never had a place that our basketball players could call home," says associate athletic director Jim Baker, who served as liaison between coaches and architects during planning stages of the 44,000-square-foot Denton A. Cooley Basketball Pavilion, a state-of-the-art assortment of locker rooms, lounges, study stations, and workout and practice spaces. "From October through March, that's going to be the players' home, so we wanted to make sure that it would be a place in which they feel comfortable. That's half the battle right now with facilities and recruiting."
Because collegiate recruiting wars are often won or lost by a school's position within the so-called facilities arms race, locker room design has become the home-away-from-home front. The Longhorns' lockers, for example, will feature flip-down plasma screens, allowing game footage (or music videos, for that matter) to be viewed by headset-wearing players seated in high-back swivel chairs. Each locker will have its own recessed lighting, lockbox, power outlet and Internet portal - all contained within custom-milled hardwood cabinetry. "High school kids are very impressionable, so you want to put your best foot forward," says Mike Holleman, vice president of Atlanta-based architecture firm Heery International, which designed the Cooley Pavilion. "The coaches wanted locker rooms that are not only impressive but comfortable."
Comfort, of course, is not confined to the collegiate locker room. Professional teams were among the first to emerge from the dark ages of team dressing areas, when drop ceilings, cinderblock walls and chicken-wire stalls ruled. Locker rooms have ballooned in size to the point that space now allotted to visiting teams (say, 6,000 square feet) is comparable to what home teams made do with 10 years ago. Today's hometeam locker rooms typically fall within the whopping 15,000-to-20,000-square-feet range. The home space at Seattle's Seahawks Stadium is twice what it was at the Kingdome. In San Francisco, Pacific Bell Park affords home players three times the rest-and-relaxation room of Candlestick Park. Barry Bonds' locker at Pac Bell is a triple-wide cherry-wood unit furnished with a leather recliner and 27-inch television.
In fact, the term "locker room" no longer sufficiently encompasses the off-field amenities enjoyed by today's pro players. "Clubhouse," once the exclusive player-domain name of baseball parks, is now preferred in architectural circles to describe team spaces in virtually any sports venue. How else can one account for large- screen TVs, leather furniture groupings and billiards tables found in close proximity to changing spaces and wet areas?
Such a scene greets the NBA's Dallas Mavericks at two-year-old American Airlines Center. Bryan Trubey, a design principal at HKS Sports Design Group in Dallas, credits Mavericks owner Mark Cuban for recognizing that pro teams, like their college counterparts, can use locker rooms as a
means to recruit and retain talent. That's one reason why each player's locker is wired with a plasma screen, video game access and MP3 digital audio technology. "Mark sees that how you treat players in terms of the environment you create for them is one area in which you can still do a better job," Trubey says. "Players make huge sums of money and get a lot of different perks, and there's not much left to do for them. Mark saw that making the clubhouse environment as phenomenal as it can be really contributes to the cohesiveness of the team. He wanted a place where the players could come and hang out."
Locker room design begins with an assessment of a team's programmatic requirements and how the locker room will fit into the overall context of a given facility. According to Paul Griesemer, senior project architect at Ellerbe Becket in Kansas City, Mo., teams building new home venues are wise to consider making the facility an all-inclusive destination for players by catering to their every training and therapy need. "It certainly has some advantages," he says. "Training of an athlete these days is no longer a seasonal issue; it's a year-round issue. And if you come to the stadium to train every day, it is undeniably your house." Moreover, keeping players in close proximity to coaches and equipment personnel can positively influence team morale. "Teams like the idea of having an integral connection between the administration areas, the coaches' offices and the locker facilities," Griesemer adds. "Most teams like to enhance the idea that a franchise is almost like a family."
Though both the Mavericks and the NHL's Dallas Stars call American Airlines Center home, the Mavs are clearly more rooted there. Their clubhouse resembles a contemporary condominium loft, with an open floor plan, abundant amounts of indirect lighting and extensive use of light oak, brick and steel finishes. An abstract basketball motif even appears in wall-to-wall overhead lighting. This distinctly urban theme complements an adjacent practice facility, which is designed to resemble an old college gym. "Given only the Mavericks' directives to be different and flexible, the design concept evolved from understanding Mark Cuban's background and where dot-com companies like his usually found office space - the old brick warehouse districts," says Dan Phillips, the lead design architect on the project.
"Combining that with basketball's historical roots of the old-time intimate field houses and gymnasiums, an environment was created to capture the spirit of both." Says Trubey, "It's hard to find another environment like it."
You certainly won't find it on the Stars' side of American Airlines Center. That's because that team's headquarters is currently being built in Frisco, Texas, some 30 miles away. "It's really hard to make a venue work as a hockey team's primary practice facility and headquarters when that team is sharing the arena with a basketball team," Trubey says. Consequently, the Stars' locker room at American Airlines Center was designed as a functional game-day changing facility, not an amenity-laden place for players to chill before and after taking the ice.
In some cases, a team's game-day locker room can be effectively detached from its playing venue. During design stages of Penn State University's Louis E. Lasch Football Building, which opened in 1999, coaches and architects were careful to preserve longstanding school traditions while providing today's players with a modern training facility. One tradition involves the football team traveling half a mile by bus through campus to Beaver Stadium on game day amid the cheers and honking horns of tailgaters. Thus, the Lasch Building's locker room became the football team's main dressing facility, with the locker room at the newly renovated stadium serving primarily as a halftime meeting space.
Scott Radecic, a senior principal at Kansas City, Mo.-based HOK Sport+Venue+Event, took particular enjoyment out of helping PSU officials lay out the Lasch Building, having played for the Nittany Lions himself in the early 1980s. Those may seem like primitive times compared to today. The 90,000-square-foot building features not only the team's locker room used for games and practices, but a cherry-paneled lobby, a two-story weight room, an equipment room, a rehabilitation room, a 180-seat auditorium, breakout meeting rooms and academic support spaces. The locker room, which boasts its own sauna facilities, is strategically located on the building's perimeter, with immediate adjacency to equipment and training rooms, as well as easy access to outdoor practice fields. "We try to make the buildings as efficient as possible, because we know the collegiate athlete only has so much time in the day to do what he needs to do, and the coaches try to use each minute as effectively as possible," Radecic says.
Both of Penn State's football locker rooms are of like quality, and though the Beaver Stadium version lacks the adjacent support spaces and is slightly smaller (due to the smaller number of players who dress for games compared to practices), both are L-shaped - adhering to PSU coach Joe Paterno's decades-old practice of grouping his freshman players in the short base of the "L." But even Radecic was surprised to see that the Lasch Building design could spawn new traditions, too. Penn State's logo, centered on the locker room's carpeted floor, has created an unintended no-traffic zone. "Players won't walk on the logo," Radecic says. "It has become hallowed ground."
Beginning five years ago, Ellerbe Becket architects faced the daunting task of renovating Lambeau Field, which to Green Bay Packers fans is as hallowed as ground gets. According to Griesemer, Packers coach and general manager Mike Sherman greatly influenced the design of the team's locker room and support spaces, which include an expansive weight room, medical areas with onsite X-ray capability and a gymnasium complete with parquet flooring. The locker room itself takes the shape of a football, with hardwood locker stalls surrounding a huge, oval-shaped "G" carpet inlay. Ceiling-mounted light fixtures are configured to resemble a football's laces. "He definitely wanted something that was unique and communally focused," Griesemer says. "He had first come out with the idea that it would be a round locker room, and it sort of evolved into a football shape, which was a natural fit."
The Packers were fortunate in that the Lambeau renovation involved expanding the stadium's existing footprint, allowing for any number of locker room shapes to be considered. Football locker rooms, which must accommodate anywhere from 60 (pro) to 140 (college) players, are more often restricted by "fairly rigid structural systems and service grids," says Griesemer, adding, "I think you'll find the vast majority of them to be rectangular spaces."
Not necessarily so in the case of basketball locker rooms. Designs for the Cooley Pavilion at Texas, for example, feature matching circular spaces housing 15 player lockers apiece for the men's and women's teams. This shape not only enhances the huddle atmosphere within the space, it created additional design opportunities for Heery International. Each locker room ceiling is to be domed, adorned with a suspended copper cutout of the school's Longhorn logo and illuminated with perimeter reveal lighting. "You don't necessarily need all that to function," admits Holleman, who also points to more functional features such as each team's court-and-a-half of practice space and corresponding beverage station, "but you're trying to get the best players."
Basketball locker rooms allow for more spatial flexibility, too, in that separate meeting rooms aren't needed to break down the team and its game plan by offense and defense. Basketball players aren't burdened with the equipment of their football and hockey-playing counterparts, either. According to Holleman, a basketball locker measuring 30 to 33 inches wide is usually sufficient, whereas a football locker may dictate a 36-inch width.
In addition, football equipment requires extra support space for storage (the number of different shoe models may even dictate a room dedicated to footwear). Hockey teams may use two separate locker rooms within the same facility (one to change out of street clothes, the other to change into equipment), separated by the shower room. Even so, special design considerations can succeed in saving support space. Movable shelving units, which mechanically compress stacks against each other in favor of opening only one aisle at any one time, can cut the square footage of equipment rooms by 40 percent, Holleman says. Taking yet another tack, Heery International saved the University of Florida equipment staff support space by providing individual air returns above each football player's locker, allowing wet shoulder pads to dry quickly as they sit atop the locker unit and eliminating the need to dry them elsewhere within the building. Says Holleman, "It's a functional thing, but an attractive feature at the same time."
Call it a locker room or call it a clubhouse, team spaces within pro and college venues are evolving so rapidly that even facilities built within the past decade, such as The Ballpark at Arlington, are currently undergoing interior design upgrades - "No different than what you would do in your home," Trubey says - in an effort to keep pace with peers. According to Phillips, the Texas Rangers' management "saw clubhouse renovations as a way to improve team image, motivation and pride."
New facilities, meanwhile, are continuing to push the luxury-design envelope to the point that features such as lap pools - like the one found in the Houston Texans' Reliant Stadium, which opened last year - may represent today's object of envy and tomorrow's must-have amenity. "I don't think professional teams are necessarily trying to outdo each other," says HOK S+V+E brand manager Carrie Plummer, "but all of the new NFL facilities and Major League Baseball facilities that have opened are just stunning."
Stunning, yes, but is there a risk of overloading locker rooms and clubhouses to the point that they actually spoil players, softening them for their game-time assignments? The mood created is important, and careful attention to aesthetics is critical. "These buildings are meant to exude strength and power," says Radecic. "We can accomplish that architecturally by promoting an exposed ceiling that shows some of the roof trusses and beams. Locker rooms used to be very dark places, and we're doing things now to introduce as much light as possible."
Architects, while intent on surrounding players with all the creature comforts befitting their privileged status, are just as careful not to turn team clubhouses and locker rooms into something aesthetically akin to an ultimate fan's bedroom. Team colors may be incorporated in moderate doses into a custom carpet weave, for example. Logos may be subtly introduced to locker stalls by varying the wood tone or grain direction of veneer inlays. Whatever the technique, the trick is to infuse the clubhouse with an air of both opulence and purpose.
After all, players ultimately must empty the nest in favor of their home fields and courts. "On game day, you want the athletes to be focused only on getting themselves physically and mentally prepared. The environment shouldn't distract them from that," Griesemer says. "The idea of an upscale locker room has more to do with the overall everyday psyche of the players and making them feel glad to be with this organization."