As locker rooms for team sports grow ever larger to encompass a wide assortment of functions, adjacencies of space becomes a significant planning issue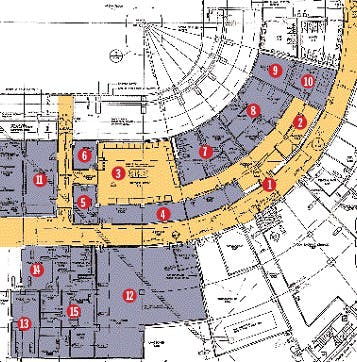 Let's talk football for a second. Your average college football team has anywhere from 100 to 130 guys. High school football teams have anywhere from a couple dozen to 70, depending on whether we're talking varsity or j.v. (There's also a slim chance you might have a female placekicker or running back, but we're trying to keep things simple here. Or anyway, relatively simple.)
All of these athletes have helmets, jerseys, shoulder pads, spikes and so on, and all of them need a place to put their street clothes. All need space to gather around the coaches before the game and at halftime, most need a place to be taped and some require the attention of a trainer. Some really need a toilet before the game; all really need a shower afterward.
And that's just the football team. Sports teams such as basketball, ice hockey, field hockey, baseball and lacrosse have special locker room requirements, from the size and height of lockers to the type of flooring specified to handle (for instance) metal spikes or skates. The rise of women's athletics in the past 25 years means many more teams, each with their own needs.
It's no wonder, then, that the amount of space devoted to team locker rooms, both in new construction and in renovated facilities, is growing distinctly larger. Unfortunately, as more space is added - and as more functions are added within those spaces - the more difficult it is to arrange the space efficiently.
Team locker rooms today can encompass any number of satellite facilities, and each will affect decisions regarding the core space - the locker room itself - in some way.
Consider the lockers themselves. Since the amount and dimensions of equipment used for each sport will determine the size and type of locker chosen, most team lockers - whether made of wood, metal, plastic or phenolic resin - are custom-fabricated. They tend to be large, particularly for football (2 feet, 9 inches or wider), and open fronted so odors and dampness can dissipate. They also usually include a lock box for valuables, or a built-in bench with a secured box underneath.
But your options don't necessarily end there. For example, if the equipment room shares the wall on which the lockers are mounted, one possibility is the creation of "soiled linen lockers" by separating the two spaces with a roll-up wall. In such a setup, after athletes place dirty uniforms and equipment in their lockers, the equipment managers open the wall behind the lockers to remove the items for laundering and repairs. Clean jerseys and equipment are hung in their corresponding lockers and the wall pulled back into place.
If the equipment room is located further away, a school might choose to minimize traffic between the two spaces by making the lockers big enough to store equipment in lockers and not in the equipment room. Larger lockers will in turn necessitate larger room area; schools that choose this option tend to use the larger area as meeting space.
Another option, utilized in the Corel Centre (see floor plan above), is constructing two locker rooms, one for hanging street clothes and one for putting on equipment for practices or games. While such a setup appears more applicable to pro teams like the Ottawa Senators (who call the Corel Centre home), Birmingham, Mich.-based Rossetti Associates also used this design at the University of Michigan.
"This is kind of like their home away from home," says Matt Rossetti, the Corel Centre project architect. "A lot of players will come in to review films, hang out, read their mail, and they may want to put on some gym shorts to work out, and not necessarily to go into the dressing room. Another reason to keep them separate is that with all the equipment hanging there it might not always smell all that pleasant." (The sheer size of some team dressing rooms - space in Notre Dame's recently renovated football locker room devoted to the dressing area for players and coaches, for example, encompasses 5,900 square feet - means more air volume that needs to be moved. Usually, this means an upgrade in air-handling equipment.)
As team locker rooms expand, some movement of athletes between spaces is inevitable, but there is one constant - all locker rooms are designed to minimize movement between wet and dry areas. Showers, sinks, toilets and steam rooms should be bunched close to athletes' dressing areas to keep the tracking of moisture to a minimum, particularly since many team locker rooms are installing carpet as a team locker room amenity, both for comfort and acoustical reasons. (Granted, carpet specified for team locker rooms is usually not so luxurious as it is anti-microbial and spike-resistant.)
Certain locker room items are chosen just to give the room warmth or character - lockers made of wood, for example, or chairs embossed with the team logo - but increasingly, such amenities are given their own space as part of a players' lounge. Plush (in this case) carpeting, soft furniture, a large-screen TV, an eating area and even a pool table might inhabit such a space, which is used mostly by colleges to help recruit and retain athletes.
"At many universities, the locker room has become, in a sense, the living room for the players' lives," says Steve Blackburn of the Sports Management Group, a Kansas City-based sports facility consulting firm.
You might say, once all the satellite spaces are included, that the locker room is the players' entire house. All of the following spaces can be added to the team locker room plan, and each complicates its design:
• The equipment room. Even if the soiled linen locker option isn't chosen, the equipment room should sit adjacent to the locker room. One convenient method of joining the spaces is to include an equipment issue counter within the team locker room, linked by a roll-up shutter.
"Any time you have a great number of players trying to check out equipment, it's really nice to have the equipment room right there," says Blackburn. "But here's a case where adjacency of space can be a problem. Equipment managers are usually male, and roll-up doors give visual access into the locker room, so these sorts of designs can be a little tricky when used in conjunction with women's team locker rooms."
• The sports medicine area. Players using this space for rehabilitation should ideally not have to walk too far from their lockers, while players injured on the field or court should have easy access, too. Since rehab areas tend to include hydrotherapy in the form of whirlpools, athletes should be able to reach their lockers without tracking moisture through the facility. Again, if this area will be accessible equally to men's and women's teams, visual separation of space is necessary. Shared facilities often have two sets of doors with partial walls strategically placed to limit visual access.
• Training and fitness facilities. Strength training and cardiovascular areas exist in conjunction with some team locker rooms. This is simply a matter of convenience in the professional realm, as clubhouse space is off limits to outsiders anyway. In the college ranks, revenue sports such as football and men's and women's basketball can sometimes justify dedicated workout space as a way to limit distractions, to make teaching easier and, also, as a recruiting tool. Basketball arenas can also include a practice court with direct access to the locker room.
• Meeting rooms and auditoriums. As stated above, locker rooms can be programmed to be large enough so that the center of the room becomes an area for the whole team to gather. Other teams choose to dedicate a separate room for this purpose, with dividers used, in the case of football, so that the offense, defense and special teams can meet with their respective coaches. If designed as dedicated space, this room should ideally sit close to the practice or playing field for the sake of convenience (basketball) or cleanliness (football). Imagine 100 football players tracking in mud at halftime, and you'll see why bringing them through a labyrinth of hallways is not a good idea.
Another part of this area is the auditorium (again, in the case of football) for viewing game films and studying plays. It obviously must be wired properly for these purposes and should not be situated in an area with exposure to natural light. This is typically a street-clothes area and need not back right up to the locker room; then again, minimizing distances between all spaces helps limit time spent moving 100 athletes from place to place.
• The media room. Locker room interviews with players and coaches occur less frequently these days, with female reporters seeking access to male athletes and male reporters increasingly covering women's events. A dedicated room allows interviews to proceed with a small handful of players while the others can shower and dress in privacy. Convenience dictates that this room be close to the team locker room; if the two spaces are directly adjacent, visual obstacles at doorways are important.
The media room should be wired to allow direct satellite feeds and lit sufficiently for television broadcasts.
• Laundry room. This space is best situated near the equipment room or the main locker room, but in facilities where many teams practice, train and play, the laundry area is often placed at the periphery so all teams can have access to it. Electrical and (especially) plumbing requirements tend to throw these spaces close to other wet areas such as showers and hydrotherapy.
• Sport-specific areas. To give one example, any arena hosting professional or semi-professional hockey should consider setting aside a room for stick preparation. In arenas lacking such spaces, athletes using torches to finetune their sticks will usually do so in an open corridor, which has a tendency to become smoky and unpleasant. Stickprep rooms need to be fitted with powerful exhaust systems.
• Miscellaneous spaces. Trophy rooms and team Halls of Fame have been incorporated into some facilities' team locker room complexes. During this year's renovation of the football locker room at Ben Hill Griffin Stadium, the University of Florida will incorporate both display cases for trophies and the team's alligator head mascot into the tunnel leading from the locker room to the playing field.
Providing for all the necessary adjacencies is difficult in both new construction and renovation, and some architects go to great lengths to make it happen. Certain realities of the '90s add to the difficulty factor - Title IX requires that in a basketball arena, for example, both men's and women's team locker rooms have comparable access to sports medicine, equipment issue, strength-training and other facilities. Particularly in the case of renovations, where space is often extremely limited, designers must break free of the traditional ways of visualizing space.
Sometimes they even break free of the facilities themselves. Notre Dame Stadium is a prime example. Faced with team support areas so cramped that the walls could barely contain them (media interviews were being staged in a tent outside in the parking lot) Ellerbe Becket of Kansas City built what architect Tom Waggoner calls a "doughnut" around the existing exterior wall for a new concourse and expanded support spaces. The expansion not only doubled the amount of area available to the team, it allowed the historic existing locker room to remain intact, with former concourse space used to permit the kinds of adjacencies normally seen in brand-new spaces.
Fitting all the pieces of the team locker room puzzle together into a cohesive, efficient space might seem like technical wizardry, but Rossetti says a designer must be at least as adept at diplomacy as he or she is at actually drawing the plan. Before beginning to sketch out the Corel Centre's support space, Rossetti met with "everybody who had anything to do with the team" - the trainers, doctors, equipment managers, coaches, assistant coaches, even team captains.
"It's interesting," Rossetti says. "Each person had an understanding of his immediate needs - getting the athletes into his space and out, and trying to account for where the athletes might go - and that was it. Each person was only interested in how his particular area related to the central locker room. So designing the space was like taking a bunch of separate pieces of knowledge and making them all come together. The key was getting them all to understand where each fit in each other's lives."